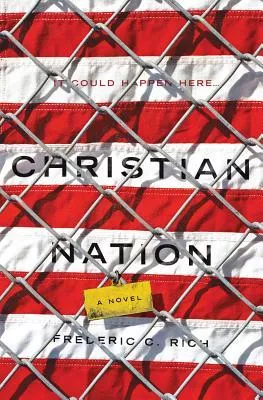 Christian Nation by Frederic C. Rich
W. W. Norton & Co., 2013, $25.95
Frederic C. Rich's gripping novel Christian Nation straddles the line between speculative fiction and passionate indictment of today's Christian Right. In a nonlinear narrative covering three decades, narrator Greg, a Manhattan attorney and clearly Rich's political doppelganger, inhabits two time frames; in one, real-life Evangelicals are working to erode our democracy; in another, they have succeeded, and we're screwed. The alternate universe takes hold in 2008, when McCain/Palin win the presidency and, mere weeks after the inauguration, Commander-In-Chief McCain dies of a brain aneurysm. Voilà: President Palin.
The novel opens in 2029, and from the first pages, we know Palin and the Christian Right have long since transformed the nation. The reeducation of the general public is a fait accompli, and America has closed its borders, real and virtual. Greg is in hiding, typing his memoir on an ancient Selectric typewriter, unhooked from the Purity Web, which monitors every keystroke of every US citizen (not unlike our modern-day NSA, it turns out). Despite painful memories, Greg hopes his readers will understand why and how the law of the land was dismantled, particularly how bystanders allowed it to transpire.
Lest this become a mere jeremiad, Rich entwines Greg's personal story into the narrative; we travel back to 1998, when Greg was a rising corporate lawyer, entertained by the antics of Fox News and its ilk. We meet his shrewish girlfriend Emilie, and his best friend, the gorgeous Sanjay, a gay Indian Internet entrepreneur and founder of Theocracy Watch. Sanjay may as well have a target on his back.
We soon learn that Palin's first term, albeit fraught with economic woe and global embarrassment, was a beachhead for the Christian Right. An Islamic terrorist attack that makes 9/11 look like a rehearsal ensures her second term, during which she extends martial law. It is never rescinded. The Fox network merges with the Faith & Freedom Coalition (an actual organization) to become F3, and fearmongering reigns. Palin's adviser/puppet master Steve Jordan, intelligent and malevolent as any degenerate Caesar, takes the presidency after Palin's two terms, and the hammer comes down in earnest. The Left finally wakes up, Holy War ensues, the government engages in escalating atrocities against gays, immigrants, and non-Evangelicals, and New York City becomes the last holdout against a liberal's worst nightmare. Until the Siege of Manhattan, which is riveting reading.
Like his protagonist, Scenic Hudson Board Chairman Rich is an excellent attorney, impressively conversant in the intricacies of law. This expertise gives Christian Nation terrifying verisimilitude, yet he sometimes loses us when detailing just how laws can be overturned. Greg admits to being uninterested in his emotions, and while this frees him up to discourse at length on certiorari and precedents, it also renders him distant as a character, especially when both his personal world and the country are crumbling around him. The tragic accident that claims his parents and sister barely gets a mention, for instance. He mourns far more for democracy than for his loved ones.
Thankfully, Rich includes frequent quotations of poetry, Bible verse, philosophy, and literature, peppering the text with moving, multitextured language, all of which supports his thesis that we're closer to theocracy than we care to admit. The narrative clicks into high gear toward the end, with some breathtaking, brisk passages about mental fatigue, madness, and the resilience of hope. Rich's characters note that every empire falls, thanks in part to the storytellers. And that isn't speculative fiction. That's true.