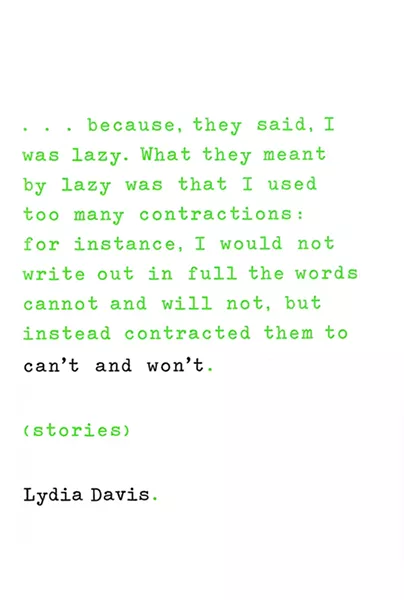 Farrar Straus Giroux, 2014, $26
This new collection of stories from Lydia Davis, who lives in Rensselaer County, is a witty, warmhearted stunner. It's packed with 115 pieces, from as short as nine words to as long as 29 pages, all written with Davis's trademark precision and formal inventiveness, but conveying an enormous range of emotions.
Davis, winner of the 2013 Man Booker International Prize, and a prominent translator of Flaubert and Proust, is a master craftsman of language. For Davis fans, the writer is clearly on her game here—lucid, sly, tragicomic, deft, with brilliant variations of form and length. But this collection is also a poignant commentary on the human condition, with a tenderness that resonates long after a story ends; for readers left cold by her previous books, this may be the come-to-Davis moment. In "The Seals," one of the longer stories, the narrator mourns the loss of her complicated older sister, querying her own memories as she ponders the attachment. It's a meditation on the nature of love and what keeps us separate, told in prose that's devastatingly precise: "But her coolness was the sound of her own fear, her preoccupation with what was happening to her, not anything against me."
"I'm Pretty Comfortable, But I Could Be a Little More Comfortable" is composed entirely of 67 one-line, minor complaints, such as "My seat doesn't have a back," "When I toast the raisin bread, the raisins get very hot," and "He calls me when I'm working." These comical little irritations take on deeper meaning as they accumulate, until the last line, "The clock is ticking very loudly," delivers a quiet punch to the gut: As we focus on a dry orange, tempus fugit. "The Language of the Telephone Company" satirizes the nonsensical authority of corporate rhetoric in nine words: "The trouble you reported recently / is now working properly."
The different types of stories in this collection give it a satisfying scope—one can pick and choose, each time discovering something new. Along with the longer stories and the canny one-liners, Davis includes delightful prose pieces excerpted from the letters of Gustav Flaubert, stories inspired by the dreams of herself and her friends, and a group of stories written as letters of complaint—in Davis's skilled hands, this is a whole new genre. "Letter to the President of the American Biographical Institute, Inc." starts routinely enough, with the usual thanks, then takes a comic turn: The award sent to the letter writer was addressed to someone with a different name. "Of course, it may be that you do not have my name wrong but that you are awarding your honor to an actual Lydia Danj," speculates the befuddled writer. The whole complaint series is remarkable, revealing worlds about our own transparency. As we go about our business, we're far more interesting than we realize—particularly if Davis happens to be watching.
The sheer intelligence of Davis's prose, and the brilliant way she scaffolds ordinary moments on to original forms, speaks to a writer who cares immensely about her work. She is as inspired by the movements of cows in a neighboring pasture (as in "The Cows") as the letters of Flaubert. Her language can be as undecorated as Beckett, as virtuoso as O'Connor, as playful as Donald Barthelme—all writers she's been compared to by critics. But Lydia Davis forges her own path, and generations of writers to come may consider themselves lucky to be compared to her.