Blythewood, Carol Goodman, Viking, 2013, $17.99
Nobody has more fun with brilliant women facing enchantment and skullduggery than Dutchess County author Carol Goodman. And whether you like your paranormal with or without erotic spice, the literary shapeshifter also known as Juliet Dark has a treat for you this fall, having just published both The Angel Stone, the conclusion of her decidedly grown-up Fairwick trilogy, and Blythewood, the beginning of a new epic for young adults.
As Blythewood begins, Ava Hall has lost her mother to suicide, barely survives the Triangle Shirtwaist fire, and is locked in an asylum. Liberated by her wealthy, estranged grandmother, she brings an outsider's perspective to her mother's mysterious alma mater in Rhinebeck, the only new student with a lower-class day job and a madhouse on her permanent record.
The castle is no ordinary ladies' academy. Most of the curriculum involves magical arts; the young ladies are being educated to protect humanity from the denizens of Faerie. Ava's got an agenda of her own—to uncover the identity of her mysterious father—and she quickly realizes that matters at Blythewood are even more perilous and morally ambiguous than the adults around her realize. Friends, foes, wise folk and fools, two attractive boys—one human, the other not—and her unusual background lead her to stranger adventures than she could have imagined.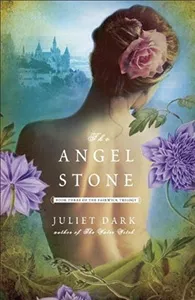 The Angel Stone, Juliet Dark, Ballantine, 2013, $15
Goodman weaves poetry and reflection into a twisting plot that puts Ava into ever more precarious circumstances. Characters and motives are layered with thought-provoking nuance. Although the book opens with the Triangle fire and closes with the sinking of the Titanic, its themes are as fresh as next week's news.
While Goodman seduces us off to Blythewood without so much as lifting a hem, her "Juliet Dark" alias writes erotic scenes that some might deem inappropriate for teens. But yin and yang pulsate through this boarding school saga too, shining a light on such multigenerational questions as character, loyalty, and life's ultimate purpose.
That light illuminates The Angel Stone, a funny, sharp, and moving tale that continues Dark's tale of professor Callie McFay's efforts to bring peace and justice to a small upstate liberal arts college that's the magic-infested center of an epic struggle between light and darkness, and her complicated love for a more-than-mortal man.
The Angel Stone opens with Fairwick College under siege. The fey-folk have vanished and the new administration is toxic; there's much bad juju afoot for Callie and friends. To set things right she needs to spend time in 17th- century Scotland, where she meets her incubus before he becomes an incubus. Along with witch hunts and the danger facing Fairwick, it's a tangled mass of challenge that builds to a delectable climax.
In both books, the villains intend to breed humans like livestock. The transcendence results when our heroines embrace their own agency, sexually and otherwise, and emerge empowered. Goodman/Dark's lucid and lovely voice makes this crystal clear without cliches or noisome politicking. It's tempting to say that no one old enough to be intrigued by sexuality could possibly be damaged by visiting Fairwick; Dark's evocations of Eros are explicit but never crude. Certainly no one with a pulse is too old for Blythewood. Both are fantastic fun.
Appearing 10/13 at 4pm at the Hudson Valley YA Society, Oblong Books, Rhinebeck.