In the dog days of summer, no tote bag is properly full without a book. Spies, vampires, and thrones are fun, of course, but some of us prefer cookbooks for our hammock-bound perusal. If "voracious" can modify reading as well as eating, then locavores should be pleased indeed with the current crop of food-related books by local authors, including three very useful cookbooks, a thought-provoking book on butchery, and a memoir about earning a degree at the Culinary Institute in Hyde Park.
Despite the vast number of books on the subject,
Italian Cooking at Home
(Wiley) by Gianni Scappin, Alberto Vanoli, and Steven Kolpan—all professors at the CIA—is a welcome addition to the genre. Italian cooking is soulful, simple food, and this book does a thorough job of unpacking the alchemy that a few choice ingredients can undergo when handled with love and respect. The authors are to be commended for their work describing authentic, unpretentious food from all over the country and offering detailed instructions on how to achieve it. Some red sauce joints of old are still with us, but a new generation of cooks has gotten us accustomed to eating a much wider variety of Italian dishes, and this book is a fine place to start for people looking to broaden their repertoire at home, where innovation is always a steeper climb.
Any book that provides a recipe for
spaghetti cacio e pepe
or
bucatini alla carbonara
is trying earnestly to communicate the humble fundaments of the cuisine and should be celebrated, and it should go without saying that when there are but six ingredients in a dish—as in the carbonara—the quality of those ingredients matters a great deal. Try making it with pastured eggs and homemade guanciale and see if it doesn't change your life. Francesco Tonelli's photographs are evocative and tactile, lovingly capturing oil glistening on seductively convoluted pasta and bubbles of brown butter sparkling on sage leaves in a way that inspires both hunger and an urge to conjure them oneself. The wine notes are a bit brief, though, and given Kolpan's seemingly infinite expertise, more from him fleshing out certain regions or producers would have been most welcome.
Unlike Italian, Indian food can seem dauntingly complicated to the uninitiated. Besides the fact that the subcontinent is a vast geographical area containing dozens of diverse regional cuisines, the food at restaurants doesn't offer many clues to the curious cook; the sauces are often complex and hard to reverse engineer. With that in mind, and calling upon a lifetime of cooking and travel experience, legendary actor and writer Madhur Jaffrey—who has a home in Columbia County—has published
At Home with Madhur Jaffrey
(Knopf), which includes recipes from all over the region (including Pakistan, Bangladesh, and Sri Lanka) that don't require a lot of time to prepare. Understanding how busy we all are, she condenses the multiple steps in traditional South Asian cooking without sacrificing flavor, making for dishes that are as easy to prepare as any weeknight standard. Like
Italian Cooking
, Jaffrey's book offers an excellent and accessible tool for home cooks seeking to expand their range beyond the curried chicken or chickpeas that many of us have in regular rotation.
Because the recipes are so easy to make, there's plenty of incentive to try many of them and thus breed the sort of familiarity that allows one to break free of recipes altogether. What
At Home with Madhur Jaffrey
makes abundantly clear is that only a handful of easily obtained spices stand between you and authentic-tasting South Asian food; apart from those spices, pretty much everything else required can be sourced locally, meaning you can take advantage of the best that farm and garden have to offer. And because the recipes originate from so many different regions, there's more of an open-source quality to the book, which fits in well with the culinary aesthetic of today. Since making an entire Indian meal might seem like a lot of work, Jaffrey also encourages combining her recipes with other things that we already enjoy making. Her clear goal is to have this book transform our relationship with the cuisines of South Asia, moving them firmly into the realm of our everyday routines. All the food was made by her and photographed in her home to underscore the ease of it all. It's the sort of deceptively simple book that only someone very accomplished can write.
Marika Blossfeldt is a holistic health coach and yoga teacher who divides her time between Beacon and Estonia. After studying at the Institute for Integrative Nutrition, in 2006 she began offering summer wellness workshops at her farm in Estonia. Eventually, with the help of her niece, she wrote down the recipes that retreat participants had been enjoying and asking for. In 2009, the first edition was self-published in Estonian, and promptly became a bestseller in that country. The proceeds from that book funded the publishing this year of the English version,
Essential Nourishment
(Delicious Nutrition). It's a cookbook, but with substantial sections on nutrition and wellness that make it a practical guide for clean living and eating. In an age of countless fad diets and media hype, this is a calm, balanced alternative that is worth seeking out. Where Italian and Indian foods carry the weight of certain expectations, Blossfeldt's food is simply food, made from the best seasonal ingredients available, without any particular regional accent besides the climate in which the produce is grown. As such, it offers a potent inspiration for anyone seeking to let the produce speak for itself, especially during our fecund summers.
Over the last seven years, Josh and Jessica Applestone have built Fleisher's in Kingston from a neighborhood secret to a nationally known name that is synonymous with ethically raised animals, helping to inspire and train the new generation of young butchers around the country. Their book,
The Butcher's Guide to Well-Raised Meat
(Clarkson Potter; co-written with Alexandra Zissu and beautifully photographed by our own Jennifer May) tells their unorthodox story—Josh was a longtime vegan when they opened—and offers an insider's perspective on the many complex issues surrounding proper animal farming, slaughter, and consumption.
There's a wealth of technical information for those interested in breaking down an animal at home, as well as recipes highlighting less well known cuts that savvy carnivores know make for superlative and sustainable eating like beef shanks, pork cheeks, and the faux hanger steak. For those interested in charcuterie, there are instructions for curing prosciutto and bresaola, as well as a section on making fresh sausages. The tone is conversational, but the subject is serious. It should be required reading for all meat eaters; besides being a useful tool in the kitchen, above all it is a handbook for conscious carnivory. There is no place for factory-farmed animals in an ethical diet, and this book makes no bones about it.
Apart from butchers, chefs have never been a more important part of our popular culture; they're TV stars and celebrities in their own right, and many people who like to cook dream about becoming the next famous name. But the realities of cooking school and working as a professional are not so romantic. Jonathan Dixon enrolled at the CIA in response to a midlife crisis of sorts, and his
Beaten, Seared, and Sauced
(Clarkson Potter) is a thorough and honest telling of his time spent earning a degree there. Insightfully writing in a frank and humble voice, Dixon describes the many travails of working his way through the program. He begins the book thinking that he wants to work in a restaurant kitchen, and ends knowing that he doesn't, but his love of cooking has remained intact and deepened into the expertise that he enrolled to attain, combined with a hard-earned self-knowledge that bodes well for his future culinary and literary endeavors.
An interesting aspect of the narrative focuses on the issue of teaching styles among the faculty. Essentially dividing them into two camps, the ruthless drill sergeants and the patient mentors, by the end of the book Dixon has come down firmly on the side of the latter, finding no educational benefit to the spittle-flecked invective of the former. One wonders, though, if his age and perspective place him apart from many of his peers, for whom the CIA is college; is it possible that being berated helps some of them learn to focus and find discipline in a very tough field? Like Anthony Bourdain before him, Dixon has done aspiring chefs a real favor by laying bare the realities of a world that appears very different from the outside.
Books discussed in this article:
A Butcher's Guide to Well-Raised Meat
by Joshua and Jessica Applestone and Alexandra Zissu; Clarkson Potter, $27.50
At Home with Madhur Jaffrey by
Madhur Jaffrey; Knopf, $35
Beaten, Seared, and Sauced
by Jonathan Dixon; Clarkson Potter, $24
Essential Nourishment
by Marika Blossfeldt; Delicious Nutrition, $34.99
Italian Cooking at Home
by Gianni Scappin, Alberto Vanoli, and Steven Kolpan; Wiley, $34.95
Peter Barrett writes more prolifically about home cooking than most cookbook authors. See for yourself at
www.acookblog.com
.
A collection of salts from The Butcher's Guide to Well-Raised Meat.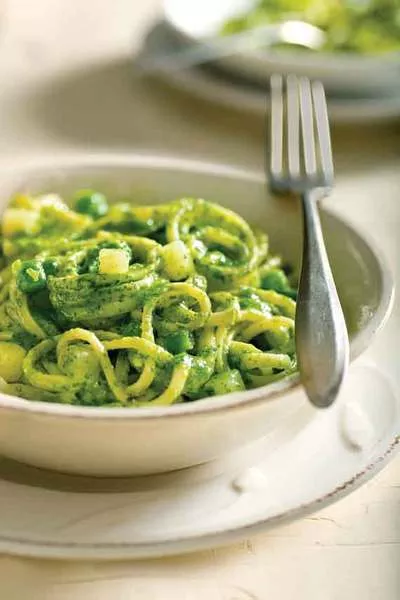 Trenette al pesto from Italian Cooking at Home.
Marika Blossfeldt's tomato soup, from Essential Nourishment.
Brodette di pesce from Italian Cooking at Home.