The dining room at Boitson's in Kingston. Owner Maria Philippis announced the restaurant was closing for good on January 19.
When Maria Philippis announced the closing of Boitson's on January 19 via social media, the comments began pouring in—by the hundreds, as if everyone who'd ever eaten (and some who never had, this being social media) at this Uptown Kingston bistro needed to share their shock, lamentations, and gratitude. "Legendary spot." "You created real magic there, Maria." "A Hudson Valley institution." "Kingston will never be the same." "Every time I will have an oyster, I will think of you." "One of my very favorite restaurants ever, not just in Ulster County." And this one, which I found the most affecting of all: "Hey Matt T., this is where you first told me you loved me."
A tiny restaurant—36 seats, 24 at the tables, 12 at the bar—Boitson's was an instant classic the day it opened in 2010. The long, narrow dining room, lined with a single banquette and mirrors, leather, and velvet, felt like it had always been there, when in fact it had been a tanning salon just a year before. People went for the fried chicken and the oysters, and, later, the cauliflower wings. They went for cocktails from the marble-topped bar and al fresco dining on the back patio. They went for the $10 blue plate special on Monday night.
And people went to Boitson's for community. Patron Alana Blum told Chronogram that the restaurant played a significant role in helping her adjust to her new home in the Hudson Valley. "As a recent transplant, my partner and I found it difficult to meet people and felt pretty isolated," she says. "The community comprised many creatives and people who were energetically open to picking up a conversation with the person next to them even if they came to grab a solo drink or meal. There seemed to be a common thread amongst all the bartenders and hosts over the years, always welcoming. Maria, and Boitson's, were at once cool, classic, and inclusive."
On January 26, I sat down with Philippis at her home in Port Ewen to reminisce about the 12-year run of her beloved bistro and what's next—for her, for Kingston, and restaurants in general.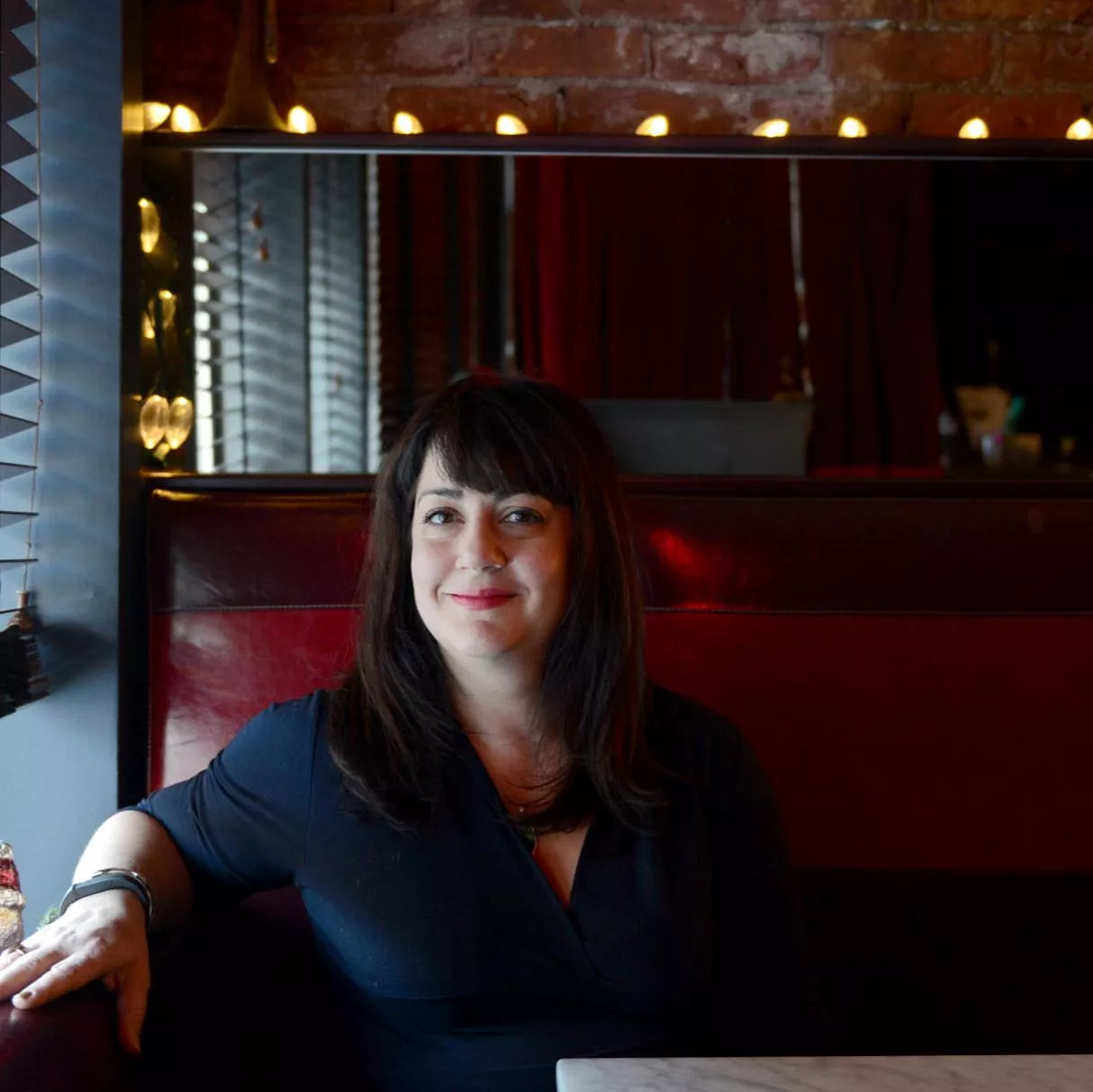 Owner Maria Philippis at the banquette in Boitson's in 2014.
You've mentioned that Blue Ribbon, the legendary SoHo brasserie, was an inspiration for Boitson's.
I was a huge fan of Blue Ribbon. I was a regular from pretty much the time they opened. I was friends with the Brombergs and then I worked for them. The menu touched all the bases—anyone could eat something there. And the fried chicken and the oysters were such a hit at Blue Ribbon. I saw how people just went crazy for it. So I copied those.
I just wanted it to be a neighborhood joint. I didn't want to be too pretentious. I wanted to look like it had always been there. I wanted it to be like a place where you could go out for a fancier meal on a date, but you could also just go with your best friend or work friends or from a construction site and have a bite to eat at the bar and not feel out of place. I wanted it to be accessible to everyone.
In the comments I saw on Facebook so many people spoke about oysters.
People loved the oysters. I mean, we sold a lot, lot, a lot of oysters.
And also celebrating major life events there too.
So many people that got married, got engaged. I watched them go from pregnancy to 10-year-olds, with Dino too. My own kid grew up there. And that's not the only comments. I can't even tell you how many emails, texts, Facebook, Instagrams I received. You lose sight of it when you're in it. I knew it was a special place for a lot of people. People tell me that all the time. But to really hear this kind of outpouring, it makes me feel good and sad. All the feels. A real roller coaster.
When you opened in 2010, you were part of that wave of post-IBM creative entrepreneurs in Uptown, like Elephant, BSP, and Stockade Tavern. It was the early days of a transformation that ultimately turned Kingston into one of the hottest real estate markets in the country in the past couple years.
It was our place. There was a grassroots kind of feel. It was all supported by everyone else. It didn't matter, okay, maybe someone didn't really get along with someone else but no one ever said. We all supported each other's restaurants and bars. And we all just went. I mean, I ate at Elephant all the time and I went to Stockade all the time. We would all share. I'd be like, "Oh, I need napkins. Can I run over?" It felt very collaborative.
Is there a particular period at Boitson's that you consider the golden days?
The first 10 years were great. COVID hit and it really kind of changed things. In the last year before COVID it was getting difficult with staffing—
And do you think the staffing issues were due to the rising cost of living around here?
I think more and more places opened. So it became difficult to find good people that wanted to stay somewhere. I had those that stayed and worked for me for years, and then there would be like that revolving door of a couple of positions. And they were really tough to fill. I had the same dishwasher for 10 years. I had the same sous-chef for 10 years, but then there would be other spots that would just be tricky.
The thing that I've noticed over the years is that no matter how good of a chef you have, no matter how good of a culinary vision you have, the food can be spot on every night, but the waitstaff can be low-performing. The Hudson Valley doesn't really have a large professional server class, right. I've had delicious, expensive meals where the service has been farcical.
I feel like Boitson's always had good service. And I would always say to the staff, "This is what separates us from the animals—that we can provide good service. We can't control every dish that comes out of that kitchen because we're front of the house. But if there is a problem, we can fix it." And that's why I was always there. And if I wasn't there, I always had a host on. Always had somebody at the door that would also control the floor. I think a lot of places miss that, they think just have some kid seat people like it's not important.
And I grew up [working in my family's restaurants] where that's probably the most important spot in the whole restaurant—being at that door. And controlling the lights, the music, the atmosphere, the vibe, and the service—watching to see whether that waiter's slacking off, or there's a problem at a table. And people don't always want to talk to the server, they want to talk to somebody higher up to make things right. And I was always there in the first eight, nine years.
What did you love about running a restaurant?
There's no energy that you'll find in any other business like a restaurant. You never know what you're going to get any night of the week. There's so many variables between the customers and the staff and the product that comes in and the weather and the moon and the sun and the stars. And you never know what's going to happen. It's always a surprise. It's very rarely boring.
I always tried to come home every night with a funny story. I didn't want it to always just be like, "Oh, such a hard night." I always tried to find the humor, like, "Oh, the toilet's backed up. Okay. That could be a really horrible thing. But the funny thing is that I was in heels and a dress and I was plunging the toilets." Whatever it was, I tried to see the humor in it because you have to, or else you lose your mind. It stopped being as funny for me over time.
What was the craziest thing that ever happened at the restaurant?
So I was at my house one night and I get this phone call from Rose [the host]. And she says, "There's been a little bit of a situation." It was Friday night, like 6:30. A beautiful summer night, the deck was packed. Rose says, "There was a group at the bar and all of a sudden, a bird flew into one of the ceiling fans and got decapitated and the bird flew onto a lady and there was blood everywhere." The guy that got the bulk of the blood was okay. He thought it was a very good story to be able to tell his friends. Part of the bird went on some lady's chair. She was very upset about it like we planned it. We comped a bunch of meals that night.
So COVID hits and obviously you shut down. So what's the first pivot that comes to your mind? What's your first move?
I think we started selling groceries because we had so much product in the house and I just started saying, "Well, does anybody need some fish or some meat? I need to get rid of this before it goes bad." And I think we just started selling off stuff. And then people said, "Can you get flour? Can you get yeast? Can you get eggs? Can you get milk?" And I was like "Well, I could just be a grocery. I can get all this stuff, my purveyors have it."
It felt good. We did over 1,000 meals for hospital workers. So we were there. So it all made sense. It just felt like we had to do something.
Did it make sense from a business perspective?
I could keep a few people employed. And it just felt like I needed to do something because I couldn't sit home and wait for things to happen. No one knew what was going to happen. And the people really were begging for it. And we were doing it a few nights a week or we would go in a few nights and package and bag groceries. It was so crazy. The whole restaurant was just lined with boxes and bags of groceries, and then people would come and load it into their cars. It felt like war time, we had to do what we had to do.
When did you pivot back to actually running a restaurant again?
I don't know. Full blur. We started doing takeout. We were doing popups, then I didn't have a chef. And then I hired somebody to take over. I'd say during COVID I went through a few people that were just really, really nuts, really bad. That was tricky. And then I just made my sous-chef mostly do it and we just did burgers and fried chicken and a few other things. We fully opened this year in early summer. We had a full season. It was busy. Demand was high. Supply was low.
Then Omicron hits in the fall.
Right. But it was still going. I mean, we were still busy. It didn't really take away any business. We were still packed inside that restaurant. I really thought it was going to kill our business but it didn't.
What's going through your mind at this point?
Everything is just more difficult. I can't keep raising the prices to meet what my food costs are.
When did your food costs really start to skyrocket?
All summer, every time I'd look at an invoice, I was like, "Oh my God, this stuff was a third or a half of this in the past." Everything just kept on going up. And then, hey, everybody I hired wanted more money. People who were making $12 an hour before were now making $18 and people who were making $18 are now making $25. And those are huge numbers when you're talking about a tiny restaurant. And more and more, my bookkeepers were just saying, "This is not making sense. You're starting to pay out of your pocket to keep this going." I think I would've closed last year if it wasn't for my staff.
You are now in possession of turnkey restaurant in Uptown Kingston, just waiting for a new tenant. Will you be renting the space or will you sell the Boitson's name as well?
I don't think so. I think someone would be foolish to take on the name. I always wonder why people do that—take on an established restaurant that is based on a personality. It's one thing to take over a place that's been there for 100 years and no one knows who owns it. But Boitson's is me.
I think the next iteration should be a Thai restaurant. I would love to find Thai people who want to take it over and put in a kind of upscale Thai. I'm putting it out there—if they're Thai, special price.
Having worked in restaurants for multiple decades and now deciding to get out of the game, where do you see restaurants headed?
The whole world of restaurants is going to go through a major shift. I think it has to. I mean, the Me Too movement started it. Women's roles in restaurants are changing. The restaurants where I worked in the '90s and 2000s were tough for women. And when I opened Boitson's, I wanted it to be a place where I could hire women. And it wouldn't be what I had seen. But I think that's going to change, I think the pay equality. Pay scales will change, but it's also going to affect costs. And I worry about restaurants like mine, that middle range, they're not fast-food and they're not high-end. And they're not chains. They're mom-and-pops. And the mom-and-pops, at that price point, are going to struggle. I think service is going to change and struggle. I don't know where it's going to go. I'm interested to see, and maybe it's this whole new model and it's going to be amazing, where people can have careers waiting tables and it's not something to fill in the gaps.
What are you going to miss most?
I'm going to miss people. I love what I do, I think I'm decent at it and I've enjoyed it my whole life. I can't see doing it ever again. I'm out. I've told my family, "Not allowed." I'd like to go back into antiques maybe. I don't know if I want a store either. I don't know what I want to do with my life. It's a turning point for sure, and I don't know where it's going to lead me.