John Garay
A performance of "Mary Poppins" at the Woodstock Playhouse.
Woodstock
Perhaps lured in by the smell of fresh-baked brioche, visitors to Bread Alone on Mill Hill Road are greeted with an array of pastries and bread that immediately catches the eye and tantalizes the stomach. A changing selection of chalkboard quotes complements this display, including a recently featured John Muir saying that astutely describes not only the ethos of Bread Alone, but the evolving creative spirit of the entire Hudson Valley: "Everyone needs beauty as well as bread, places to play and pray, where nature heals and gives strength to body and soul alike." Anyone who has met for a lunch date in Saugerties or spent an afternoon browsing the storefronts of Woodstock will find that Muir's quote resonates. Each town has become a cultural beacon for the Hudson Valley, offering a diverse selection of food, art, commerce, and entertainment that consistently delights natives and visitors alike.
Although the "peace, love, and music" mythology of the `60s is certainly still a big part of the Woodstock way of life, the town has evolved to be much more than a monument to the past. Instead, current residents look to the legendary music festival as a source of inspiration for their current creative endeavors, which manage to find expression in an expansive collective of restaurants, stores, and galleries. The Kleinert/James Art Center is located in the heart of town and houses exhibits such as "Drawing Sound" (opening August 25), a series of colorful, abstract images that function both as musical notation and works of visual art. One of the center's goals is to honor the legacy of Byrdcliffe, a utopian arts colony established in 1902 that stood against rapid industrialization by highlighting the skill and nobility of handmade craftsmanship.
Establishments such as the Woodstock Art Exchange show that these values still hold credence today by providing local craftsmen, painters, sculptors, and glassblowers with a forum to showcase and sell their work. A revolving collection of handblown glass is always for sale, while temporary curated shows like Linda Knaus's "Ode to Bees" often make use of other media. Budding creatives looking to have a voice in the thriving cultural conversation can hone their skills at the Woodstock School of Art, which offers classes in various media by noted local artists like Poly Law, Staats Fasoldt, and Kate McGloughlin.
However, fine art galleries and schools are far from the only spaces that nurture Woodstock's connection between community and the arts. As a legendary bookstore, the Golden Notebook has been a cultural institution since 1978, and has only grown in its role as a community hub since Jacqueline Kellachan took the reins in 2010. The shop organizes frequent community events, has hosted conversations with literary giants such as Joyce Carol Oates and Neil Gaiman, and sponsors fundraiser book fairs that have given thousands of dollars to local schools and nonprofits. For Kellachan, a devotion to strong community interaction has been the key to keeping the shop alive: "We believe that books are things that can bring people together," says Kellechan. "One way that this can happen is through our author events, but another way is just providing the physical space for serendipity, where people from all over the country can wander in and find books, and maybe each other."
Those who immerse themselves in Woodstock cuisine will find that a good meal can be just as inspiring as a trip to the gallery. There's certainly no shortage of options – dozens of delectable eateries populate the streets surrounding the village green. The Garden Cafe borrows a page from the flower-power playbook, offering up a completely vegetarian menu that will tempt the palate of even the most ardent carnivore with dishes such as the spicy-sweet curried tofu and fresh mango sandwich. The Joyous Lake, a historic nightclub that has been graced by performances from the likes of Charles Mingus and the Rolling Stones, is set to serve up a locally-sourced, vegetable-centric menu when it reopens as Silvia this fall. If you need something sweet to snack on while walking around town, be sure to stop by Nancy's Artisanal Creamery, where the all-natural, farm-fresh ice cream flavors range from the essential to the experimental (their Keegan Ales-inspired Mother's Milk scoop beautifully merges the worlds of craft beer and handmade ice cream.)
Looking to spend a night out on the town? Stop in to A&P Bar—recently opened by Nina Paturel and Pierre-Luc Moeys of Oriole 9—for specialty cocktails featuring Hudson Valley spirits and a curated wine list. For dinner, reserve a table at The Pines—a newly established lodge and eatery founded by Jeremy Bernstein, AKA Burnell Pines, who is a local musician with deep roots in the Woodstock community. The menu draws from the landscape of the Catskills and features a dynamic selection of dishes such as cucumber and red onion gazpacho and burgers made with local beef. Bernstein embraces the growing and shifting nature of Woodstock, but believes that its core spirit remains true to its history: "I still always feel like there's this cozy, hometown aspect of Woodstock [that] hasn't changed as much as everywhere else. I think that the base community is rich and strong...alive."
John Garay
A&P Bar in Woodstock.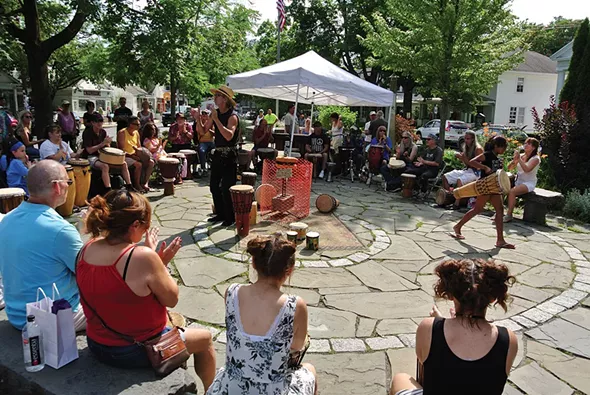 John Garay
A drum circle in Woodstock.
John Garay
Kylla, True, Jordan, Lauren and Michael at the Garden Cafe in Woodstock.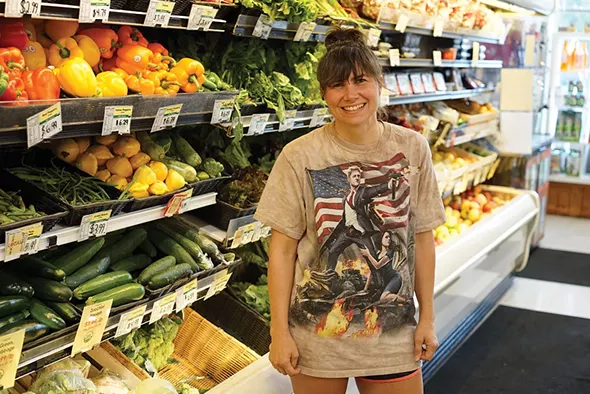 John Garay
Jaime Keeling at Sunflower Natural Foods Market in Woodstock
Saugerties
John Garay
Angel Thorbjorsen at Miss Lucy's Kitchen in Saugerties
Travel about nine miles east and you'll find the village of Saugerties, a lively center for art and commerce that has become a tourism magnet in its own right. So what's drawing in the visitors? According to Mark Smith, chair of the Saugerties Chamber of Commerce: "The largest industry in Saugerties is tourism. In order to support that, you need restaurants, you need points of interest [such as] the lighthouse and Opus 40. There's plenty to do here."
Indeed, Saugerties is home to a wide variety of cultural attractions that set the town apart from the rest of the Hudson Valley. Many visitors come for the mystical experience of exploring Opus 40's sprawling expanse of climbable rock sculpture, while others may have been signaled by the Saugerties Lighthouse, the only lighthouse on the Hudson accessible entirely on foot. Performances by the Arm-of-the-Sea Theater company, such as the upcoming (to be performed in Saugerties on August 19) "Dirt: The Secret Life of the Soil," hope to illuminate the link between humans and their environment through experimental puppet theater that combines art, ecology, and activism. Pro Musica, an organization devoted to hosting and promoting chamber music in Saugerties, will begin its 22nd season on September 17 with a concert by the acclaimed Boston Trio. However, the epicenter of Saugerties is undoubtedly its collection of friendly storefronts, each brimming with life and surrounded by bustling foot traffic.
Many of the village's businesses locate themselves at the crossroads of utility and style: The veteran barbers at Union Shave have invented a lifestyle brand on the cutting edge of men's fashion, and offer up clothing and skate decks alongside fades and pompadours; Green showcases a selection of recycled or sustainable mid-century furniture that has the potential to awaken the interior designer within all of us; and Montano's Shoes promises a trusted, custom footwear experience that has attracted patrons from across the region for over 100 years. Bibliophiles will find themselves right at home in between the stacks of used books at Our Bookshop, and those looking for caffeine and a comfy chair to read in are welcome to spend the day at Inquiring Minds, a bookstore and coffee shop located just down the street.
Culinary tourists will have plenty of innovative dishes to sample, no matter what their tastes. Lucky Chocolates sculpts organic sweets into detailed bulldogs and terriers that are almost too adorable to eat, while the Dutch Ale House combines a historic atmosphere (rows of wooden clogs adorning the walls conjure the town's Dutch heritage) with a diverse local beer list to keep ale aficionados in their seats. Deli-Cioso combines authentic Caribbean fare with American classics to create masterwork sandwiches such as their bestselling Cubano, and the multicultural menu of the newly opened Wise Owl Café & Curiosities has piqued the curiosity of those keen on vegetarian and pescatarian fare. Those in search of casual fine dining should look no further than the Red Onion, a 19th-century farmhouse turned restaurant that features an elegantly eclectic menu that spotlights old favorites such as the braised beef short rib as well as the more adventurous sautéed calf's liver.
Nestled between these storefronts and eateries are Cross Contemporary Art and Emerge, two galleries that ensure the fine arts maintain a presence right in the center of town. Emerge focuses on upcoming yet respected artists in the Hudson Valley and New York metro area, while Cross features the work of established, mid-career artists. In an effort to make purchasing the featured art economically viable for a wider audience, Cross owner/curator Jen Dragon encourages her artists to sell more affordable paper works as well as paintings. In this way, she hopes to involve more people in the fine arts community: "These are artists who live among us, and they happen to be world class, but then also possibly [people] can afford to buy [a work of art], and they made a good investment because this artist's work is also in the MoMA...and yet it's also something they can have in their living room." The gallery's current exhibition, "Site/Sight," features six painters, all women, who draw on the cultivated practice of close study to create works that challenge the viewer's concepts of scale and perception.
In their own ways, Saugerties and Woodstock exemplify the mixture of art, commerce, and community that has made the Hudson Valley a distinctly alluring place to live and explore. Marjorie Block, a Saugerties native and tourism director who also happens to work as an artist in Woodstock, is intimately familiar with both communities. She believes that the area's expanding success can be attributed to its willingness to simultaneously respect the past and welcome the future: "There are families who have been here for generations, but newer families are being embraced, newer businesses are finding a home here, and we want that."
John Garay
Jen Dragon next to monotypes by Richard Bosman at Cross Contemporary Art in Saugerties.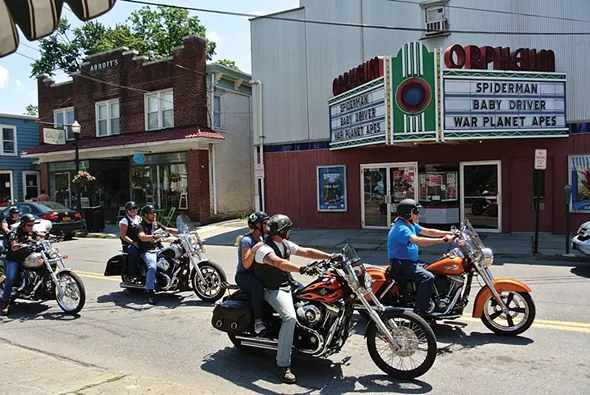 John Garay
Bikers in formation outside the Orpheum movie theater in Saugerties.
[image-10]