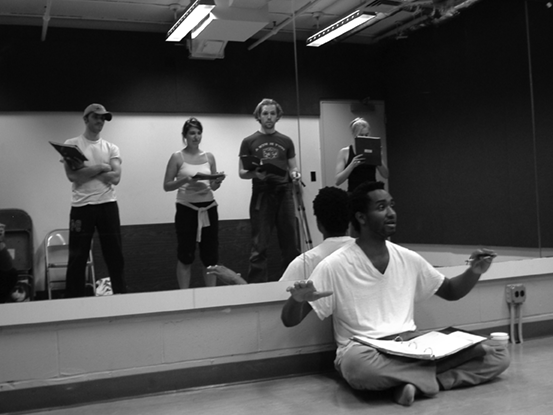 Director Dwayne Mann and the cast of "365 Days/365 Plays" at Poughkeepsie High School.
Artistic pieces as diverse as dramatic fragments by a Pulitzer-winning playwright and a deadpan documentary about a ragtag local flea market and its colorful denizens comprise a new program for students at Poughkeepsie High School this month. In addition to working behind the scenes on the play, students will have an opportunity to discuss the work in class. And best of all, the provocateurs of this journey into self-expression are former area residents returning to share their visions.
Under the banner "A Break from the Constant" this refreshingly bold arts-in-the-schools initiative will take place November 1st through the 4th. It was conceived by Dwayne Mann, a graduate of John Jay High School in Wappingers Falls and his partner Mary Rocco. In an era when afterschool programs are systematically
dismantled by budgetary cutbacks, Mann and Rocco offer something unsettlingly different: four days of free theater and film. Cosponsors include the City of Poughkeepsie Police Department's Juvenile Division and Youth Empowerment Project and The Children's Media Project, suggesting nothing less than a theatrical lifeline to youth in crisis.
Mann and Rocco, who have staged plays in Manhattan at the fearless Dixon Place, created their arts collective Keitrik Productions—"It's a nonsensical word," Mann admits—in 2004. Pressed to declare the group's manifesto, Mann says they mount pieces that "explore identity—identity that is ascribed from outside sources—as well as self-labeling. Then we try to blur those lines and mess with it as much as possible."
Accordingly, the first part of this four-day program is an adaptation of the ambitious play cycle "365 Days/365 Plays." The playwright is Suzan-Lori Parks, whose fiery, brash yet deeply humanistic works explore racism in America and the struggle for personal identity. (Her "Top Dog/Underdog" brought her the 2002 Pulitzer.) Parks created a total of 365 plays which, launched in November 2006, will ultimately be performed by more than 600 theaters across America by November 12. Keitrick's actors will tackle the seven pieces that comprise Week 51.
The second part of the program is a screening of Fish Kill Flea, about the rise and fall of the Dutchess Mall in Fishkill, once a shopper's Mecca, and the scrappy flea market that grew from its ruins and now faces  destruction. The hour-long meditation on the downside of urban renewal was directed by Brian Cassidy, Jennifer Loeber, and Aaron Hillis, all former residents of Dutchess County.
Now making the rounds of film festivals internationally, Fish Kill Flea was shot over a period of two years by the trio, who traveled up from Brooklyn every weekend. Their persistence paid off; the tight-knit group of misfit vendors, selling everything from Star Wars dolls to Nazi memorabilia, came to trust their chroniclers. The film is full of confessional moments, and constitutes an elegy on a society hellbent on junking its heritage for the next big thing.
"365 Days/365 Plays" will be performed at Poughkeepsie High School, 70 Forbus St., Poughkeepsie. November 1, 2, 3 at 8pm and November 4 at 3pm. Fish Kill Flea screened November 3 at Poughkeepsie High School at 11am, followed by a discussion with the filmmakers. Flea will be screened again November 4 at 7pm at Vassar College's Rockefeller Hall. Free admission to all events. (718) 564-5003; www.fishkillflea.com.