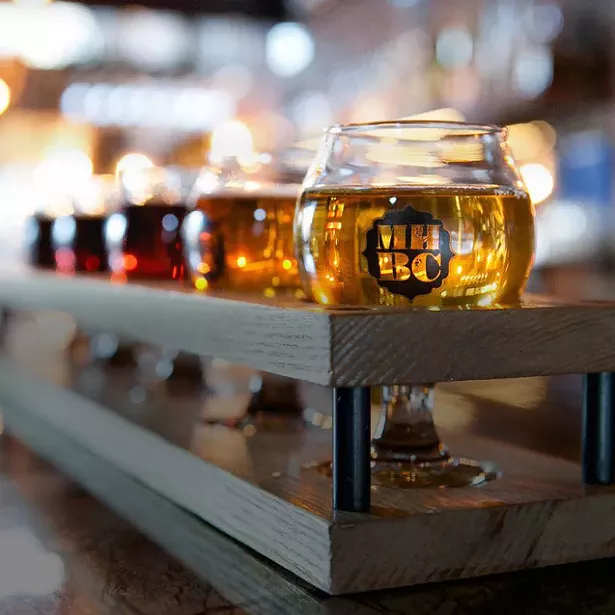 Beer Brunch at Terrapin featuring Mill House Brewery
We know that Mill House Brewing Co. serves up refreshing locally crafted beer and top-quality cocktails; you voted for them as runner-up in both categories. But where our readers think Mill House really shines is when it comes to that famous morning-after pick-me-up: The Bloody Mary.
"It's not a typical Bloody Mary," explains Kimberly Glatz, digital media manager. "We craft ours with two of our own beers; ingredients include our Köld One Kolsch, fresh lime, house bloody mix, chili-lime salt, and a stout float."
Though technically the name for this sort of bloody-beer is called a Michelada—a spicy, Mexican-inspired Bloody that swaps vodka for beer, Glatz credits Mill House's distinctive blend of ingredients as the reason why their drink stands out from the rest. It's undeniable that this mix of heat, salt, and lime mixed into a cold, crisp beer, is a refreshing brunch staple.
With creative concoctions like this, it's obvious why readers voted Mill House as the second-favorite spot Cocktails. Other popular options include the Localista, made with house-infused apple vodka, lemon, cinnamon, and Nine Pin Signature Cider; and Shinebox, a black tea-infused bourbon with lemon, orange, and rhubarb bitters—which makes our mouths water by just reading its description.
But when it comes to a fresh pint, the brewpub draws its dedicated beer enthusiasts. "Our most popular beers rotate with the seasons sometimes, but ultimately are Köld One, Cucumber Blessings, and Grocery Getter," Glatz explains. As the name would imply, Cucumber Blessings is a cream ale with hints of cool cucumber, while the Grocery Getter is a citrusy New England IPA whose name is derived from the brew's origins as a collaboration with Whole Foods Markets.
Though the brewpub couldn't invite guests into its rustic Poughkeepsie taproom after the pandemic struck the region, the Mill House team got creative. "Since March 17, we've had various offerings between a drive-through beer tent; curbside takeout for breakfast, lunch, and dinner; and various pop-ups," she explains. "Our community is always supportive of Mill House but has been even more so during these unprecedented times. We can't wait to see everyone again inside our restaurant, enjoying a house-cooked meal and crafted cocktails over live music and laughter."