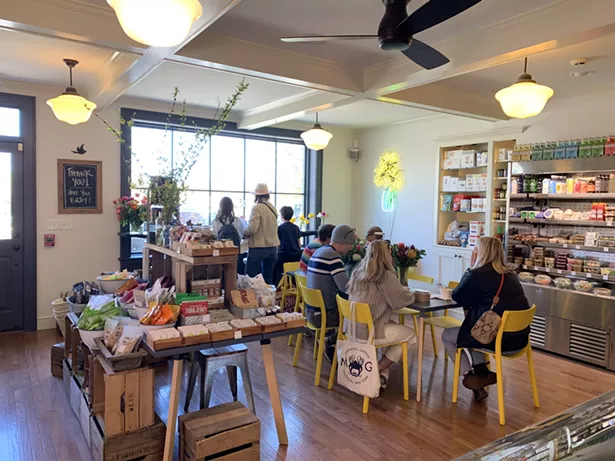 "Pivot" was a word we heard ad nauseum in the early phases of the pandemic as businesses course-corrected to accommodate for the unprecedented changes wrought by COVID. But for beloved Saugerties cafe Black-Eyed Suzie's, the concept of evolution was nothing new.
Founded in 1996 by Cheryl Paff, the first iteration of Black-Eyed Suzies was an organic cafe in the East Village just off Tompkins Square Park. Though Paff didn't have any formal culinary training, her grandmother had been a restaurant owner and her father an avid home cook. She rode the early wave of the health-centric eating movement to success, with 19-year-old line cook Juan Tzitzimititila working through the ranks to become a partner. Shortly before 9/11, Paff sold the business and took off to travel the world, ultimately settling down in the Hudson Valley, not far from her hometown of Troy.
A selection of packaged provisions sold at Black-Eyed Suzie's in Kingston.
Paff started managing the Rhinebeck Farmers' Market, and when Tzitzimititila moved upstate as well, the band got back together, doing private cheffing, event catering, and pop-up food booths. In 2015, they dusted off the old Black-Eyed Suzie's name and rented a brick-and-mortar storefront in the Village of Saugerties. "When I moved upstate and started managing the farmers' market, I got really into local produce," Paff says. "So the concept morphed a bit—local became a component, seasonality became a component." In addition to cafe service, the pair continued to do catering out of their Saugerties kitchen.
When the pandemic hit, Paff and Tzitzimitla decided to start offering family-style takeaway, with customizable cooked meals for four, six, eight, 10 people, that customers could eat fresh day-of or stock in the fridge for later reheating. "We didn't know if we were going to have any business, but it skyrocketed," Paff says. "Demand was huge. People were tired of cooking every meal, every day. It was great, it kept us employed and kept them with easy meals. That sustained us for a really long time."
The "secretly vegan" Lemony Hummus sandwich ($9) is served on housemade za'atar flatbread with pickled vegetables, arugula, and harissa.
When they approached their landlord about a lease renewal so they could make the investments to accommodate a permanent shift to a more grab-and-go model, Paff and Tzitzimitla were informed that the owner was selling the building. "Relocating was not what we wanted to deal with while trying to survive during a pandemic," Paff says. But luckily, she found a building in Uptown Kingston, which she closed on with her husband at the end of 2021.
"Family-style became our focus because that was the most popular during COVID," Paff says. "Then we had to become much more concise when dealing with labor shortages. So it allowed us to know exactly what we needed to prepare because people would pre-order. That way we could work with a smaller crew. It was a lot of adapting to our challenges, but it taught us a lot."
The traditional New Orleans-style Mufaletta Wedge ($12) is served on house-made sesame bread and loaded with Italian meats, fresh mozzarella, and olive salad.
At Black-Eyed Suzie's new home on Hurley Avenue, there is no more table service. The concept has shifted to a grab-and-go food shop plus twice-weekly family-style take away. (Order by Monday at 5pm for Wednesday pickup, and by Wednesday 5pm for Friday pickup.) There is self-serve casual table seating, a window counter, and some sidewalk tables. The spot, which is open 11am-6pm Tuesday through Friday and 11am-5pm on Saturdays, is primarily lunch-focused, with lots of easy workday options like salads and sandwiches, though Paff says many pick up something for dinner on their way.
From biscuit egg in a hole ($7) to a slice of New Orleans-style muffaletta ($12), turkey and black bean chili ($7/$10), Vietnamese chicken salad, and the famous buttermilk fried chicken, Black-Eyed Suzies fans will find a lot of old, familiar favorites. The lineup shifts daily, but the fried chicken (which sells out every time) is a reliable fixture ($6 a piece).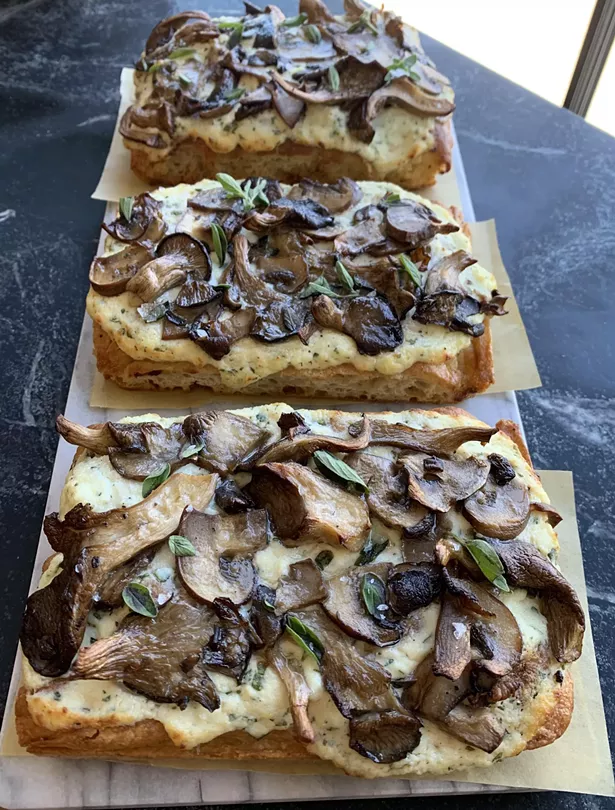 Mushroom focaccia ($9), also made in-house, is slathered in ricotta and served with fresh oregano, garlic, a drizzle of ​truffle oil, and flaky salt.
All the bread for sandwiches is made in house, including the za'atar flatbread and the mushroom focaccia, which is studded with whole garlic cloves, rosemary, a variety of mushrooms, and drizzled with truffle oil. *drooling*
The location, near the Intersection of Hurley and Washington Avenues, opened on April 27 and is already seeing steady business from old regulars and new customers alike. Though the most severe pandemic limitations are in the past, the grab-and-go and family-style takeaway concept remains popular. "People seem to like the idea that you can come in and grab a healthy lunch without having to call it in and wait," Paff says. "It's fast, easy, and healthy."
Black-Eyed Suzie's famous buttermilk fried chicken ($6/piece) sells out daily. The best way to guarantee it is to pre-order via the family-style takeaway program.