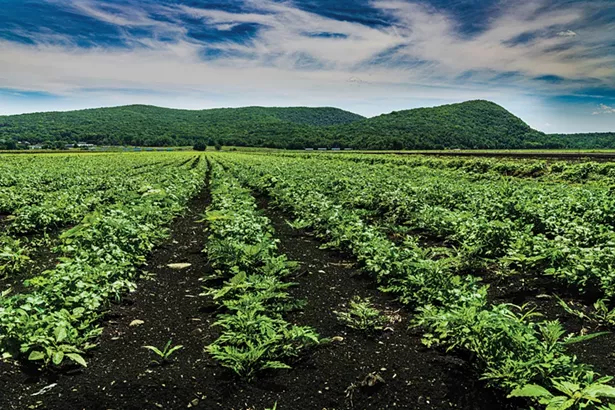 Photo by Brian Kastan
Black Dirt Farm in Warwick
Warwick started off the year 2020 at a glorious gallop. "January, February, and March were very strong; everyone was excited," recalls Chamber of Commerce Executive Director Michael Johndrow, whose organization serves 104 retailers, 91 restaurants, and various other concerns in the Warwick Valley. "If everybody pays attention to safety, I believe we can get that back sooner rather than later."
When shutdown hit, wise Warwick residents circled the wagons. "A lot of our retail shops didn't have online selling set up, so the first thing we did was get together all the members who do have websites to help out," says Johndrow. "A lot of people had never gotten around to it, but they have now."
Photo: Bea Arner/Warwick Valley Chamber of Commerce
Warwick Valley Farmers' Market
Mitigation & Mutual Aid
The Warwick Car Wash offered re-vamped no-contact service. Fusion CBD manufactured essential-oil-infused hand sanitizer. Organizers from Warwick's grassroots veteran's aid group Hugs for Courage launched the Warwick Relief Market, a Facebook page where businesses from Warwick's five hamlets could host online sales for members, who soon numbered in the thousands. Two hundred volunteers came together to bring seniors their groceries, prescriptions, and any other delivery needs.
"People have been very respectful," says Warwick town supervisor Michael Sweeton, who held virtual meetings with the village mayors daily. "They get it. I think that's reflected in where we are with mitigation. We don't have a single case in our hospital right now; cases have been very low overall. We came together and did what we needed to do. From the beginning, we emphasized preparedness, and people took it to heart."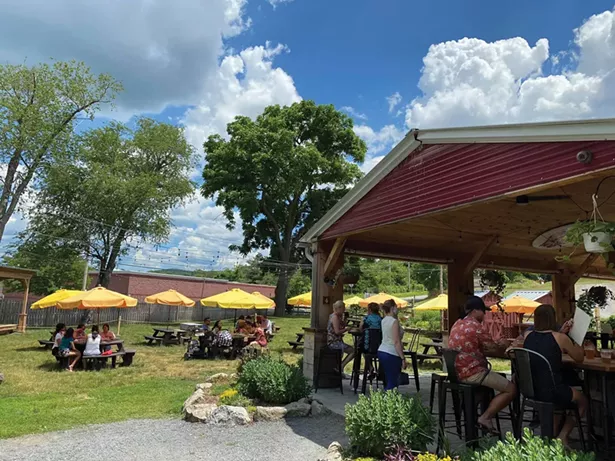 Photo: Bea Arner/Warwick Valley Chamber of Commerce
Outdoor seating at Pennings Farm in Warwick
Sweeton is grateful for the built-in advantages of life in the Black Dirt Region. "We were able to keep our parks open, and we're blessed with the Appalachian Trail, so people have been able to get outdoors and stay separate. And our farms are doing all right offering farm-to-consumer at curbside. I was at Sweetman's Farm to pick up some things the other day and they said it's been incredibly busy. They raise grass-fed beef and pastured pork; they have a relationship with a processor that's solid, and every time a shipment comes back in, it's sold out the next day."
Big Town Pleasures
Just an hour from New York City, the small town of Warwick (population 6,778) features big-time attractions. It has one of the 315 remaining drive-in theaters in the United States, and it was booked solid with graduations through the month of June, while screening on the big screen and social distancing protocols in place. "Beth Wilson and her family came up with a really solid plan and they've done a great job," says Sweeton. "I was there the night they opened. People were so delighted just to be able to come out and have fun."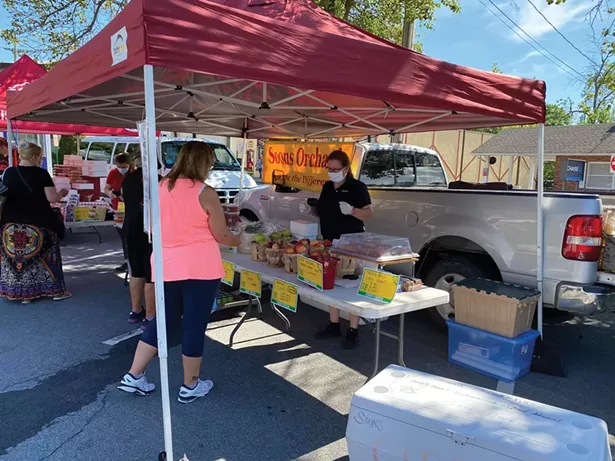 Photo:Bea Arner/Warwick Valley Chamber of Commerce
Warwick Valley Farmers' Market
In January 2019, the 36-acre Hudson Sports Complex opened for business. Owned by Austrian professional soccer player Christian Fuchs (who plays for Leicester City in the English Premier League) and his wife Raluca Gold-Fuchs, the facility has multiple indoor and outdoor fields for individual and team training and games and tournaments for soccer, lacrosse, field hockey, baseball, and football. The couple have big plans for the former Mid-Orange Correctional Facility site, and they seek to the site and turn it into a world-class tournament destination with a hotel and spa.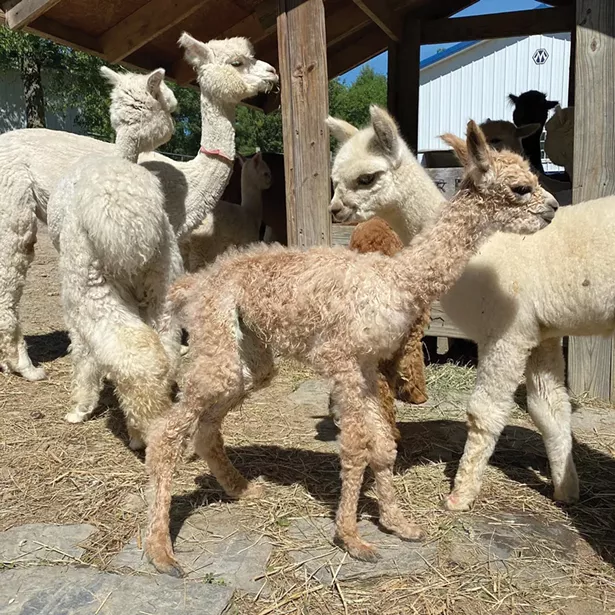 Baby alpacas at Shalimar Alpacas in Warwick
As the Hudson Valley readied itself for Phase 3 late last month, Johndrow, Sweeton, and Warwick mayor Michael J. Newhard worked with NYS Department of Transportation and the State Liquor Authority to put the finishing touches on a plan to detour traffic and create an outdoor dining and pedestrian plaza downtown on Thursday, Friday, and Saturday evenings from 4 to 10 pm, and Sundays from 11 till 5 for a few weeks. "There are 14 restaurants in the area the mayor wants to block off," says Johndrow, "and we're going to let them put chairs and tables right out in the street. Mayor Newhard is an artist and professional window designer, and we're going to have potted plants, lighting—everybody's excited."
Photo: Bea Arner/Warwick Valley Chamber of Commerce
Outdoor seating at Yesterdays in Warwick
All's soft and smooth at Shalimar Alpacas, says owner Patricia Gillotin, a globally recognized weaver and designer of sophisticated alpaca pieces who tends the fluffy beasts with the weekend help of her husband, perfumer Oliver Gillotin. "We're doing well! We started opening two or three weeks ago, by appointment," Gillotin says. "People come in small groups of up to four, two groups a day; everyone takes precautions and wears a mask, and we've had no problems. And people have been very excited to come, to be with animals and nature. It's a beautiful season. We have babies."
The Tall Grass
It's not that Warwick's in any kind of denial about the pandemic. "We have come a long way since March, we are finally at the phases of reopening our region but my friends, we are still in the tall grass," wrote Mayor Newhard on the village website on June 16. "The expression an ounce of prevention is worth a pound of cure may be the words to live by, especially since there is no preventative vaccine for COVID-19. We all want to let our hair down, it's only natural, but this is the time we must be vigilant, resourceful, and protective. A resurgence will be devastating on many levels—not only our economic stability but our psyche or our psychological well-being."
Photo: Maria Kastan
From left: Brian Kastan, Mike Pride, and Eric Person perform a free concert outside Kastan Art Space in Warwick on June 13
The 2020 Warwick Apple Festival, an event that typically draws up to 30,000 visitors, will take place in cyberspace this year. "It's our biggest fundraiser, not just for the vendors but for our 40 nonprofits," says Johndrow. "But the way we've done it in the past we just can't do this year. We're looking very strongly into a virtual Apple Fest. It could be a weekend, a week, a month long, who knows? We want to make sure all our vendors have websites and online ordering ready to go."
That's Warwick: dexterous. The town, where a goodly number of law enforcement families have long made their homes, has held three peaceful gatherings on Railroad Green in support of Black Lives Matter, the last one (as of this writing) drawing 600 people. A proposed initiative to add diverse narratives to the school curriculum and foster civic engagement for all quickly gained 2,000 supporters.
Photo: Bea Arner/Warwick Valley Chamber of Commerce
Outdoor seating at Grappa in Warwick.
"Warwick was here before the Civil War, before the Revolution, really," says Johndrow. "Just lately, we turned the old prison into research labs and recreation. We got this."

Warwick Business Supporters
These Warwick businesses advertised in the July issue of Chronogram and helped support this content:

153 Route 94, Warwick

(845) 988-5190

A family-owned wine and liquor store located in Warwick with a wide assortment of wine and spirits, kind and knowledgeable staff, competitive prices and welcoming atmosphere.

7 West Street, 2nd floor, Warwick

(845) 324-8981

Dream Worx is a 1400 square foot shared work space offering hot seats, desks, a conference room and event options by the hour, day, month, or year.

36 Main Street, Warwick

(845) 986-2248

We offer you personalized attention to assist you in finding that perfect jewelry gift for someone you love, or to add to your own jewelry collection.

176 Route 94 S, Warwick

(845) 988-4367

As a collective of farmers across the country, we're working together with one goal in mind: to grow and produce the highest quality full-spectrum, whole plant CBD on the market. ​

122 State School Road, Warwick

(845) 986-7777

Our mission is to provide world-class training space in the Hudson Valley for individuals, groups, and teams. We want to develop and inspire premier athletes in the heart of Orange County. We strive to be exemplary neighbors and community members, establishing a local focus and amiable interactions in all we do.

60 Main Street #3B, Warwick

(845) 988-0198

The majority of our projects are custom built, high end residences and buildings. Our preferred construction types include timber and wood framing, with integrated use of stone and glass.

164 Ridge Road E, Warwick

(845) 258-0851

Shalimar Alpaca's objective is to blend quality breeding with high fashion. Not only do they strive to have the best alpacas possible, they intend for their fiber to help create a clothing line at the top of international fashion.

39 Main Street, Warwick

(845) 986-4544

A hometown department store, family owned and operated for over 30 years. Step inside for an amazing shopping experience. You'll get lost looking through each beautifully crafted display.