One could say the Northeastern Ohio town of Kent and its larger neighbor, Akron, have been shrouded beneath a black cloud since May 4, 1970, the day four Kent State University students protesting the Vietnam War were shot by National Guard troops. But if there's been an upside to the tragedy, it's that in the years since from underneath the pall has come some high-quality, dark-hued music. Starting with Devo (whose members were Kent State students at the time of the shootings), Human Switchboard, and the Bizarros, the Kent-Akron axis eventually gave us the Grammy-winning Black Keys. And now the region's latest offering, Jessica Lea Mayfield, who will play the Belleayre Music Festival on August 27, arrives with her own brand of bittersweet rustbelt bleakness.
Like the old-time ballads that inform her sound, the 21-year-old folk-rock singer-songwriter's Kent connections are complex and deeply layered. Born and raised in the town, Mayfield began performing at age eight with her family's bluegrass band, One Way Rider, which toured in a 1956 bus previously used by the likes of Bill Monroe, Kitty Wells, and Ernest Tubb. When she was 11, her older brother showed her a few chords on the guitar and she started on her way down the songwriting road, initially drawing inspiration from radio rock, instead of the plaintive country folk she's best known for.
"As a kid, I went through this phase of rebelling and listening to rock bands," Mayfield explains. "I loved the Foo Fighters. So I have this mixture of bluegrass and all different types of music. The manner in which I write my songs was really inspired by playing bluegrass music and playing bluegrass festivals. Sometimes you will hear a bluegrass song that's upbeat in tempo but really sad in reality."
Mayfield got her solo-performer start via open mikes and a Monday-night residency at a local pizza/gyro joint, and recorded her 2007 debut EP, White Lies (Chittlin' Records), in her brother's bedroom. Though only 100 copies were issued, one of them made its way to Black Keys front man Dan Auerbach. Riveted by the then-teenage Mayfield's moving songs and wounded, world-weary voice, Auerbach immediately reached out to her via MySpace about producing a follow-up. So came 2008's With Blasphemy So Heartfelt (Polymer Sounds), an achingly reflective set that also features the playing of Auerbach and Dr. Dog's Scott McMicken and Frank McElroy. The release was named Best Album of the Year by
Blurt
, which also cited the singer as Best New Artist.
Mayfield's newest Polymer Sounds offering is
Tell Me
, again produced by Auerbach. The sound on Tell Me is wider and closer to rock than country, but, nonetheless, its richer, more atmospheric approach—all organ swells and reverb-guitar twang—fits the singer's moody narratives like a pair of Roy Orbison Wayfarers. Even the Auerbach-penned, chugging, deceptively titled "Blue Skies Again" paints the kind of lonesome landscape Mayfield seems resigned to: "It's not easy to pretend / I can see blue skies again."
Still, weather permitting, when she arrives Mayfield should have no trouble seeing the blue skies above Belleayre Mountain.
Jessica Lea Mayfield will open for the Punch Brothers (featuring ex-Nickel Creek member Chris Thile) at the Belleayre Music Festival in Highmount on August 27 at 8pm. Tickets are $25 and $50. (800) 942-6904;
www.belleayremusic.org
.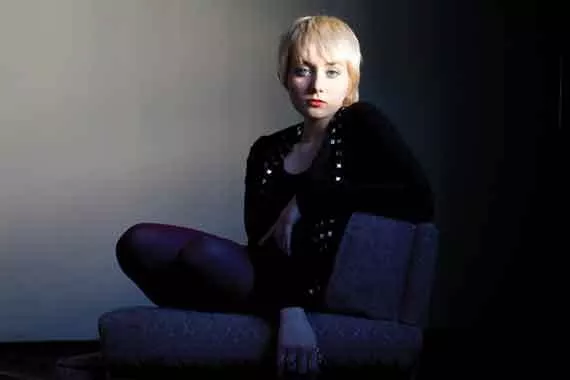 Jessica Lea Mayfield performs at the Belleayre Music Festival on August 27.