Women who are giving birth are accustomed to losing control when they check in to the hospital. These patients are forced to stop all food and drink, and by and large, confined to a bed. Once labor has begun, they can find themselves being shuttled from sterile room to sterile room, nurse to nurse, and procedure to procedure in order to conform to the hospital's rigid set of guidelines for labor.
At Neugarten Family Birth Center, the staff believes giving birth should be different. They have been delivering mothers from this terrifying, alienating experience for over 20 years, offering patients all the advantages of being next door to Northern Dutchess Hospital, and all the comforts of home. Actually, patients say, when you take into account the lobster dinner, the massage, and the around-the-clock care you receive there, the center might be better than home.
"It's like a hotel in some ways," says Kate Kortbus. She had both her children at the center, and jokes that the experience was so pleasant, she can't wait to get back: "It almost makes you want to have another child quickly."
Opened in 1985, Neugarten was the first hospital-based birthing center in New York State. Over the last 23 years birth-giving procedures have changed a lot, but the center has stayed true to its mission of offering safe, comfortable, family-centered care.
The center staff includes skilled physicians, midwives, and a full nursing staff. Neugarten is also attended by mid-level practitioners from Health Quest's neonatology unit, who assist physicians with high-risk deliveries, and who perform newborn exams and consultations.
Each year about 770 babies are born at the center. About 29 percent of these babies are delivered via Caesarian section, which is consistent with the national average, according to Gina D'Angelo-Mullen, director of public relations for Northern Dutchess Hospital. About 75 percent of the birth center patients choose to use some type of pain medicine during their stay. Hospital stays vary from two days for vaginal deliveries to three days for C-section. HealthGrades, an independent health care assessment, awarded the center five stars, and ranked it among the top 10 percent of the country's hospitals.



Personalized care
With nine rooms and a couple of multi-purpose rooms, the center is intimate; it has room for only 11 patients, so the staff is able to provide friendly, personalized attention to all.
Patients who deliver babies here describe the camaraderie of the staff—some of whom have worked together at the center for more than 20 years—and how good it feels for this group of knowledgeable women to bring their collective attention to bear on your laboring figure.
For their own part, the staff describes the amazing power of its patients. Staff members say they want more women to reconnect with their own resilience, and to celebrate their strength. Too often, they point out, this power is taken away from women in traditional hospital settings by micromanaged, by-the-numbers deliveries. "Just because you can have a pain-free delivery, it doesn't always mean that that's a good thing," says Anna Goyette, an RN at the center. Some theories say that there is a purpose to pain, Goyette says, and that this first painful experience bonds the mother to the child in a way that nothing else can. "I just feel like it's something that's being taken away from women, and they don't even know it."
At the Neugarten Family Birth Center, that power is being put back in the hands of women. According to the center's philosophy, patients get to call the shots, customizing their experience as much as their medical circumstances will allow.
Here, patient comfort comes first, and that's clear as soon as you walk into the cheery, yellow, one-story building with gingerbread trim and a porch full of rocking chairs—more like grandma's house than a hospital. Inside, there's a large waiting area that looks like a living room, fully furnished with couches, chairs, a TV, even children's toys. The patient rooms are quiet and pleasant, and each has its own TV and private bathroom. Hardwood floors and trim make the rooms feel more homey, and the rooms have small closets and a fold-out chair for the spouse to sleep on. The rooms also have little amenities like hair dryers and DVD players, and patients can bring items from home to make themselves feel even more secure. The center also boasts a birthing tub, where patients can ease the pains of labor and delivery. When all the work is done, mothers can enjoy a relaxing massage and a celebratory lobster dinner.


Putting the patient first
The staff knows comfort isn't just about aesthetics and amenities, it's about attitude. The birth center physicians and nurses allow women a degree of freedom and input not permitted in most hospitals, and in the long run, this makes for smoother deliveries. In most hospitals, there's no food or drink once you check in, but here patients are allowed to eat and drink as much as they need to, so they can keep up their strength. In a traditional setting, fetal monitors are de rigeur, but at Neugarten they are used sparingly, which frees the mom to walk around, maybe even to catch some cleansing breaths on the center's front porch. And unlike a traditional setting, the whole family is welcome here to cheer the mother on, and partners are expected to stay over.
Unlike most hospitals, where laboring mothers are greeted at the door with an epidural, birth center patients get to decide if they want to take pain meds, and when and how much, and this plan remains flexible throughout the birth. That's important to patients, especially first-timers.
"If it's your first baby, you can read all you want, watch all the videos you want, talk to all the people you want, but you don't know really what it's going to be like until you're in the middle of it," says Kim Santerre, an RN at the center. "And you can have a whole list of what you would like and what you would not like, but we really encourage people to just take it as it comes."
"Some of them—well, most of them—aren't really sure what to expect," says D'Angelo-Mullen. She knows. After all, it was only a couple years ago that she was giving birth, right here at the center. D'Angelo-Mullen says she wanted to know what the pain was like first-hand before making a decision about meds. "You want to have that ability to experience the pain, to see if you want to move to the next level. I didn't want to jump to pain meds right away." While she ended up taking the medicine, she stresses that having this initial control went a long way toward making her feel more comfortable with the process.
The patient's input is really taken into account each step of the way. "Our physicians and our nurses are very patient-oriented," says Pamela Rhodes, Neugarten's director. "There's really kind of a collaborative approach between the patient and the caregiver, and I think that's kind of an unusual entity."
This collaboration is crucial in birth, Rhodes says, because if a team is not careful, it can lose sight of the patient. "You know, it's very easy to fall into the trap of, 'Okay, you're here to have your baby. We have a mission to accomplish by the end of the day,'" Rhodes says. "And you know, it's not our birth."
The birth experience belongs to the patient and her family. "It is their birth," says D'Angelo-Mullen. "We are there to ensure it is a safe one."
"As long as we know that the mom and the baby are healthy, from all our assessments, there's nothing that's really forcing the issue," Rhode says.
This flexible approach helps alleviate the fear that surrounds the birthing process. "That frightening sort of feeling of 'What's happening?' is not something that happens here," Rhodes says. Here patients are surrounded by their loved ones and staff, and everyone is telling them everything is going to be fine. "A lot of that screaming is out of fear, and if you have people around you who are telling you, 'You're going to be all right. This is good. The baby is coming,' [then] all of those things keep everything under control."
It also helps that moms can settle in and have their labor, delivery, and recovery all in the same room. There is a nursery, but nurses say it's usually empty because couples want their babies in the room with them.
This is an important bonding time for families, and parenting right off the bat eases the transition home. "They're only here for 48 hours, so it's not like they have a huge length of time, and the goal is to have them go home as a working unit," says Pam Makenzie, an RN at the center. "They've got to be able to feel like they can do it when they get home."
The care doesn't stop at the hospital doors. In addition to a full complement of prenatal programming (the center hosts birthing classes, childcare classes, sibling classes, infant CPR, and exercise classes), the center staff also offers great postpartum programming geared at educating new parents and building a support system for them. In this day and age, when families live so far apart, the center recognizes that these new relationships can provide an important anchor for new families.
In most instances, these new mothers aren't going home to large extended families, says Santerre. By and large, they'll be on their own with this new baby, and these social networks can provide vital support for new parents, she says.
The staff tries to offer as many opportunities as possible for moms to meet, including a weekly playgroup and mom-and-baby exercise classes.
The center also offers lactation education for nursing mothers, and a breastfeeding support group. And these efforts have paid off—the center is ranked number one in the region for breastfeeding, with about 82 percent of center mothers choosing to nurse, D'Angelo-Mullen says.
The center stays in the picture in other ways as well. The nurses stress that they are on call for these new moms, offering continued reassurance and guidance long after the delivery is over.
"We do say to them when they leave, 'We're here 24/7,'" Rhodes says. "If you don't want to wake your mom up in the middle of the night and say, 'Oh, my gosh, what do I do?' The staff is here. They're working. They'll be more than happy to help."
Neugarten Family Birthing Center
6511 Springbrook Avenue, Rhinebeck
(845) 871-3355; www.health-quest.org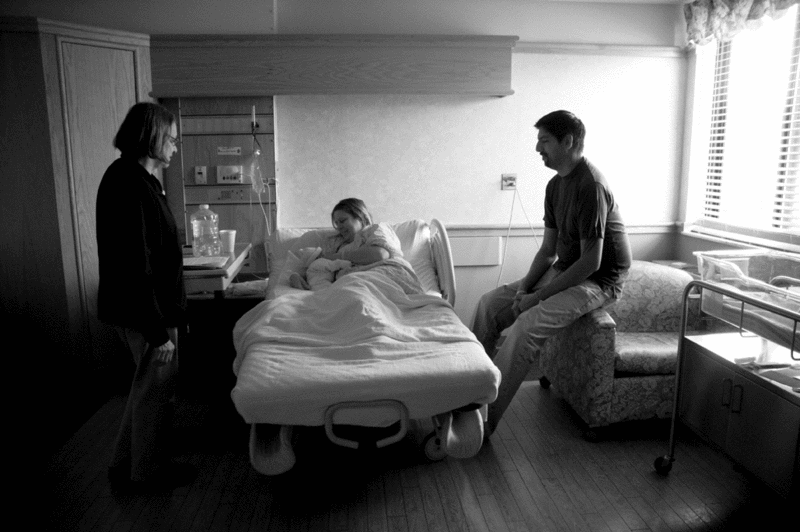 Hillary Harvey
Mary Nettles, Lactation Consultant, visits Pauline and Geoff Saavedra, with newborn Olivia.
Hillary Harvey
Staff at the front desk at of the Neugarten Family Birth Center in Rhinebeck: (behind desk) Anna Goyette, RNC and Marsha Shapiro, RN; (in front of desk) Fiona Cottrell, OB Tech, and Maureen Teranova, MD; (rear) Amy Mincher, RN, Kim Santerre, RNC, and Dona Osterhoudt, RN.