Left to Right: Bill Solley (Bear), Lawrence Beeck (Witch), Jared Reinmuth (Oberon). The three actors will play a total of 47 characters out of Shakespeare's 39 plays.
For its 25th anniversary, the Woodstock Shakespeare Festival received the gift of good fortune. While most theater companies have had to shutter their indoor performance spaces during the coronavirus pandemic, the Woodstock Shakespeare Festival has always been lucky to call the bucolic, wide-open acres of the Comeau Property in Woodstock its home. "I'm truly grateful for it to be outdoors this year," says Elli Michaels, who founded the festival along with its parent organization, Bird-on-a-Cliff Theatre Company, with her husband, David Aston-Reese.
The couple, who both come from acting backgrounds, met in a 13th Street production of "The Taming of the Shrew" almost 40 years ago. "He was Petruchio and I was Kate, and he's been trying to tame me ever since," says Michaels. After performing in the premiere of Christopher Martin's medieval rock opera, "Quasimodo," at the Byrdcliffe Barn in 1987, Michaels and Aston-Reese quickly set down roots in the area and founded Bird-on-a-Cliff Theatre Company in 1990. The bard-loving duo have been bringing Shakespeare's work to the Comeau Property in Woodstock since 1996.
Shakespeare in the Time of Coronavirus
For much of the festival's 25 years, the couple have relished the setting that the long, idle days of summer bring to Shakespeare's rousing comedies like "Much Ado About Nothing" and "A Midsummer Night's Dream." But with such expansive casts, Aston-Reese and Michaels knew it wasn't feasible to stage Shakespeare's larger comedies with proper social distancing guidelines in place, even in the open air of the Comeau Property.
They turned instead to an old favorite, the Reduced Shakespeare Company, whose name is a reference to both the brevity of their adaptations and their intimate three-person cast. Bird-on-a-Cliff performed the company's good-natured, slapstick rendition of the bard's catalog, "The Complete Works of William Shakespeare (Abridged)" in 2017. (Hallmark moments of the play include "Titus Andronicus" as a cooking show and "Hamlet" told through a sock-puppet performance.)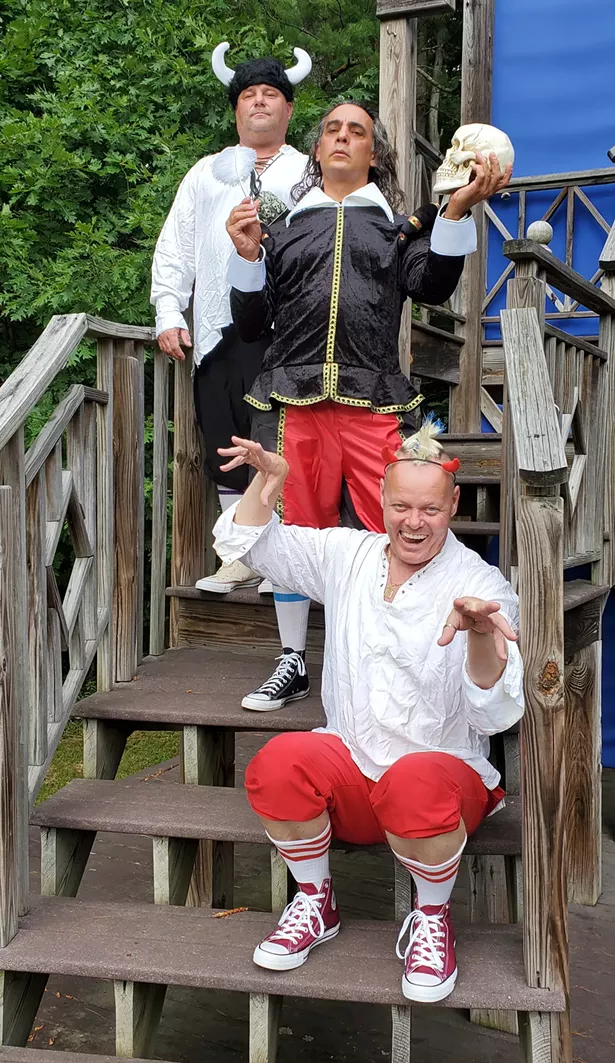 Photo courtesy of Bird-on-a-Cliff Theatre Company
The Long Lost First Play (Abridged)
This season, Bird-on-a-Cliff is premiering the Reduced Shakespeare Company's newest production, "William Shakespeare's Long Lost First Play (Abridged)." In it, the three-person cast—Bird-on-a-Cliff regulars Lawrence Beeck and Bill Solley as well as Jared Reinmuth, who is joining the company for the first time—take the audience on a whirlwind tour of a 17-year-old Shakespeare's purported first play. "If you love Shakespeare, you'll love this play. And if you don't love Shakespeare, you'll love it even more," says Aston-Reese.
The long lost manuscript, discovered in an unassuming Leicester, England, parking lot, turns out to be the proving ground for Shakespeare's most famous plot devices and characters, including Hamlet, Lady Macbeth, Richard III, Puck, Juliet, and more. In just over 90 minutes, the three Converse-clad actors manage to briskly weave together 39 plays' worth of material. "There's a danger of trying to do a concept with Shakespeare, and you have to be careful because if it doesn't fit it doesn't work," says Aston-Reese. "The brilliance of the Reduced Shakespeare Company is that they really know how to play with it."
Photo courtesy of Bird-on-a-Cliff Theatre Company
Setting the Stage
The free performances will be held at the Comeau Property's outdoor stage, which Bird-on-a-Cliff built specifically for the festival with permission from the town. "There's a natural hill with a little rise for the audience where the sun as it sets will shine on the stage," says Aston-Reese. The scene is refreshingly rustic with just an expanse of lawn stretching out from the stage for audience members to set up camp with blankets, chairs, and even their own picnics to enjoy during the show.
Bird-on-a-Cliff also plans to have signs posted with policies that continue to encourage safe social distancing practices throughout each performance. "I'm looking forward to finally having an audience seeing and enjoying the show," says Aston-Reese. "When you get that perfect day with the perfect weather, it's just so Shakespeare."
Bird-on-a-Cliff Theatre Company presents "William Shakespeare's Long Lost First Play (Abridged)" from August 7 through September 6, on Fridays, Saturdays, and Sundays, at 5:30pm. Located at the outdoor stage on the Comeau Property, 45 Comeau Drive, Woodstock. Blankets, chairs, and picnics are welcome. Admission is free with a $10 donation suggested. For more info visit Birdonacliff.org.