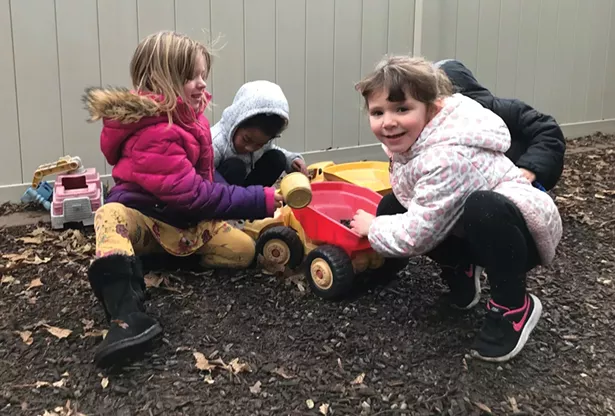 Children at play at the YWCA of Ulster County in Kingston.
Last March, at the beginning of the quarantine, the YWCA of Ulster County hoped to stay open and promised to continue their programs and services to the community for as long as they could. They kept that promise and never closed, but unfortunately many people who were now working from home didn't need their early childhood programs. Lack of attendance seriously impacted the YWCA's bottom line. "It was an enormous financial hit, with the programs being reduced by 75 percent," says Susan Mack, executive director of the YWCA of Ulster County.
Worried a little about the future of the YWCA, Mack then received a series of phone calls in December that changed everything. "It was about an anonymous donor who was considering us as a recipient of an undisclosed donation amount," she says. "The donor wanted her privacy protected, but when I found out we were definitely a recipient and the amount of the gift I was speechless."
The YWCA received a $1 million donation.
The donor was MacKenzie Scott, an author, advocate, philanthropist, and ex-wife of Amazon founder Jeff Bezos. Scott is the 18th wealthiest person on the planet, with a net worth of nearly $60 billion. Scott's commitment was part of the Giving Pledge, created by Bill and Melinda Gates and Warren Buffett, which was an open invitation for billionaires, or those who would be if not for their giving, to publicly commit to giving the majority of their wealth to philanthropy. In 2020, Scott gave over $4 billion in gifts to 384 organizations across all 50 states, Puerto Rico, and Washington, DC, to support organizations filling basic needs like food banks and some nonprofits addressing long-term systemic inequities deepened by the crisis. The YWCA of Ulster County was the only organization in the Hudson Valley to receive a gift from Scott.
"I was very, very grateful," says Mack, who calls it an "unprecedented donation." "I know that Mackenzie Scott is supporting YWCAs in general, and we were one of several that received a gift."
To help the community before receiving the donation, the YWCA offered tuition forgiveness to the members who couldn't attend and received a loan from the Paycheck Protection Program that helped to keep their doors open for a bit. During this time, Mack says, the Families Now program was busier than ever. "The program provides home visits and phone visits to families who are in imminent danger of losing custody of their kids due to poor parenting skills, abuse, or neglect, and that program was phenomenally busy during the county closures," says Mack. "Our home visitors continue to do in-person visits outside of the home, so that they could physically see the children and the families. The number of phone calls probably tripled. So our staff provided many services during the closures and we've had to come up with creative options to provide our other services."
Mack explains that some of the donation will be set aside as a reserve. "We need to be responsible and sustainable and to be able to continue to serve our communities and our mission is to empower women and fight racism, so all of our decisions will be driven by that mission," she says. "It's an unexpected windfall, and we are going to use it mindfully, likely to support the growth of existing programs and, possibly, to pilot sustainable mission driven programs."
In 2023, the YWCA Ulster County will celebrate its 100th anniversary and Mack is certain they will be strong. "We're going to be completing our mission," says Mack. "Let's work together. Let's build on what we have."
Mack also recognizes the importance of listening to the community's wants and needs. "It's essential to our mission to hear the voices of our community when we are planning our paths forward," she said. "I welcome emails to tell me your ideas." Mack can be contacted at info@ywcaulstercounty.org.
—Lisa Iannucci