BGHV & Rosendale Theatre
Since launching in 2008, Big Gay Hudson Valley (BGHV) has dedicated itself to defining the region as a destination for queer entertainment, producing a range of events as well as promoting queer-owned and friendly businesses.
"We are also really excited about thinking of queer entertainment in a different way," says BGHV co-founder Stephan Hengst. "Our community is changing and evolving. For many years gay entertainment didn't really go much further than drag queens and go-go boys, and they are still a big part of it, but as the LGBTQ community enjoys so much more broad acceptance, we like to bring shows that celebrate that."
May 5 marks the launch of a new series of programming by BGHV at the Rosendale Theatre. All the events are BYOB and local farm brewers Arrowood will have a cash bar onsite.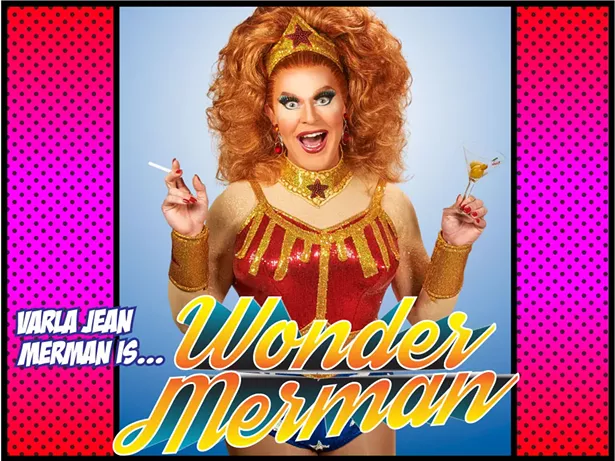 The first show is "Wonder Merman," a new production by the omni-talented drag queen Varla Jean Merman, whose debut Hudson Valley performance in April 2017 sold out. The fictitious offspring of Ethel Merman and Ernest Borgnine, Varla Jean Merman is a flame-haired chanteuse with a vocal range somewhere between Shirley Bassey and Kathleen Battle.
The show, part musical comedy, part cabaret, "pays tribute to all the inspiring women who inspire her to think about becoming inspirational." Varla Jean pulls from pop culture and film in a dynamic hilarious evening punctuated by song and dance. For this show Varla Jean will be joined on stage by pianist Gerald Goode. "The two of them are hysterical together. There is a lot of banter that goes on between them," Hengst says.
While lip syncing is the chosen artform of most drag queens, Varla Jean, with her operatic training, sings her own numbers live (in addition to writing the material, doing the choreography, and making her own costumes.)
"If you look at drag queens, Varla is one of the more humorous, light-hearted drag queens that I've ever met," Hengst says. "Some drag can be cutting and a little snide, but she is what could be described as a 'good girl of drag.' She is just a talented performer that tells amazing stories, sings, dances, and entertains."
"Wonder Merman" is live at Rosendale Theatre on May 5, at 9:30pm, and at Club Helsinki on May 6 at 7pm. $30-35.
"Porn to Be A Star" | Saturday, June 9
This one-man act, written and acted by Chris Harder, is a semi-autobiographical play about a North Dakota kid who moves to New York to pursue a career as an artist and, along the way, winds up becoming an award-winning burlesque performer who also moonlights in the adult film industry.


Harder, who founded Manhattan's first school of "boylesque" in late 2000s, is credited with catalyzing a whole new generation of male burlesque performers. "He took his formal training in costume technology and his interest in writing and has written half a dozen original shows," Hengst says of Harder.
His latest show, "Porn to Be a Star," has toured in New York, Toronto, Detroit, Orlando and San Francisco. "It is a very honest, humorous look at what it takes to be successful," Hengst says. In the multimedia live performance, Harder plays 12 characters (including his own mother), undergoing multiple costume changes. "It's not obscene, as some might deem it," Hengst says. "It has elements of comedy, live burlesque, monologuing, and video clips of Chris in all sorts of scenarios (though not of his adult films directly).
"If you look at the current pop culture vernacular, so many people talking about adult film stars and the president," Hengst says. "There is a lot of curiosity about who these people are, what they do, and what their lives are like, and Chris does a great job telling the story."
"Porn to Be a Star" will be staged at the Rosendale Theatre June 9, 9:30-11pm. $25-$30.
Save the Date
If you are a fan of BGHV's programming you'll want to get out the calendar and pencil some future dates in.
On September 29, Michael Cunio, Broadway and PBS star, brings his Etta James tribute show to the Hudson Valley for a special one night only performance of "Cunio Sings Etta." November sees the return of BGHV's acclaimed holiday burlesque spectacular, "HUNG with Care," while December holds "Big Red and the Boys," a feel-good holiday concert pairing Meghan "Big Red" Murphy's vocals with her live band of gay boys in celebration of the friends you love and the family you choose.
Reserve tickets or find out more about upcoming programming on
Big Gay Hudson Valley's website.