"I guess I'd describe my aesthetic as being romantic and ethereal but stopping just short of hippy—we're not going for boho," says Caitlin Millard, founder of the Rhinebeck dress line and clothing shop Zephyr. "We're trying to create a sense of romance and drama that is wearable in everyday life. I'm also a big believer that silk dresses are not just for fancy occasions. I wear dresses when I hike—not silk…usually. But sometimes!"

The New York City native moved to the Hudson Valley 20 years ago, long before the current wave of urban expats. She taught herself to sew by watching tutorials on Youtube, and in 2012 opened a hole-in-the-wall shop in Rhinebeck to showcase her goods and those of other local makers. At first, the concept was a broader lifestyle store, but with time she homed in on fashion. "It was sort of a hobby," she says of the early days. "I was a bit more amateur. I was just making stuff I would want to wear. As time went on, the business changed in response to what was around me—what I thought people needed and wanted and what I thought would sell."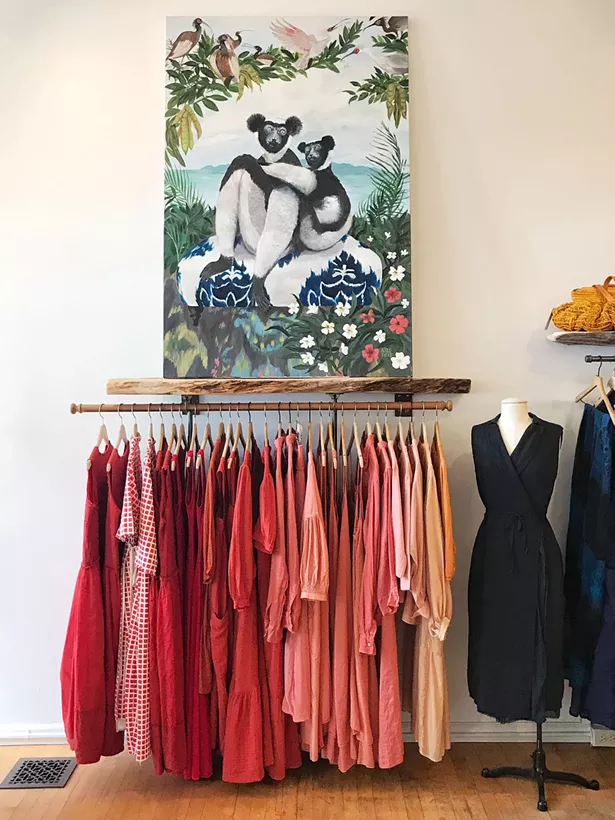 On the Bias
Aside from this customer-driven mentality, she also strives to carve out l space for herself where she sees market gaps. "I can't say there is any sort of lofty top-down vision," she says. "Primarily my inspiration has been to make the things that I want to exist that don't already exist."
For Millard, that turned out to be a focus on bias-cut garments, a technique that was employed heavily in the 1930s and '40s. A quick sewing 101: Cutting on the bias means cutting garments at a diagonal to the grain of the fabric (a 45-degree angle to be exact). "What that does is allow the fabric to stretch around the body," Millard says, using the example of a Chinese finger trap, which adjusts to accommodate any shape or size finger. "When gravity pulls the fabric down, it is going to conform to the shape of whatever is underneath it. I find that these pieces are uniquely flattering. They give a silhouette that is fitted without being skin-tight. They give you a shape but look effortless and without showing things you maybe don't want to show."
Because of this fluidity, sizing is simpler and more inclusive—a priority for Millard. Zephyr garments can accommodate from a size 0 to a 22, but Millard only has to produce four sizes rather than, say, 12. And given this flexibility, a single garment can accompany a person through weight fluctuations and body changes, adding to the longevity of the pieces. "Often size inclusivity ends up meaning large boxy pieces, like kaftans," she says. "I found that bias-cut garments offered a unique opportunity to create things that are more size-inclusive but really well-fitting and flattering to many different shapes." Bias-cut garments can be costly and inefficient to produce on a mass scale, so the technique is also well suited to the small-batch context.
Silky Smooth
All of the garments in Zephyr's own collection—primarily dresses with some jumpsuits and sweaters thrown in—are made by Millard and two other sewists in Kingston. Aside from the creamy silk charmeuse that is perhaps her signature, Millard also frequently uses linen, cotton, and occasionally wool—all deadstock fabrics, which allows her to keep prices down.
She isn't overly principled or pretentious about using natural materials, but rather pragmatic. "It is a priority—but not necessarily because there is anything inherently better about natural fabrics, more because it is a method of quality control for me," Millard says. "I buy most of my fabrics remotely so I can't touch them first. I can be more confident about how a fabric is going to behave over time when I know what it is made of—how it's going to look, how it's going to launder, how it's going to wear over time."
In contrast with many makers who lean into the fetishization of terms like handmade and artisanal, Millard is insistent, even obstinate, that her products' value doesn't come from their production method. "What we make is not special because of how we make it," she says. "There is not some magical quality to being handmade, small-batch. I think something's value is intrinsic to that thing, at least for clothing. That's why I work with silk. Considering that I'm making this by hand, I better be making things that are valuable." Her way of thinking turns many de facto arguments of the modern maker movement on its head, without undermining the value of craftsmanship itself.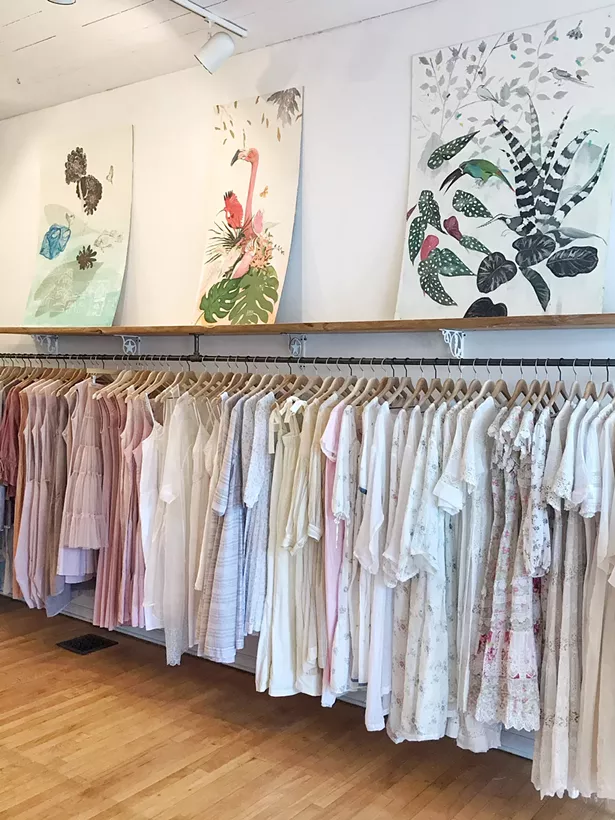 And as a creative, Millard loves the flexibility of small-batch production. "Crafting in small batches gives us so much control," she says. "We can take creative risks and try new ideas. We can respond to customers in real time. When you have to commit to making 100 or 500 of something, you tend to play it safe. We can make just four or five of something. It makes it more rewarding."
Brick and Mortar or Bust
In February 2021, Zephyr moved from its longtime home on West Market Street in Rhinebeck down a few blocks to 28 East Market Street, the old location of kindred business Haldora. At 1,100 square feet, the new space is considerably larger, which has allowed Millard to expand the selection of products she carries from other brands, and consequently her customer base.
"We are aiming for inclusivity along three metrics: budget, size, and age," she says. "In the larger space, we are really trying very hard to be a clothing store for as many people as we can in Rhinebeck." While Zephyr does carry high-end brands like Pas de Calais, Hannoh Wessel, Maku, Prairie Underground, Jungmaven, Only Hearts, and CP Shades, Millard points out that there are dozens of items under $100.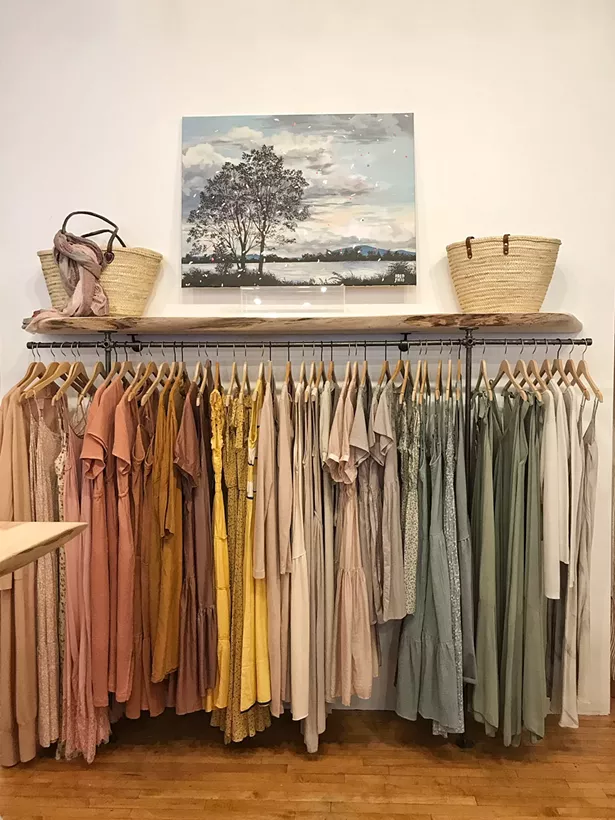 With the move last year, all customer focus has been on Rhinebeck, with the storefront on Broadway in Kingston's Rondout District currently serving as a production facility. Millard hopes to open it to the public again as a retail space in the next year if she can find the staffing, and in the meantime she is toying with the idea of hosting pop-up maker events there this summer.
A rare exception in this digital age, Zephyr does not have an online store. Millard's ethos is firmly grounded in the local community—and she plans to keep it that way."I think something quite special about our store and about Rhinebeck in general is that we are so brick-and-mortar-oriented," Millard says. "A lot of designers seem to be very driven by their social media following and a broader global audience. We don't have a broader global audience—everything in our store is intended to be purchased by a real person walking down the streets of Rhinebeck. When you walk down the street in a place like that, where all the businesses are there for you and not for some customer cooler than you or richer than you, it gives the street a more authentic, warm, and welcoming feeling. I'm happy to be a part of that. "