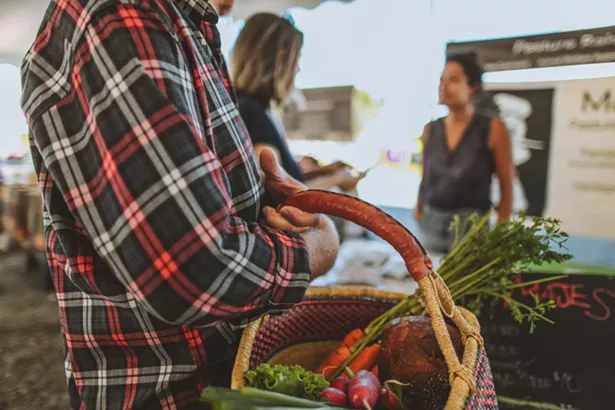 A visit to Bethel Woods is a quintessential upstate experience. In addition to its famed status as the site of the 1969 Woodstock festival, today the campus at Bethel Woods plays host to The Museum at Bethel Woods and yearly concerts from chart-topping artists at its outdoor amphitheater. Though this year the pavilion stage has been quiet, Bethel Woods has hosted small intimate events, launched outdoor exhibits, reopened its museum, and is sending the summer out in style with the return of its much-loved annual farmers market, the Harvest Festival.


Set against the backdrop of the rolling hills of Sullivan County as late summer turns to fall, the Harvest Festival offers the perfect opportunity to explore the historic site while celebrating the bounty of local farms. This year, the festival's 22nd, the Harvest Festival will be open from 11am-4pm every Sunday from August 30-October 11. While the event is free, there is a $5 parking fee and guests are encouraged to bring exact change.
"Harvest Festival has been a staple for 22 years, providing an essential farmers market and opportunity for vendors to connect with our community," says Eric Frances, Bethel Woods' CEO. "We are proud to be able to return this year and offer a safe and enjoyable market for guests near and far."
Among this year's featured local farmers are Andersen's Maple Farm, Ballard's Honey, Beaverdam Brook Farms, Campanelli's Poultry Farm, Muthig Farm, Pancake Hollow Sugarworks, Pure Mountain Honey, and Tree Juice Maple Syrup. For those looking to stock up on cozy items for the fall, fan-favorite Rosehaven Alpacas are leaving the alpacas at home, but will be stocked with high-quality yarn, roving, rugs, socks, hats, gloves, and more.

Bethel Woods' Museum Education and Creative Programs team will also be putting together a new take-home activity each week, which will be available to everyone at the welcome tent. On the first Sunday, they'll be providing all the materials to make a customized tote bag. Additional projects include DIY sun catchers, paper lanterns, musical anklets, and more.


To ensure safe social distancing, this year's protocols will include a mask requirement, cashless transitions where possible, and one-way walking paths to reduce the likelihood of crowding. And when you need to stop and say hello, remember that a friendly peace sign never goes out of style.
For more info, including a complete list of COVID-19 safety precautions, visit BethelWoodsCenter.org/VisitHarvest.