Summer has commenced, and already she beckons insistently, like a giddy teen in a muslin sundress. (Whether her red-rimmed eyes stem from a pollen blast or a draught of summer mead is your call.) Trust that she has numerous events in store. From raucous concerts to genteel recitals, from art installations to theater, from presentations by old masters to new works by young upstarts. All installed in august performance halls, newly constructed venues, or befitting the season, gloriously al fresco.

Economists and trendwatchers are already wagging a stern finger, warning that rising gas prices will restrict our summer wanderings. Even a weekend jaunt could gouge your wallet petrol-wise, without even factoring in food and lodging. Certainly, you can flock like lambs to slaughter to the high-priced, celebrity-stuffed, overcrowded events in New York City this summer, from concerts to Shakespeare in the Park. But factor in life-threatening pollution levels as the thermometer soars, and venturing into the city seems an exercise in folly.
This summer, you don't need to be frugal or ecologically minded (or be squirming under the greasy boot of the criminal oil cartel) to be convinced to restrict your cultural intake to venues closer to home. A survey of the summer calendar in the Hudson Valley reveals a bounty of concerts, drama, and arts festivals that will keep your synapses firing off like Roman candles from June through Labor Day. Supporting regional arts programs is a great show of neighborhood pride.
The annual Belleayre Musical Festival in Highmount is just one example of a program where the scenery often jostles for attention with the wattage of the stars in concert. Each year, Belleayre savvily programs events for young and old alike, and this year the organizers return to that winning formula. Consider laid-back rockers The Bacon Brothers Band, Kevin and Michael (July 19), and Broadway triple-threat (and erstwhile "Cheers" star) Bebe Neuwirth (July 26). Highbrows will appreciate The Belleayre Festival Opera (August 2) while frazzled parents will welcome The Children's Opera Theatre (August 3). Or let your mind trip out with local talent Justin Kolb, Abby Newton and Mikhail Horowitz, The Post-Neo Trio (July 25). Consider Irish tenor Ronan Tynan (July 5), cheekbone crooner Chris Isaak (August 30), yahoo Vince Gill (August 23), or jazz legend Ramsey Lewis (August 9). Those who revere troubled national treasures, however, should get a front-row seat on July 12, when Brian Wilson of The Beach Boys again mindsurfs that fine line between genius and madness.
(845) 254-5600; www.belleayremusic.org

Those who favor chamber music have their temples of worship as well. Now in its 93rd season, from June 29 to August 31, Maverick Concerts in Woodstock take place in a rough-hewn 1916 concert hall with ideal acoustics. World-class artists usually found on a Carnegie Hall piano bench gladly come to this sylvan hideaway to play for fanatics. Music director Alexander Platt has assembled 24 concerts of divergent material and performers. Among the embarrassment of riches this season: Shanghai Quartet plays Schubert, Grieg, Ravel, and the works of modern composer Chen Yi (June 29); Daedalus String Quartet assays Mahler and Sibelius (July 13); and Pacifica Quartet showcases Mendelssohn, Prokofiev, and Beethoven. Maverick honors contemporary local artists in its Woodstock Legends series, this year featuring ragas by Steve Gorn (July 26), improvisatory piano by Marilyn Crispell (August 16), and the String Trio of New York performing the works of James Emery and John Lindberg (August 2).(845) 679-8217; www.maverickconcerts.org
Another venue where the landscape enhances the spectacle is the Hudson Valley Shakespeare Festival (HVSF) in Garrison, New York. For more than two decades, this event has drawn Bard groupies from all over the tri-state area. Shows are performed in a huge tent adjacent to Boscobel mansion, perched on the Hudson. HVSF is known for turning Willie the Shake on his head, teasing modern meaning from sacred texts. Last year's "Richard III" depicted the emotionally twisted, hunchbacked ruler in all his bipolar glory but steered clear of simplistic parallels with the current occupant of the Oval Office. The players wore shiny, metallic clothes that transformed them into Space Age insects striving to destroy one another in an orgy of power-seizing.
This year, HVSF revives "Cymbeline" (June 10-August 30), a lighthearted tragedy in which true love is tested while identities are obscured to the eventual confusion of all. "Twelfth Night" (June 18-August 31) examines the challenges to romance when women fall in love with women masquerading as men. Expect director John Christian Plummer to play up the gender politics of the text as much as its meditations on love and power. "The Complete Works of William Shakespeare (Abridged)," a hilarious sprint through 37 of Shakespeare's plays in a mere 97 minutes, will be preformed in repertory, July 22 through August 28.
(845) 265-9575; www.hvshakespeare.org
While HVSF brushes the cobwebs from Shakespeare, some prefer the work of living playwrights. Vassar College provides with its vital, unpredictable, and chaotic Powerhouse Summer Theater (June 27-August 3). Produced with New York Stage and Film, this showcase of new and seasoned voices, now in its 24th year, offers benefits for all involved: Playwrights can watch productions in their larval stage and keep polishing. Actors can strengthen characters before a premiere. And adventurous audiences can brag about seeing a future gem in its unpolished form. Powerhouse veteran John Patrick Shanley brought "Doubt," a searing meditation on faith, morality, and that elastic concept we call truth, to Powerhouse in 2004 as a raw first reading; it would go on to win the 2005 Pulitzer Prize for drama.
This year, Powerhouse serves a program equally as beguiling and challenging as it is full of theatrical heavyweights, for those who pine for Manhattan-caliber celebrities. A leading voice of Manhattan's Downtown scene of the `80s and `90s, playwright Eric Bogosian will debut a new play, "1+1," starring Josh Hamilton and Kelly Garner and directed by Mark Brokaw (who directed the premier production of Paul Vogel's Putizer-prize winning play "How I Learned to Drive"). Slavish fans of the Tony-winning musical and youth romp "Spring Awakening" will flock to see "Nero," a new musical by "Awakening" singer-songwriter Duncan Sheik and playwright Steven Sater. Playwright-activist Eve Ensler ("The Vagina Monologues") will present a new work for the stage, "OPC," certain to ask tough questions and double as a call-to-arms. And one of the original writers on "Saturday Night Live," Alan Zweibel, will premiere a new one-man show "The History of Me." His previous works include Billy Crystal's schmaltz-and-horseradish "700 Sundays," as well as "Bunny Bunny," a bittersweet tribute to friend and collaborator, the late Gilda Radner. Powerhouse golden boy John Patrick Shanley returns with a reading of his latest, "Veronica." (845) 437-5902; www.powerhouse.vassar.edu
Connoisseurs of art photography and dance will find nirvana at the first summer season at Mount Tremper Arts, a 100-seat performance and exhibition space dedicated to classic and contemporary expressions of these artistic forms. Nestled among the Catskills in northwestern Ulster County, this fledgling project, cofounded by Mathew Pokoik and Aynsley Vandenbroucke, promises to be a summer arts colony for bohemians. In addition to exhibitions, there will be artist talks, workshops, and post-performance gatherings. Evidence of the eclectic range of Mount Tremper Arts: The summer calendar offers dance music by ethno-fusion musicians and DJs, as well as a photography exhibition of work by 20th-century American stalwart Walker Evans.
The Mount Tremper Arts season bows on July 19 with an opening night party showcasing multimedia pieces for adventurous tastes. The photography exhibition titled "Signs" showcases the work of Evans and the contemporary photographer Stephen Shore, and has a heady premise. From the organization brochure: "'Signs' investigates language within photography, the interplay between word and image, and the appropriation of found objects." Whether that come-on puzzles or invigorates you, there's more on July 19: an installation by jill sigman/thinkdance with dj Joro Boro, and the music of Golem, intriguingly described as klezmer/punk. Ambition of this caliber should bring Mount Tremper Arts deserved fans. The seven-week festival runs through August 31. (845) 688-9893; www.mttremperarts.com
You're a latter-day hippie, born too late for the 1969 mudslide/love-in known as the Woodstock Music and Art Fair. But Max Yasgur's rolling farmland will always remain hallowed ground. Happily bucking the trend of McMansions and malls that pockmark Sullivan County, the original site of Woodstock has become Bethel Woods, an amphitheater that is fast becoming the jewel of the Lower Catskills. Its bland, generic billboard ads notwithstanding, Bethel Woods presents a summer season of rock music that pays homage to the spirit of Woodstock while extending beyond its boundaries with other genres. People who avoided the brown acid the first time around will be cheered by the lineup, as will young acolytes craving their own summer memories.
Rock legends at Bethel Woods include the indomitable remains of trailer-trash virtuosos Lynyrd Skynyrd and The Outlaws (June 20), followed on August 12 by their musical big brothers, The Allman Brothers Band. Ringo Starr plays on June 21, joined by His All Starr Band (a grab bag of artists including Men at Work's Colin Hay, Billy Squier, Edgar Winter, and Gary Wright). On July 13, enjoy '70s party-band-cum-mystics Steve Miller Band and Woodstock alumnus and Sheffield soul pioneer Joe Cocker, who survived a cameo in last year's mind-numbing Across the Universe. On August 30, those of us who savor a guilty pleasure can indulge in three, with the line up of arena rockers Journey, former sirens Heart, and the irrepressible Cheap Trick. For the faithful, jazz-rock avatars and warped storytellers Steely Dan venture outside the protective bubble of the studio again, something they once vowed never to do (July 10). The most blatant nostalgia act on the bill, designed to cash in on the Woodstock mythos, is August 3rd's Hippiefest 2008, featuring once-vital `60s and `70s acts. Among them: English blues-rock legends Eric Burdon & The Animals, Jack Bruce of supergroup Cream, and The Turtles, featuring Flo & Eddie, evergreen jesters who can probably wring the right amount of rueful laughs from this dubious outing. Also on the bill are original mope-folkie Melanie, Beatles protégés Badfinger, and Terry Sylvester, a member of The Hollies. Pay your respects and bring along a teenager for a lesson in musical history.
Bethel Woods is savvy enough to step outside its tie-dyed musical comfort zone, with a powerfully varied summer schedule. Among the offerings: Tony Bennett, Boston Pops Esplanade Orchestra, disco artifact Donna Summer, John Pizzarelli Quartet, Spanish Harlem Orchestra, Jonas Brothers, The New York Philharmonic, Maroon 5 and Counting Crows, The Brazilian Guitar Quartet, and The Klezmatics. The summer's standout curiosity is June 14's True Colors concert, headlined by Cyndi Lauper and the B-52s. Joining them is the immensely talented Regina Spektor, primal screamer Rosie O'Donnell, and Queer Eye's Carson Kressley
(866) 781-2922; www.bethelwoodscenter.org

For those with restless minds, summer time signals no break from education. Summerscape and the Bard Musical Festival offers a feast for voracious learners. Classical works are staged and then amplified, dissected, and discussed in attendant seminars and lectures. Fiercely intellectual, Bard's Summerscape offers entertainment and Cliff Notes for those who must know a work inside-out.
Consider the opening salvo of the series: Sergey Prokofiev's 1935 ballet "Romeo and Juliet" will be performed by the protean Mark Morris Dance Group. The program, subtitled "On Motifs of Shakespeare," will examine the classic work as reenvisioned by an artist laboring in Stalinist Russia. This production, performed as the late composer originally intended but never before seen onstage, will have its world premier at Bard College on July 4 and performances will run through July 9.
Summerscape centers its programs on an august composer and explores both his masterworks and little-known pieces. Legends previously canonized by Summerscape include Dmitri Shostakovich and Franz Liszt. So it is again with "Prokofiev and His World." Not only will the man's work be illuminated, but his full measure will be gained through an understanding of his contemporaries. Bard president Leon Botstein will conduct the American Symphony Orchestra, as well as esteemed international musicians, in works by Prokofiev, Stravinsky, Shostakovich, and others.
Peter Dinklage, who intrigued in the title role of 2003's misfit fairy tale The Station Agent—and who has been mostly wasted in Hollywood pabulum since—takes center stage in a Bard production of Anton Chekhov's "Uncle Vanya," directed by Erica Schmidt. A restaging of the 1931 George and Ira Gershwin musical "Of Thee I Sing" may be as unsettling as it is entertaining; this gleeful evisceration of early 20th-century presidential campaigns proves how little we've advanced in staging this glorified horse race.
Bard's film festival, which runs concurrently with its theater works, again offers shrewd full-screen selections of works often not available even on Turner Classic Movies. Satirical films by Frenchman Jean Renoir and American Mitchell Leisen each cast a jaded eye on the institutions of their time: war, social class, and morality. Entries include Renoir's classic farce-cum-tragedy Rules of the Game from 1939 and the lesser-known Leisen comedies, equal laughs and arsenic, including Midnight (1939) and Remember the Night (1940). To better understand the sheer breadth of Prokofiev's genius, the film series includes two works by director Sergei Eisenstein to which he contributed scores: Alexander Nevsky (1938) and Ivan the Terrible, Parts I and II (1944–46). After being strafed by this high-minded onslaught of ballet, drama, and film, repair to the Spiegeltent adjacent to Bard's Richard B. Fisher Center for the strain of spirited but friendly argument that comes from several beers. (845) 758-7900; www.summerscape.bard.edu
For an offbeat outing, consider the aesthetic playground known as Storm King Art Center. Located just off the New York State Thruway in Mountainville, Storm King is a local version of Easter Island, 500 verdant acres populated with modern sculpture by artists of international acclaim. Whether you have a keen eye for steel monoliths or simply like picnics among giants, Storm King is a heady destination. The sunlight—or lack thereof—on the rolling hills of the Hudson Highlands conspire to change the look and shadows of the sculptures on any given day. In addition to permanent works by Alexander Calder, Henry Moore, and Louise Nevelson, there are pieces by David Smith, Magdalena Abakanowicz, Alice Aycock, Mark di Suvero, and Nam June Paik. An installation of work by Sol LeWitt, a leader in the Conceptual and Minimalistic art movements, will stand sentinel until the season ends mid-November. (845) 534-3115; www.stormking.org
Lying perhaps beyond our travel circle, but still an enticing destination for performance is the tony Saratoga Performing Arts Center in Saratoga Springs. Like Belleayre's, its season calendar offers something for socialites in tuxes and headbangers in T-shirts. Choose among Suzanne Vega (May 31), cabaret veteran Ann Hampton Calloway (May 24), The Dave Mathews Band (June 23-24), Canadian power-slackers Rush (July 5), and the July 3 pairing of Chicago and The Doobie Brothers. (Insert here obligatory joke about a bottle of Boone's Farm and a joint.) Expect the Thruway to be bottlenecked on July 31 and August 1, when SPAC hosts eco-rocker Sheryl Crow the first day, followed by The Police and Elvis Costello and the Impostors the next.
(518) 476-1000; www.spac.org
Chris Isaak plays the Belleayre Musical Festival August 30
A scene from the Hudson Valley Shakespeare Festival's 2007 production of "As You Like It."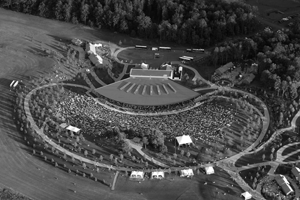 An arial view of the Bethel Woods Center.
Peter Dinklage stars in "Uncle Vanya" at Bard's Summerscape.
Alexander Liberman's Iliad at Storm King Art Center.