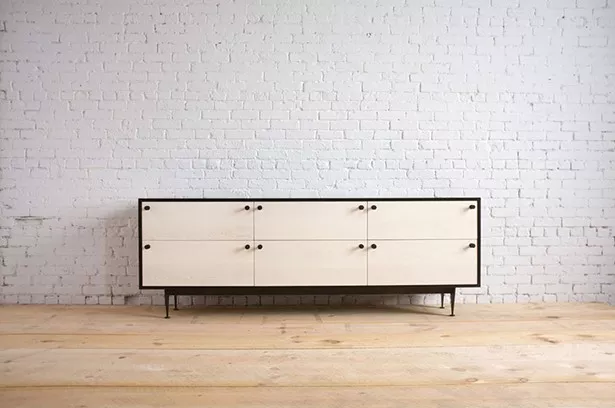 The Mohawk Credenza at Michael Robbin's Furniture Showroom in Germantown.
FURNITURE & TEXTILES
Michael Robbins' Furniture Showroom in Philmont houses an array of sleek pieces that mix and match distinctive elements from Mid-Century, Shaker, maker, and industrial styles in an edgy, distinctive fusion. Born and raised upstate, Robbins returned to the area several years ago and, in the solitude of forest, taught himself woodworking. Alongside Robbins' own pieces, the showroom offers futuristic, handcrafted lighting by Allied Maker, which is based in Glen Cove. (212 Main Street, Germantown; 315-761-8010)
Down the block, Luddite Antiques is a Brooklyn retail expat specializing in early electric lighting. From Victorian chandeliers to Art Deco sconces to neon bar signs, Luddite illumines every era of history. The light fixtures are intermingled with antique gems strong on personality like wooden card catalogues, Soviet-era globes, and 18th-century apothecary cabinets. Whether you're decking out a boutique hotel or redoing the guest room, it's worth checking out the inventory in their tin-ceilinged showroom. (224 Main Street, Germantown; 646-302-7886)
Manhattan-based company CounterEvolution has opened a showroom in Catskill, offering their line of modern, eco-friendly furniture, made with reclaimed components like vintage bowling lane pine. (473 Main Street, Catskill; (518) 545-3274) For a totally different flavor, pop down the block to the Corduroy Shop with its funky array of furniture, home goods, and clothing made with recycled vintage textiles. (711 Warren Street, Hudson; 518-598-9550)
For more fabric intrigue, head across the river to Minna in Hudson, which offers simple, beautiful home textiles like linen duvets, woolen blankets, and cotton rugs. The inventory is ethically sourced directly from female artisans and master weavers in Mexico, Guatemala, and Uruguay. (421 Warren Street, Hudson; Minna-good.com)
Want to know more about what's going on? Read our profiles on new restaurants, cafés and coffee shops, clothing boutiques, spas, hotels.