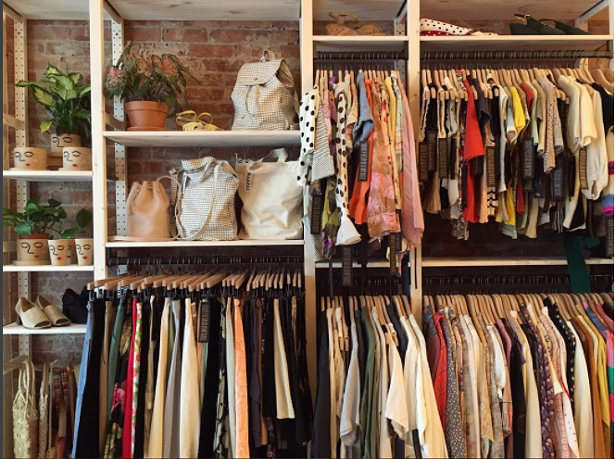 Lovefield Vintage clothing boutique in Uptown Kingston.
CLOTHING BOUTIQUES
Looking for new spots to browse for fresh threads? Uptown Kingston is looking spiffier by the day with three new clothing boutiques. On John Street, Oak 42 has a selection of simple, stylish, and comfortable women's garments, several of which are made in the US. (34 John Street, Kingston. 845-339-0042)
Right next door Andrew Addotta and Clark Chaine have opened Hamilton & Adams, a "modernday haberdashery," (read: men's boutique) with everything from leather weekend bags to waxed canvas jackets to gold flasks. (32 John Street, Kingston. 845-383-1039)
The final prong of the Stockade trifecta is Lovefield Vintage on North Front Street—an exceptional, curated shop of throwback street clothes, evening wear, shoes, and accessories for men and women. (37 North Front Street, Kingston. 845-514-2720)
OTHER RETAIL
The Rodney Shop in Catskill is a great place to explore with the whole family. You'll find the colorful original paintings, sculptures, and ceramics of the shop's namesake artist Rodney Alan Greenblat. You can also browse a selection of art prints, books, and postcards, and a curated collection of vintage 1990s Japanese collectibles, clothing, and stationery. (362 Main Street, Catskill; Therodneyshop.com)
Sallyeander is a bonafide suds company with over three decades of experience handmaking all-natural, hypoallergenic soaps. Now in its second generation of family management, the wholesale line is carried in over 175 stores throughout the US, and Sallyeander just opened a long-awaited flagship retail store in Beacon. With a full range of bath and beauty products, including popular lines like "No Bite Me," an essential oil-based tick repellant, this is a timely and welcome addition to Beacon's boutique shopping scene. (1 East Main Street, Beacon; 315-343-0793)
When you have no idea what to get someone for their birthday, Alder East in Germantown is the perfect answer. This classy gift shop has a wide and well-curated range of offerings from cashmere scarves to fair trade loose leaf tea to linen bedding and organic cotton baby clothes. The inventory is assembled with a mind to social and environmental sustainability. (222 Main Street, Germantown; 518-537-4518)
Blake Hays and Benjamin Lebel continue their respective family legacies of shop-owning with the Village Common Mercantile in Catskill. They are creating handmade, small-batch apothecary goods like room sprays, candles, and essential oil fragrances. Each scent line is based on "locations held near to our hearts—childhood homes, inspiring travels, our rich history" and is accompanied by an original poem by Hays. (388 Main Street, Catskill; 518-313-1310)
Want to know more about what's going on? Read our profiles on new restaurants, cafés and coffee shops, spas, hotels, and furniture stores in the Hudson Valley.