Erik Goldstein
CSA garden at Glynwood in Cold Spring.
Some people saw it coming early. Travel + Leisure writers Matt and Ted Lee journeyed north from Manhattan in 2002, having sensed "a quiet revolution" but half-fearing that they would find something "just like the Hamptons with sheep." Instead, they had a blast meeting farmers and eating fantastic food, and wrote "Sweet (Hudson) Valley Highs" about their adventures.
That was around the time that the Rondout Valley Growers Association was first getting organized. The concept of collaboration rapidly found favor among new niche growers and third-generation farmers alike. "There were informal discussions under way that led to the organization being born in 2003," says RVGA president Deborah DeWan. "Before the [farm-to-table] movement became a movement, we had a tradition—a community of growers who had been on and in the land for generations, practicing farm-to-table, giving mutual aid, delivering sweet corn to New York and ingredients to restaurants. It's an exciting and challenging time now that these things are on the tip of everyone's tongue—to our members, it's just who we are, in our core and at our roots."
The Hudson Valley's re-emergence as agricultural powerhouse and culinary paradise is indeed on everyone's lips. As the locavore and slow food movements have grown in national prominence, partly in response to the catastrophe-ridden and depressing saga of Big Ag (cardboard tomatoes, anyone?) the region has become a bubbling stew of activity centered around every phase of local food: growing it, marketing it, cooking it, and eating it. With the rising tide of food system consciousness, our proximity to the Big Apple (named, after all, for a prominent agricultural product) has fueled recognition of the importance of rich soil, crafty microclimates, and devoted expertise. Emblematic of the shift may be the fact that within the cavernous reaches of Tech City, where IBMers once labored, one of the most successful endeavors is a food packaging facility, Farm to Table Co-Packers.
Farm to Table grew from the sweet dreams of Jim Hyland, himself a transplant from the city who fell in love with the CSA concept and started an unusual one, Winter Sun. Having started with freezing their own produce because they loved having good local food in winter, the Hylands figured others would enjoy it too. They were very right. "We've been taking more space every year—we just added 2,000 square feet, so our total is 35,000 now," says Hyland of the food packaging facility he runs. "Farm to Table is mission driven. We want to help local farms and the local food movement by opening up new markets. Aggregation and processing of value-added products was a missing link. We're going out to every market we can think of, so the farms don't have to worry about it. Ken Migliorelli has created a whole line. Other farmers just drop off their produce and get paid. It's been a very positive direction. I think the growing popularity of farmers' markets was the leading edge with the public."
Chef College
The Hudson Valley's modern era of food stardom dates back to 1972, when the Culinary Institute of America, founded 25 years earlier in New Haven, moved to Hyde Park. Recognized as the place where the best students go to become world-class master chefs, the CIA has only grown in luster and importance—this year, National Restaurant News named the college president, Dr. Tim Ryan, and two of the college's alumni to its list of the 50 most powerful people in the food business. Ryan himself is an alumnus, as are household-name celebrity chefs like Cat Cora and Anthony Bourdain.
Other grads have fallen in love with the charms of this sweet valley and opened restaurants of their own here. The CIA's website lists a couple of dozen of these, from the avant garde hot dog outlet Soul Dog in Poughkeepsie to such renowned bastions of traditional eating as The Would in Highland and Ship to Shore in Kingston and Bruce Kazan's Main Course in New Paltz, an early adopter of farm-to-table cuisine.
One of the CIA's own restaurants, American Bounty, boasts as much about its embrace of local and sustainable as of the menus crafted by its experts. There's a lengthy listing of "farm partners" on its website, in 10 different food categories. Yet more evidence of the CIA's ability to stay on top of the region's wonders: They're opening their own craft teaching brewery in concert with Brooklyn Brewery in 2015.
Not all of the region's great chefs come through the CIA pipeline. In the 1970s, Craig Claiborne of the New York Times discovered the DePuy Canal House in High Falls and John Novi, who would come to be called the Father of New American Cuisine. Decades later, Novi looks with great satisfaction on the emerging local developments. "I believe in destiny," says Novi. "Certain things are written in advance if we let our instincts lead us. Things are coming together in a sort of pinpoint focus in the region right now. I've already got producers making things specifically for me. Up at Harpersfield Cheese they're making an exclusive Canal House cheese. I've got a meeting scheduled with (heritage grain grower) Don Lewis of Wild Hive. Growers from the Catskills stop here on their way to the Greenmarket in the city, before they get on the Thruway, and I get first pick. It's a wonderful puzzle to figure out and put together."
Then there are the wild younguns like Noah Sheetz, one of the co-founders of the Hudson Valley Chefs' Consortium, a group that's part advocacy, part showmanship, and part having a blast and providing the dining experience of a lifetime. "It grew from a bunch of us who kept meeting up at local food events like Columbia County Bounty," says Sheetz, "and then things really got rolling when we got together with the director of the Bannerman's Island Castle Trust and hosted dinner out there. We've cooked on a sandbar that's only there part of the time, at the Athens Lighthouse—all kinds of nontraditional locations. We've worked with an artist friend, Chip Fasciana, on an event that put together a winery, an artist, and a meal. These all make for interesting logistical puzzles."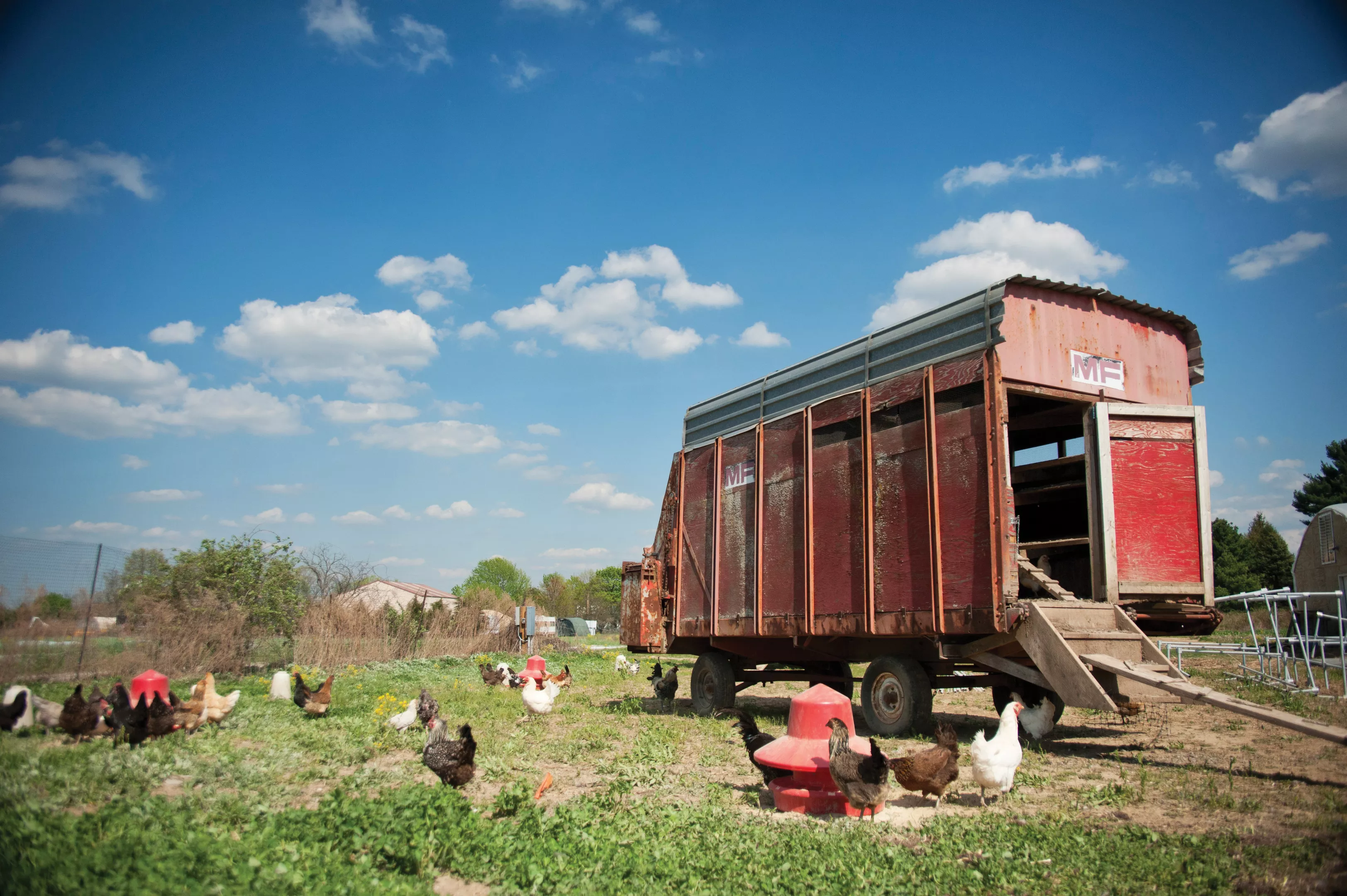 Roy Gumpel
Evolutionary Organics in New Paltz.
The Terroir Factor
The food revolution underway in the onetime breadbasket of the American revolution doesn't lack for glamour, and one of the primary goals is enabling growers both niche and traditional to make a decent living, feeding their families while they feed the rest of us and keeping our remaining green space green. But nonprofit groups are a huge driving force. Folks at Glynwood, a dot-org and working farm in Cold Spring where they've been studying every aspect of agricultural from land use to value-added product since 1995, have devoted much serious thought to the emergence of the Valley as an agricultural and culinary power center.
"We know that the Hudson Valley region is renowned for its history, culture, and recreation. Landscapes have always been a central part of that identity, made famous of course by the Hudson River School painters," notes Glynwood vice president of programming Sara Grady. "But the opportunity for the Hudson Valley in this time, in our era, is to go further—to be defined by food. To truly be a leading region for sustainable agriculture—and therefore a place where world-class food is grown and crafted. To ensure the Hudson River Valley is known as a world-class destination identified by its landscapes, communities and food. "In our time, it is food that responds to all our most pressing concerns and crises: environmental, economic, health, and social wellbeing. When we scan the scene of farming and food system development here in this region, we see a burgeoning and increasingly sophisticated network getting organized around farming and food, seeking to solve some challenging practical concerns: things like farmer training, access to land, processing and distribution, market development, product creation, community engagement, consumer education."
The job's not done, as Grady observes. "We are not yet, as a region, defined by signature foods that express the character of this place. The beginnings are there—and could be on the level of other regions where a vibrant food culture ensures the viability of farming, like Napa, Normandy, and Vermont. In such places, where the sense of place is closely tied to food, this 'terroir' factor facilitates the agricultural economy and becomes a sort of positive feedback cycle between regionally distinctive foods, viable agricultural businesses, productive farmland, and the identity of a place as 'defined by food.'
Seeking that sense of definition, one of Glynwood's latest projects is a cider initiative. "We have a strong success in the work we have accomplished with cider. The Hudson Valley is an apple region, recently hard cider has been gaining popularity, and producing it brings greater value to apples—so it can help to ensure that orchards remain profitable. Cider is a distinctive product that can be emblematic of the region, with a beneficial ripple effect: More growers can profit from growing cider apples, cidermakers thrive, creating jobs, attracting investment, tourism, and pride in the region." The same could be said of craft brewing and small-batch distilleries, which are continuing to pop up across the region.
Incubating Farms
Last fall, the Local Economies Project of the New World Foundation bought the 1,255 acres of farmland in Hurley, the former Gill Farm, to launch a huge new farm hub that seeks to be "a regional center for farmer training, agricultural research, and demonstration of innovative farm technologies," according to its website.
"Local food is a driving force behind almost everything we do at LEP," says spokesperson Brooke Pickering-Cole. "It all begins on the farm. The Farm Hub project is envisioned as a way to bolster resilient agriculture in the Hudson Valley; by working to strengthen farming, we aim to strengthen the local food system. We felt that the time was right for this kind of project—there is so much demand for local food. With celebrated traditions, great land, young people interested in farming, and proximity to the New York City market, the Hudson Valley is very well positioned to supply that demand. This area also seems to attract people who love good food. All the restaurants, bakeries, cafés, farmers markets, caterers and, of course, the CIA, are magnets for 'foodies' of all types who are increasingly interested in the source of what's in the grocery store and on the menu. These businesses are evidence of a culture that supports the kind of work we and our partners are doing and that's very fortunate. There's a great deal of potential for economic development around farming and food here."
Todd Erling, executive director of the Hudson Valley Agribusiness Development Corporation and Hudson Valley Bounty, agrees. "There's better collaboration than ever," he says. "Formally and informally, adding to the depth and diversity of not only agricultural products but artisanal products and the means to get them to market."
The good news just keeps rolling in. Late in February, the Local Economies Project announced a grant of $200,000 to the New York branch of the American Farmland Trust to "expand new, local markets for farmers through the Farm to Institution New York State Partnership," an organization that works to serve more local products in places like schools and hospitals. Along with the hard work comes a heaping helping of fun. One more sprouting development of note: a new international magazine, Modern Farmer, launch recently in Hudson. "People would ask us, 'How is that a scalable audience?'" says founder Ann Marie Gardner. "And it's like, 'Do you eat?' I was a journalist traveling all over the world, and everywhere I went, people care about food. They want growing skills. They want to raise chickens. They want the basic skills we've lost touch with, and there was nobody giving them the information in an accessible, popular format.
"And we've hit a nerve. We're selling the magazine in Singapore and Berlin. People in Tokyo want our T-shirts. What's going on in the Hudson Valley is a microcosm of something that's happening everywhere, and this is a great place to be headquartered—we're right in the thick of it."