In 2014, New York City-based artists Mina Teslaru and Rich Tazzara began their search for a bucolic spot in the Catskills on a bit of a lark. When they found the secluded 10-acre property near sparsely populated Roxbury in Delaware County however, the couple was instantly enchanted, and dove head-first into an almost-decade-long journey to transform their little corner of the Catskills into an artists' retreat and off-grid hideaway for recharging and reconnecting with the natural world.

"We fell in love with this place," says Teslaru, a fine art photographer who grew up in Romania. "Delaware County has this familiar feel. It feels like home to people from all over the world, which is what makes it feel so magical."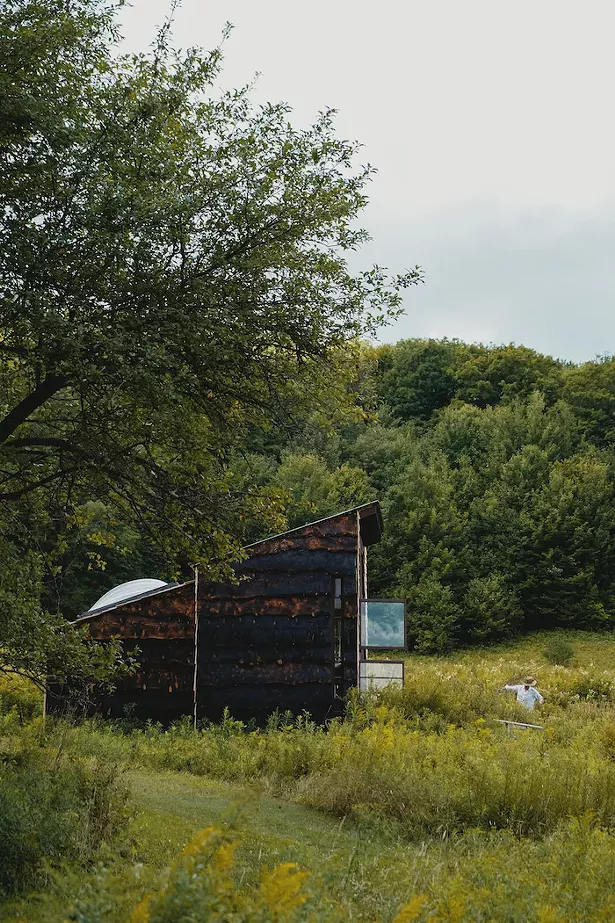 Bellfire Farm, their wanderlust-inspiring retreat is nestled in quiet Meeker Hollow (one of the best stargazing spots in the state) and borders state-owned land. Tucked among the property's maple forest and wildflower meadows are three picturesque tiny dwellings (with a fourth one to be launched in June) that Teslaru and Tazzara—a multimedia artist and master woodworker—designed and hand built themselves as well as many of the furnishings inside using locally sourced and reclaimed materials.
The most recent addition to the village of glamp sites is "The Cosmic Nomad," a lovingly handcrafted and meticulously detailed modern interpretation of a Victorian vardo, built atop 1920's John Deere wagon base, complete with a quaint Dutch door, bunk beds, handmade decor, and a custom-made round window for spectacular stargazing.

"Every retreat is built around an artistic persona," Teslaru says, which lends each site their own distinct vibes. Tucked beneath the shade of the trees, the Cosmic Nomad is the perfect writerly escape.
Each glamping site is surrounded by ample private outdoor space, and comes with an outdoor solar-powered shower, private fire pit, grill, picnic table, and Adirondack chairs, as well as access to a sauna, a large floating deck in the wildflower meadow perfect for yoga, meditation, or stargazing, and miles of forest to roam.
Teslaru and Tazzara, who live and work on the property, are passionate about sharing their slower pace of life with their guests. "You have to be a little self-sufficient here," says Teslaru. "We offer guests an opportunity to disconnect, slow down, and enjoy the simple joys of living in nature; to cook over an open fire, take outdoor showers, and frolic in the meadow."

In addition to individual glamping visitors, Bellfire Farm also hosts micro-weddings, group glamping, corporate and wellness retreats, photo and video shoots, open-air performances, and more. "It's an encapsulated experience," Teslaru says. "We have people coming back every year now and we're usually booked for most of the summer."
"We've seen people transform overnight, from showing up wearing the wrong shoes to running around barefoot the next day," Teslaru continues. "It's incredible how something as simple as stargazing or cooking over an open fire or picking wildflowers can have such a powerful effect."