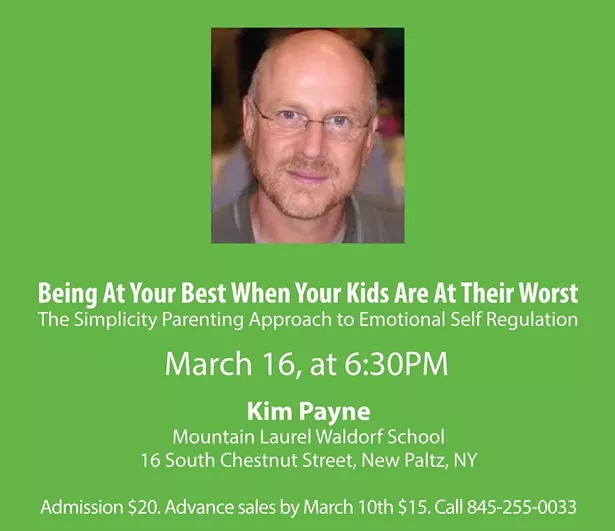 Hey! Look up! There's a parental balcony, from where you can calmly and lovingly watch the family dance. This is Kim John Payne's offering in his forthcoming book, tentatively titled,
Being at Your Best When Your Kids Are at their Worst
. In it, Payne explores how parents can stay centered when our kids are not. It's also the topic of his upcoming lecture at Mountain Laurel Waldorf School in New Paltz on Thursday, March 16th.
For over twenty years, Kim John Payne has been working to help parents take a step back from the new normal of family life: overwhelm. He coined the term
Simplicity Parenting
with his 2009 #1 Best Seller, and now there's a movement, including life coaching, a new audio series, seminars, and workshops. Payne is on a mission to counter what he calls "the undeclared war on children," and says many of today's behavioral problems in children come from TMS – Too Much Stuff.
In advocating that parents simplify their parenting, Payne feels we can realize our own hopes and values, and build deeper connections with our children, fostering family resiliency and joy. The lecture in New Paltz will be a discussion about emotional self-regulation for parents.
Being At Your Best When Your Kids Are At Their Worst: The Simplicity Parenting Approach to Emotional Self Regulation
with Kim John Payne at Mountain Laurel Waldorf School, 16 South Chestnut Street in New Paltz: Thursday, March 16th, 6:30p; $20 admission; call 845-255-0033 or buy tickets on
the school's website
by clicking the banner ad.