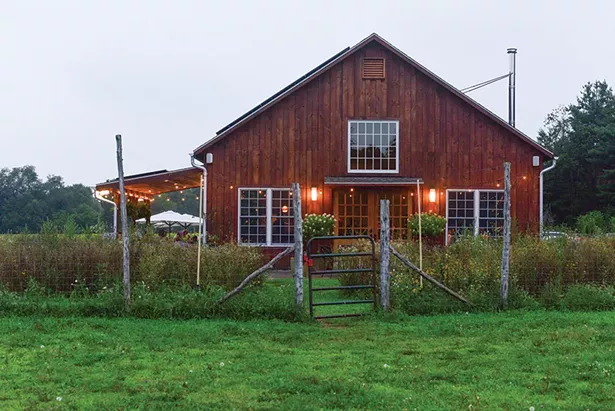 The taproom at Arrowood Farm Brewery in Accord.
As the name hints, agriculture is the beating heart of Arrowood Farm Brewery in Accord. Cofounders Blake Arrowood and Jacob Meglio connected over the desire to create a sustainable model in modern agriculture. And "not one that just survives," Arrowood clarifies, "but one that can truly thrive."
With capital from a local investor, in 2013 the two started a hop farm in Accord with the long-term vision of making "beer from the ground up." They timed their launch with the signing of the Farm Brewery Act, which allows brewers—making beer primarily from New York State farm products—to serve beer by the glass without additional permitting.
Despite the bucolic name, nowhere in the Farm Brewery Act does it require brewers to grow their own ingredients or be located directly on the grounds of a farming operation. "We took it damn near as literal as possible," Arrowood says. "We wanted to deliver on what it truly means to be a farm brewery." Currently 86% of the brewery's malt and 74% of their hops are sourced within New York State, with the goal of 100% in-state ingredients by the end of 2020. The demand created by their brewing operation has been an economic stimulus for area farms and their facility has been a job creator.
"As farmers, our relationship with beer begins and ends with agriculture," Arrowood says. "As brewers, we know these ingredients will express themselves in our beer." To that end, the beer is made without synthetic ingredients, extracts, refined sugar, chemicals, or GMO products.
The farm and flagship tasting room in Accord is a pastoral paradise at the end of a long gravel driveway, lined on one side by forest and on the other by a field of grain. You can see a square acre of hops towering in the distance and, beyond that, an orchard. There is a chicken yard, and deeper in the woods, pigs roam.
"We're off the beaten path, but for me, what we offer is the full 360-degree experience," Arrowood says. "When you come to our farm, you are able to experience where ingredients come from, which is most likely from our backyard or a neighbor's farm. That's what I hope folks take away—that they understand what is in their glass and what was involved in making it, from the farmers to the malters to us brewers."
Like any viable modern agricultural enterprise, Arrowood is diversifying its offerings. The property is available for rental as a wedding venue and, this season, Arrowood will boast a stacked concert line-up, hoping to further establish itself as a beer and music destination.
On August 3, Guster, Low Cut Connie, and friends will take the stage. The Dirt Farmer Festival returns for the second year, and will span two days: September 6 and 7. With Jackson Browne and the Midnight Ramble Band headlining last year, the organizers from Levon Helm Studio's are promising an even more impressive lineup, which will be announced soon. And on September 27, the Woodsist Festival will feature alt-pop darling Whitney along with Real Estate, Woods, and Kevin Morby.
In addition to music programming, Arrowood will introduce more consistent food offerings this season. "We've had food trucks at the brewery on weekends, but we wanted to take it even further by opening on Wednesdays and Thursdays during the season," Arrowood says. "We'll be offering consistent meals and a family-friendly atmosphere." All season long, the Lekker food truck will be onsite serving up a rotating menu under Chef Juan Romero, owner of Duo in Kingston. Menu options range from corndogs and parmesan fries to seitan tacos and lobster rolls.
"For us, bringing on food, programming, and concerts is the driver that will allow us to continue what we do year-round."
Arrowood Farm Brewery is open Wednesday and Thursday, 4-9pm; Friday, 4-10pm; Saturday, 12-10pm; and Sunday, 12-8pm.