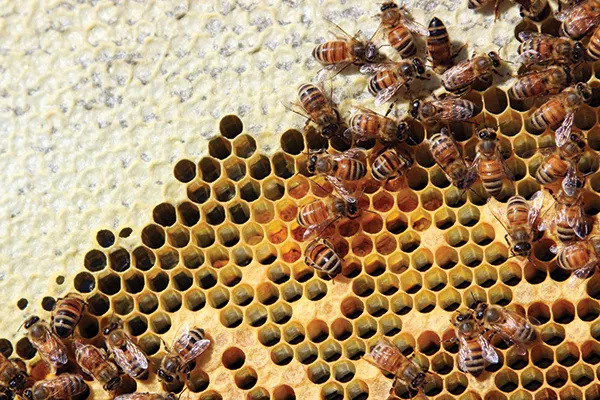 Peter Barrett
Bees busy storing honey (light yellow) and pollen (dark yellow) to feed the hive through the coming winter.
There has been much buzz about bees recently. As if to underscore the point, the morning I sat down at the computer to begin research on this piece, no fewer than five different stories about bees and honey appeared in my Facebook feed. From a clearer connection between pesticides and colony collapse disorder to the scandalous impurity of most imported honey to the looming crisis in crops requiring pollination, we have reached a critical mass of public awareness that bees are in serious trouble. And if they're in trouble, so are we; one of the photos in my feed was of a supermarket produce section with all the bee-pollinated food removed. It was not a pretty picture.
Concurrently with this shift in consciousness, a new venture appeared on Sawkill Road in Kingston: Hudson Valley Bee Supply, the brainchild of Megan Denver, part owner of the crane business next door, and Jorik Phillips. The couple met at the Catskill Mountain Beekeepers' Club, of which Phillips is the president. They have monthly meetings, and both wax enthusiastic about how collegial and enjoyable the atmosphere is. "There are so many new beekeepers; it's really hot right now," says Phillips. They had no idea what to expect in terms of the business, and have been overwhelmed by the response in the six months since they opened.
Flower Power
Along with chickens, bees represent an increasingly popular option for people keen to keep some livestock on their property without going full farmer. Honey, the sweet reward, needs no explanation, and happens to be a lucrative product; retail prices approach six dollars a pound. Denver puts the initial investment to set up a hive at about $500, but says a good keeper can make $700 in the first year selling honey. "The second year, it starts to get really good."
There is no state regulation of honey, meaning anyone can produce and sell it without a license. This is a function, says Phillips, of the size of the honey lobby in New York, which has to do with our flora, both native and invasive. "We have two honey flows each season; the early one is all the native trees and flowers, and then later on the goldenrod and loosestrife and Japanese knotweed provide another one." There are many anecdotal reports of people eating honey to help with seasonal allergies; since bees gather pollen in a three-mile radius around the hive, homemade honey will contain homeopathic doses of anything that might make you sneeze. Phillips also remembers hearing testimony from dozens of people explaining how apitherapy—intentional stinging on meridian points—helped them kick painkillers and ease the symptoms of rheumatoid arthritis and multiple sclerosis, among other ailments.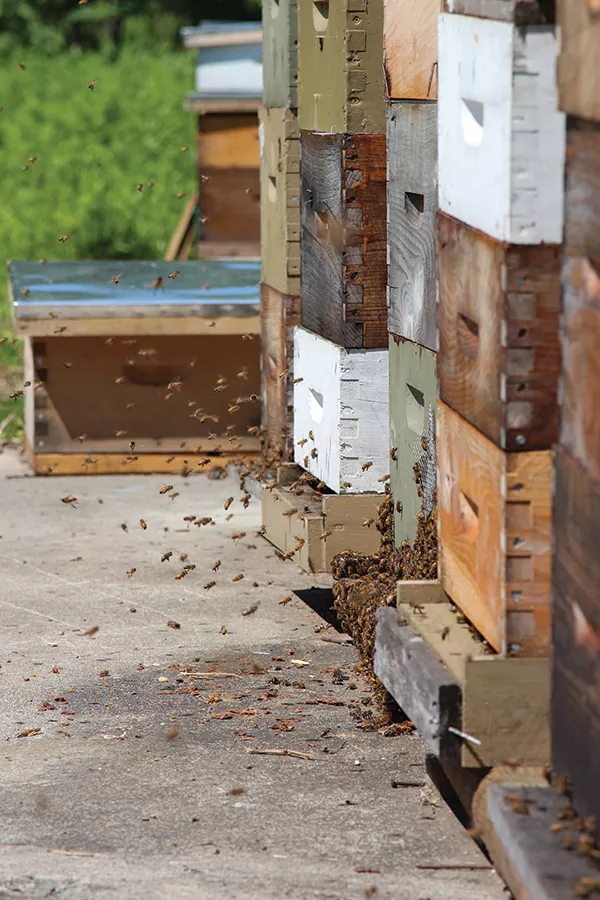 Peter Barrett
The bee yard at Hudson Valley Bee Supply.
A Mite Tricky
Beekeeping is harder than it used to be; Phillips and Denver encourage new keepers to buy a couple of books and take a class before taking the plunge. Besides the persistent effects of pesticides, virola mites represent the worst threat to prosperous hives. Mites weaken bees and act as a vector for pathogens, especially viruses, which can kill a seemingly healthy hive during the winter. There are passive techniques for removing mites, and natural treatments (formic acid, present in bee venom and honey, is the only chemical intervention permitted for certified organic beekeepers). Both Phillips and Denver regularly trap feral bees from old barns and the wild, breeding them with their own hives, since the wild bees are accustomed to this climate and exhibit grooming behavior that helps control mites.
Denver speaks about the dramatic difference between soft treatments and hard ones: "We don't sell organophosphates [pesticides for mites] and can't advocate them"; that sort of noxious chemistry is too similar to the poisons that are killing bees around the world. The European Union just voted to ban neo-nicotinoids, a new crop of pesticides increasingly linked to massive bee fatalities, but no such legislation is likely to pass in this country anytime soon. "Aspire to be treatment free," says Phillips, "but don't start out that way. It's really easy to lose your hives before you learn what you're doing." He is treatment free on the breeding side, but uses light interventions on the honey side to ensure a healthy crop.
Behind the store lies the bee yard, home to about a million bees. They open up some hives for photographs, Denver fully clad in protective attire and Phillips just wearing a jacket, head and hands bare. "I've been stung 10 times already today," he laughs, but before I could say "alas, poor Jorik" he told me that, while it still hurts, the pain vanishes quickly. He also confides that he left off the gear for vanity's sake, not wanting to look like an astronaut in the pictures. HVBS holds regular classes: Beekeeping 101, 201, and 301 offer the bee-curious public instruction for all levels. Other seasonal classes will include soap and candle making, a primer for prebeginners, hive management for growth or honey, and plenty of one-off lectures. Friendly conversations are a regular occurrence in the store, as hobbyists and serious keepers from all walks of life swap anecdotes and information. The enthusiasm is palpable, and the friendly banter makes an appropriate soundtrack for the silent seething within the glass-walled observation hive mounted on the wall by the desk.
A recent afternoon found Doug McRory, former provincial beekeeper for Manitoba and then Ontario, now retired after nearly 40 years as a professional, stopping by the store for a tour of the hives in the bee yard. The weather started getting rough—bees make beelines for their hives when storms approach—so the group repaired indoors for a casual chat in the classroom. McRory's main concern was foulbrood, a bacterial infection that consumes young larvae in their cells. Highly contagious, it can wipe out whole hives, and travels easily; disease-weakened hives get plundered for food by healthier hives after the honey flow stops, spreading the spores to uncontaminated colonies, so even scrupulously clean keepers must be vigilant.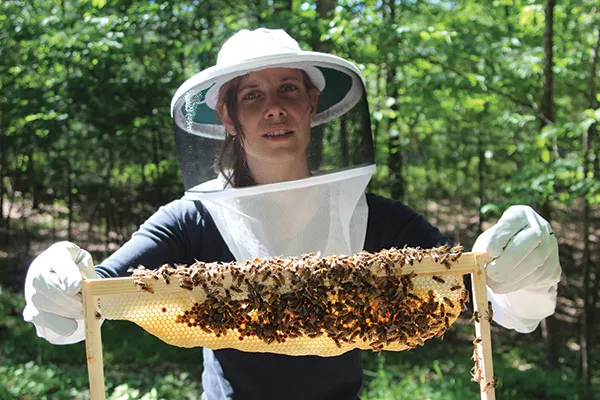 Peter Barrett
Novice beekeeper Katie Benevento holds a frame from her hive.
McRory strongly advocates prophylactic treatment with antibiotics to control foulbrood, but that's not as much of an option here, where it's increasingly resistant to the most popular antibiotic, Oxytetracycline. Tylisol is also registered for use here, but only in the fall; if used in the spring, it can show up in the honey. A more interesting option for controlling the disease is to breed bees for two recessive, foulbrood-controlling behaviors: eating the infected larvae and capping their cells with wax to prevent spores from spreading throughout the hive. Both McRory and Phillips report some success in this area, as do others.
Honey Laundering
Sad to say, if you're buying honey at a supermarket there's an excellent chance that it isn't really honey at all. It's most likely a combination of cheap and illegal Chinese honey—which can contain lead, banned antibiotics and pesticides, and other contaminants—that has been ultrafiltered to remove every trace of pollen, thus making it untraceable, plus high-fructose corn syrup, and then trans-shipped through other Asian countries. The European Union recently banned (sound familiar?) imports of honey from India, because it could not be proven that it wasn't actually Chinese. Seventy-six percent of US supermarket honey (and 100 percent of that on sale in drugstore chains) has no pollen at all; though some industry spokespeople defend its clarity and shelf stability, more reputable experts emphasize that removing the pollen is exclusively used to hide its origin. The FDA has the authority to crack down on this flagrant fraud, but thus far has not. "This is why it's so important to buy your honey at a farmers market," says Denver. "Or make your own," puts in Phillips.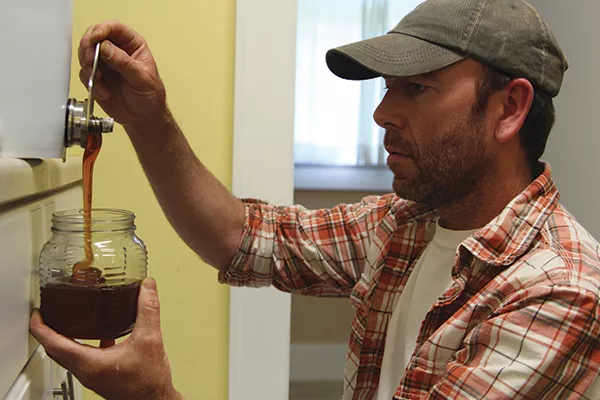 Peter Barrett
Jorik Phillips fills a jar with his honey.
Buying real local honey is a good first step. For those wanting to help the bees but not eager to tend any, Denver has a few easy suggestions. "If you do one thing, buy organic almonds." Two-thirds of the nation's commercial bees are used to pollinate California's almond orchards, where they ingest the chemicals sprayed on the "conventionally" grown trees. This, combined with the fact that these hives are driven all over the country all year—subsisting on largely monocultural diets supplemented with corn syrup and vitamins—is another major factor behind their decline. "People can also mow their lawns less often, letting dandelions bloom; that nectar is the first thing they feed the babies in spring, and then the clover later on is really important." There are also wildflower seed mixes (available at the store) and these "meadows in a can" offer your neighbor's bees a varied buffet all season long. You could also just stop mowing part of your lawn altogether; think of it as the horticultural version of a hipster's beard.
It's Like a Metaphor, Man
Katie Benevento, a newly minted beekeeper in Saugerties who received a hive from her husband for Mother's Day this year (from HVBS) explains her motivation succinctly: "I like food, and I like people. And if there are no more bees, then there won't be any more food or people." Her daughter Ruby, age six, when offered the chance to help open the hive, was initially nervous, but after suiting up in a child-size suit and veil, quickly became rapt and relaxed, smiling as she held the frame of bees her mother handed her. "They're so cute and fuzzy!" she exclaimed.
Bees make interesting pets, and each hive is more of a single entity, since individuals cannot survive on their own. They are remarkably docile animals, going about their business oblivious to our presence, and offering a compelling spectacle in addition to sweet liquid gold. In his fascinating book Honeybee Democracy (Princeton, 2010) Thomas Seeley describes how the process by which a swarm chooses a new home resembles the way a human brain makes decisions, and how each bee acts tirelessly and without ego to nurture and protect the hive. "It's a great model for us," says Denver. "We're looking into making our employees stakeholders in the business as we grow, so we don't have to be their bosses." Phillips, who came to bees as an avid mead maker, plans to build a meadery behind the store within the next few years. "People ask us what our business plan is," Phillips laughs, looking over at Denver. "To have a business teaching people about bees." Denver nods. "If we couldn't teach—if we were just hawking gear—we'd close this down tomorrow."