Page 4 of 4
Such a community-centric show lends valuable exposure to talent awaiting discovery. During a similar Zuzu's event, frequent patron Daniel Aubry encountered the portraits of an unsuspecting local painter. Aubry is a real estate agent who used to conduct business from a laptop at Zuzu's. With a need to expand, he decided to open the Daniel Aubry Gallery across the street. After several months in existence, Aubry decided it was time to show the work of a local artist. He chose Katie O'Hagan, the portrait painter he had seen in the cafe months before.
O'Hagan's show "True To Life" is now on display at the Daniel Aubry Gallery. O'Hagan started oil painting in 2004 and eventually began to paint members of her social network in Beacon. The result is a series of portraits of some of Beacon's best known residents, an homage that blurs the lines between artist and observer. As Gallery Director Hannah Anderson puts it, "At the show's opening, half the people depicted were actually present. People kept saying, 'I recognize these faces. I see them all over town!'"
Aubry's need to pollinate has lead him further into the Beacon fabric. He is currently in contract for the former Grand Lodge of the Free and Ancient Order of Masons, located on Fishkill Avenue and just steps away from where it meets Main Street. The plan is to convert the space into an art house movie theatre and performance space while retaining some existing architectural features. The project will explore unchartered ground in the city's cultural scene and attempt to include a now quiet area off of Main Street into the city's pulsating main drag.
Aubry's foray into areas unexplored in Beacon is no accident. In a piece about Beacon's real estate market he says, "Beacon property values showed a median uptick of 2.8 percent," a fact he obtained from real estate website Zillow.com. Such a figure may not seem relevant compared to those obtained before the economy took its nasty dive. Yet it shows that there is something about this city that continues to attract residents and investment. Perhaps it is the aroma of its wilds or the latent intrigue of sleepy buildings just waiting to be preserved. Maybe it is the convenience to New York City coupled with a diverse supply of shopping and service amenities. Still, maybe it comes from its dynamic social and cultural networks that are either growing or have erupted. Most likely it is the strength of these and many more unseen elements that are just waiting for the right time to blossom.
RESOURCES
Art House Gallery & Studio 919-923-0352
Bank Square Coffeehouse www.banksquarecoffeehouse.com
Beacon Institute for Rivers and Estuaries www.bire.org
Beacon Studios www.beaconstudios.org
Charlotte Guernsey www.gatehouserealty.com
City of Beacon www.cityofbeacon.org
Clay, Wood, and Cotton (845) 481-0149
Chill Wine Bar (845) 765-0885
Daniel Aubry Gallery www.danielaubrygallery.com
Echo (845) 440-0047
Erica Hauser www.ericahauser.com
Howland Cultural Center www.howlandculturalcenter.org
Jacqueline's (845) 838-1737
Local 845 www.local845.com
Martin Luther King Cultural Center (845) 831-9887
Max's on Main www.maxsonmain.com
Mollie McKinley www.molliemckinley.com
Moxie Salon www.moxiesalon.com
Naomi Sachs Design www.naomisachsdesign.com
Paper Presence (845) 849-2443
The Piggy Bank www.piggybankrestaurant.com
Rick Price www.rickprice.net
Riverwinds Gallery www.riverwindsgallery.com
Salon Arje (845) 831-4426
School of Jellyfish www.schoolofjellyfish.com
Seed to Fruit www.seedtofruit.net
Sukhothai www.sukhothainy.com
Tas Kafé (845) 522-1510
Jessica Wickham www.jessicawickham.com
Zuzu's Leaf and Bean (845) 765-0682
Natalie Keyssar
ADAM BOHANAN STRUMS THE GUITAR IN FRONT OF THE CUP & SAUCER TEA ROOM ON MAIN STREET WHILE JOAN MORGAN, TIM WELDON, AND BILL MILLER LISTEN.
Natalie Keyssar
MICHAEL GILVEY, ONE OF THE OWNERS OF HUDSON BEACH GLASS, TRIMS ONE OF HIS PIECES WHILE ONLOOKERS WATCH IN THE GALLERY'S GLASS BLOWING STUDIO.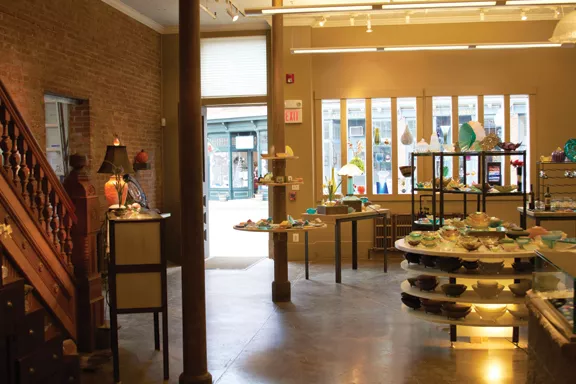 Natalie Keyssar
INSIDE HUDSON BEACH GLASS, GLASS ORNAMENTS AND CONTAINERS ARE FOUND IN EVERY CORNER. THE LARGER STOREFRONT ALSO CONTAINS A GLASS BLOWING STUDIO, WHERE ONLOOKERS CAN WATCH HOW THESE OBJECTS ARE MADE.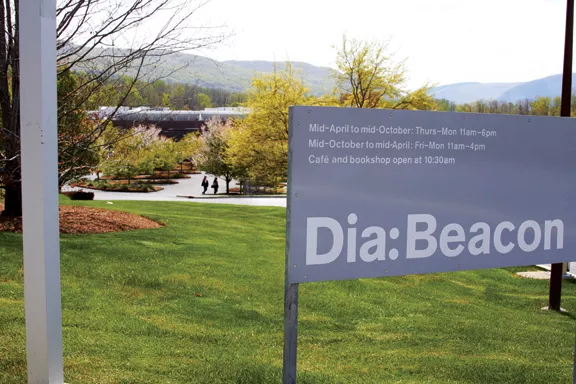 Natalie Keyssar
THE DIA:BEACON MUSEUM OVERLOOKS THE HUDSON RIVER, AND HOUSES THE WORK OF PRESTIGIOUS CONTEMPORARY ARTISTS FROM ANDY WARHOL TO RICHARD SERRA. LOCATED LESS THAN HALF A MILE FROM THE BEACON STATION ON THE METRO NORTH RAILROAD MANY MUSEUM-GOERS WALK FROM THE TRAIN.