Into the windows of a second-floor apartment on the east end of Main Street steams the smell of late-winter newness off Mount Beacon. One of Beacon's newest artists, Mollie McKinley, espouses her love of the Hudson Valley's landscape. Through the lens of a Bolex H-16, she hopes to capture it while filming Lovefish, a film "about the mysteries of the unconscious mind, and the mysterious nature of human existence." She states, "The ancient lingering in the Hudson Valley makes for a tonal groundwork rich in underlying mystery. The Hudson River is where the film's dream-animal first appears. At the film's climax, the tangled night woods of the Hudson Valley pull the main characters in by an unseen force, thereby transforming them before depositing them back into the hands of civilization. The landscape provides the materials and environment for cathartic transformation." McKinley is not native to the Hudson Valley but spent many years soaking in its glamour while attending Bard College. After graduation and several years in New York City, she has come to Beacon for the best of city and country.
Naomi Sachs, a landscape architect active in the preservation of Beacon's natural resources, characterizes Beacon's duality: "Not many places offer the convenience of a city while being so immersed in nature. For most of us who live here, it's an easy and often walkable distance to hike, kayak, cycle, sail, fish, garden, and play in the woods." Sachs is alluding to Beacon's wealth of natural resources: its location on the Hudson River; the luscious, powerful Fishkill Creek that races to meet the river; and Mount Beacon, so close that it feels like the protective, gentle giant prevalent in fairy tales. The convenience Sachs mentions is aided by Main Street, providing a scenic thread from river to mountain.
As Main Street travels west, it encounters mountain and creek in an area that could be called the Falls District, a term coined by Sai Corson, owner of the neighborhoods' new Superfood Citizen Cafe, a raw food eatery. The smell of these bodies colliding wafts through McKinley's windows at night while she sleeps. In an ideal environment for a resident of her temperament, she states, "Space, landscape, and atmospheric tone are crucial in all of my work. The setting is not a passive backdrop; it is a character in its own right, with an agenda, a means of communication and history."
It is similar sentiment that has attracted enterprise to the Falls District. Early commercial pioneers of the area's renaissance include Sukhothai Restaurant, Salon Arje, Moxie Salon, and Jacqueline Weissner of the boutique Jacqueline, who also organizes the city's annual hat parade in June. (Beacon was once known as "the hat making capital of the world.") Some newcomers offer sensual experience as instinctual response to the aesthetic revelry of the neighborhood. Seed to Fruit sells exquisite arrangements of locally grown flowers. Tas Kafe beckons you to drink in Haiti through the sweet, smooth taste of its coffee. Some outliers provide even further appreciation of the setting's natural features as they explore organic form. Right before Main Street curves, one can walk 20 paces down Tioronda Avenue to Art House Gallery & Studio. This cottage is the studio, home, and retail space of artists Chip Schwartz and Lynda Curry. At the other end of the District, down an unexplored section of Main Street, woodworker Jessica Wickham creates one-of-a-kind dining and conference tables from locally sourced trees.
Another attraction to the neighborhood is the shells of industry along the creek. One source of unexpected healing has arisen in one of Beacon's most creative realtors, Charlotte Guernsey, owner of Gatehouse Realty, who loves "dreaming of what things could be." With a background in fine art, Guernsey lends her discerning eye to finding loving custodians for some of the city's foremost properties. This includes the highly anticipated Roundhouse project, which is a rehabilitation of the first lawnmower factory in the US. Overlooking the falls and seated on East Main Street, it is planned as a boutique hotel, restaurant, bar, event space, and spa with properties adjoining to be live/work condos. Guernsey is excited that the project will be LEED-certified and will provide electricity to the hotel through hydroelectric power from the falls.

Supportive Space
Erica Hauser, a 2004 transplant to Beacon from the Big Apple paints cityscapes and rural settings with the pronounced stillness of the moment. Hauser's tendency toward prolonged experience could explain why she has grown fond of Beacon's pace. She notes the constant rush of life in New York City, remembering how she could know someone for years and never see where they live. In contrast, Hauser points to Beacon's environment as conducive to friendship through more spontaneous interaction.
Such interaction can occur when the line between private and public blurs. A current Beacon instance of such is School of Jellyfish, envisioned by Lily Zand and her husband, Oliver Schaper. Both accomplished architects, they came to love Beacon after Schaper was commissioned to design the new Beacon Institute for Rivers and Estuaries building at Denning's Point. They decided to establish the "village square concept" in nonprofit café form, serving homemade food and chocolate, espresso, performing arts, and free advice on architecture and permaculture. According to Zand, "Architects study amoebic structure and jellyfish for their sustainable organizing abilities." In an attempt to imitate nonhierarchal jellyfish society, wherein each individual depends on its surroundings for form and survival, Zand hopes to encourage dialog and compassion among patrons.
It is while helping out at Jellyfish that Erica Hauser has found a taste of that typical Beacon support. She noted a conversation that flared up one day when a group of mature Beacon natives wandered in. They reminisced on the way Beacon used to bustle and discussed how it bustles now. They argued over which bakery or furniture store on Main Street was best and seemed grateful at the opportunity to sit, discuss, and remember.
Mixing mature and young, newcomer and native, is a form of union that allows community to flourish. Another such instance occurs at the Martin Luther King Cultural Center. For 40 years, the center has provided local seniors with services like door-to-door rides to health care, Beacon Free Press delivery, and hot, nutritious meals. It is a resource that Executive Director Dot Paulin calls "a way to help the senior population remain part of society." In 1993, then-concerned citizen Paulin discovered the center had lost its funding. In the midst of her retirement from IBM, she decided to head up the center's rebirth and enacted the youth program that still creates avenue for teens and children to enter society in a positive manner.
The center is in the process of moving to a new facility, located at the Parish House of St. Luke's Episcopal Church. The building has a spacious kitchen with tall ceilings and windows and two large iron ranges. The gym shines with large, triangular windows on three sides, suitable not only for sports but banquet dinners and theater performances. Not only a physical change, the center's expansion will also mean a conscious blending of the center's two target populations. For instance, a Circle of Life Chorus is now being proposed that will allow participants of all ages. Paulin also enthusiastically welcomes a connection with the art scene of Beacon, an idea born in 2000 when artist Nestor Madalengoitia led MLK youth in a mural painting of the old Beacon-Newburgh Ferry at the corner of Main and Chestnut. Paulin hopes for similar, future engagement in saying, "We have enough artists in eacon that if each gave an hour or two a month, we could really have a real community connection."

River Music
On an early spring evening music swells on the patio of the Bank Square Coffeehouse, situated at the very end of Main Street as it meets 9D, allowing sound to carry over the lands leading to the Hudson and beyond. On Tuesday evenings, the cafe hosts an open mike and always attentive in the crowd is Miss Vickie. Offering nurturing music instruction in an intimate, nearby storefront, Miss Vickie is lovingly conjuring a music scene on the west side of Beacon with friend Tom Joyce, a longtime Beacon resident who emcees the open mike. The café is the starting place for what Vickie hopes to expand to summer music events on a well-used empty lot further down Main Street.
The seeds of music being cultivated on the west end are a preview of other music destinations, including Chill Wine Bar's Saturday night jazz series and Max's on Main's local music shows in its vibrant social setting. On the east end, a little thing called Local 845 has also been born. Stephen Clair, long-time touring musician and founder of Local 845, became an organizing music guru for Beacon after he and his family left Brooklyn.
The Local 845 brand of music occurs in the places like the high-ceilinged, intimate Howland Cultural Center (listed on the National Historic Register), suited for both classical voices and a foot-stomping, washboard-playing jug band. At The Piggy Bank, acts like Brooklyn-based Milton sing out evenly textured thunder while local goddess Margaret McDuffie sings listeners back down with her opalescent waterfall. Zuzu's Leaf & Bean is also a vital source, allowing hipsters and families alike to enjoy anywhere from gypsy hardcore to transcendental techno-jazz. The Spire Studios artists complex on the west end commands attentive reverence in a space reminiscent of a Brooklyn-style industrial loft.
The fecundity of music on any given weekend night transforms Main Street into what freelance PR consultant and Beacon newcomer Summer Hixson calls a "bustling little circuit." She describes the excitement of being at an art opening, aware that soon she'll have to leave for shows playing simultaneously. Hixson is the PR arm of a high-powered volunteer team that is currently working on the inaugural Beacon Riverfest. This "American Folk Rock Festival" is the brainchild of Local 845 and will fill Riverfront Park on June 26. Although the festival will include headlining acts from outside Beacon—including The Fleshtones, Tracy Bonham, and Yarn—the goal of the event is to funnel the building energy behind Beacon's own music scene.
Both Clair and Hixson agree that the fest is a community effort. Clair has partnered with the City of Beacon, Beacon Arts Community Association (BACA), Cold Spring Sound, WAMC, WKZE, and a collective of area musicians raising money through benefit concerts. Clair professes that part of the excitement in planning involves the insanity of trying to create something from scratch. In a recent plea for monetary help, he says of a fundraising breakfast hosted at his home, "That pancake party Jennifer and I held in our home clinched it. Knee-deep in maple syrup, borrowed griddles, and blown circuits, we began to realize that, with the support of such a great community, we were going to make this happen."

Creativity Is Contagious
Beacon's art scene has erupted and has now coalesced into varying layers of public involvement, aided by Second Saturday events. On the second Saturday of each month, galleries host opening receptions and many shops stay open late. This is one project of BACA, a blanket organization of artists, galleries, retail businesses, and arts supporters.
For the art spectator, Beacon's supply is vast and ranges from the local galleries to public installations to the region's finest to world-class exhibition at Dia:Beacon. But creativity is contagious and its encouragement makes Beacon more than a string of art galleries. Under the auspices of the city's diverse supply of retailers, residents are beckoned to active participation. Clay, Wood, and Cotton offers all-handmade, often local items for the home. Riverwinds Gallery sells the work of Beacon and Hudson Valley artists and artisans. Echo offers Allyson Vermeulen designs, a local seamstress now selling 60s-style vintage dresses using top hat and mushroom prints. Paper Presence sells many locally sourced, eco-friendly stationary items and is where Lydia Lynch supports a growing rebellion to re-establish the old-fashioned handwritten note as a means of communication.
Beacon also advocates for creativity within the walls of her artist incubator, Beacon Studios. Offering affordable studio space in the unrefined physical interior of the former Beacon High School, it's a place where artists and professionals with small budgets can establish a foothold. One of the most dramatic uses of space there occurred when a wall in one of the old gyms was used to complete a large mural by Beacon artist Rick Price. Titled Mother Hudson, this 15-by-10-foot painting was commissioned by the Beacon Sloop Club in 2008. Displaying the strong arms of a Native American goddess as she protects her environs, it offers a colorful view of the symbiosis that exists within a healthy community.
Given Mother Hudson's message, it is no surprise that on a warm spring night, Price can be found leading an eclectic group of artistic residents at Zuzu's Leaf and Bean. Zuzu's aids interaction with its copious amounts of caffeine and comfortable seating. It also frequently hosts local talent like the "Small Works" show currently on display. On the night before the show's opening, Price was to be found gently directing the hands of participants as they flowed in to help. Roles are assigned in a flurry of hanging, spacing, typing, chatting, and doting.
Such a community-centric show lends valuable exposure to talent awaiting discovery. During a similar Zuzu's event, frequent patron Daniel Aubry encountered the portraits of an unsuspecting local painter. Aubry is a real estate agent who used to conduct business from a laptop at Zuzu's. With a need to expand, he decided to open the Daniel Aubry Gallery across the street. After several months in existence, Aubry decided it was time to show the work of a local artist. He chose Katie O'Hagan, the portrait painter he had seen in the cafe months before.
O'Hagan's show "True To Life" is now on display at the Daniel Aubry Gallery. O'Hagan started oil painting in 2004 and eventually began to paint members of her social network in Beacon. The result is a series of portraits of some of Beacon's best known residents, an homage that blurs the lines between artist and observer. As Gallery Director Hannah Anderson puts it, "At the show's opening, half the people depicted were actually present. People kept saying, 'I recognize these faces. I see them all over town!'"
Aubry's need to pollinate has lead him further into the Beacon fabric. He is currently in contract for the former Grand Lodge of the Free and Ancient Order of Masons, located on Fishkill Avenue and just steps away from where it meets Main Street. The plan is to convert the space into an art house movie theatre and performance space while retaining some existing architectural features. The project will explore unchartered ground in the city's cultural scene and attempt to include a now quiet area off of Main Street into the city's pulsating main drag.
Aubry's foray into areas unexplored in Beacon is no accident. In a piece about Beacon's real estate market he says, "Beacon property values showed a median uptick of 2.8 percent," a fact he obtained from real estate website Zillow.com. Such a figure may not seem relevant compared to those obtained before the economy took its nasty dive. Yet it shows that there is something about this city that continues to attract residents and investment. Perhaps it is the aroma of its wilds or the latent intrigue of sleepy buildings just waiting to be preserved. Maybe it is the convenience to New York City coupled with a diverse supply of shopping and service amenities. Still, maybe it comes from its dynamic social and cultural networks that are either growing or have erupted. Most likely it is the strength of these and many more unseen elements that are just waiting for the right time to blossom.
RESOURCES
Art House Gallery & Studio 919-923-0352
Bank Square Coffeehouse www.banksquarecoffeehouse.com
Beacon Institute for Rivers and Estuaries www.bire.org
Beacon Studios www.beaconstudios.org
Charlotte Guernsey www.gatehouserealty.com
City of Beacon www.cityofbeacon.org
Clay, Wood, and Cotton (845) 481-0149
Chill Wine Bar (845) 765-0885
Daniel Aubry Gallery www.danielaubrygallery.com
Echo (845) 440-0047
Erica Hauser www.ericahauser.com
Howland Cultural Center www.howlandculturalcenter.org
Jacqueline's (845) 838-1737
Local 845 www.local845.com
Martin Luther King Cultural Center (845) 831-9887
Max's on Main www.maxsonmain.com
Mollie McKinley www.molliemckinley.com
Moxie Salon www.moxiesalon.com
Naomi Sachs Design www.naomisachsdesign.com
Paper Presence (845) 849-2443
The Piggy Bank www.piggybankrestaurant.com
Rick Price www.rickprice.net
Riverwinds Gallery www.riverwindsgallery.com
Salon Arje (845) 831-4426
School of Jellyfish www.schoolofjellyfish.com
Seed to Fruit www.seedtofruit.net
Sukhothai www.sukhothainy.com
Tas Kafé (845) 522-1510
Jessica Wickham www.jessicawickham.com
Zuzu's Leaf and Bean (845) 765-0682
Natalie Keyssar
ADAM BOHANAN STRUMS THE GUITAR IN FRONT OF THE CUP & SAUCER TEA ROOM ON MAIN STREET WHILE JOAN MORGAN, TIM WELDON, AND BILL MILLER LISTEN.
Natalie Keyssar
MICHAEL GILVEY, ONE OF THE OWNERS OF HUDSON BEACH GLASS, TRIMS ONE OF HIS PIECES WHILE ONLOOKERS WATCH IN THE GALLERY'S GLASS BLOWING STUDIO.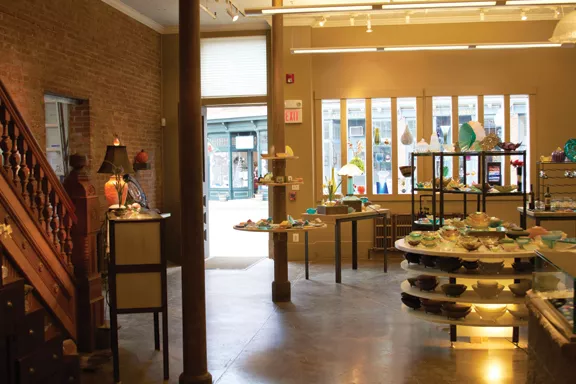 Natalie Keyssar
INSIDE HUDSON BEACH GLASS, GLASS ORNAMENTS AND CONTAINERS ARE FOUND IN EVERY CORNER. THE LARGER STOREFRONT ALSO CONTAINS A GLASS BLOWING STUDIO, WHERE ONLOOKERS CAN WATCH HOW THESE OBJECTS ARE MADE.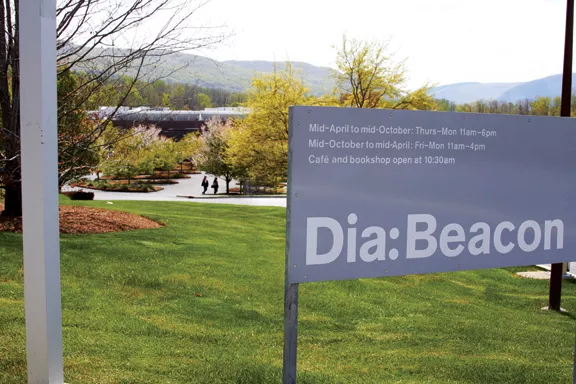 Natalie Keyssar
THE DIA:BEACON MUSEUM OVERLOOKS THE HUDSON RIVER, AND HOUSES THE WORK OF PRESTIGIOUS CONTEMPORARY ARTISTS FROM ANDY WARHOL TO RICHARD SERRA. LOCATED LESS THAN HALF A MILE FROM THE BEACON STATION ON THE METRO NORTH RAILROAD MANY MUSEUM-GOERS WALK FROM THE TRAIN.