When it comes to bread, nothing beats fresh-baked, and fresh bread goes well with everything. The Beacon Bread Company Bakery and Bistro celebrates of the flaky deliciousness and versatility of bread in its many forms at their Main Street, Beacon location. Bread-baking is not an easy science to master.
"Bread is the most environmentally sensitive food," baker Ralph Clemente says. "The temperature of each ingredient, the ambient air temperature, the relative humidity—all must be considered by the baker. The dough then lives, unconcerned about deadlines and bake lists. It will be ready in its own time, and the art of bread baking recognizes this above all else."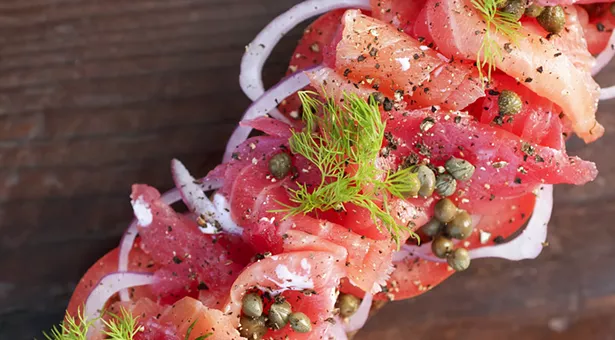 Over 80 percent of Beacon Bread Company's offerings are made in-house in the open scratch kitchen. The bakery churns out a cornucopia of artisanal breads and pastries every morning. Pick up a couple loaves for your dinner party at the bakery counter or sit and order off the bistro menu, which lets you pair fresh-baked goodies with gourmet jammed and canned items from the scratch kitchen and garden-fresh produce. As owner Kamel Jamal points out, there are not a lot of places you can get a PB&J on homemade bread with in-house artisanal jellies and fresh-ground peanut butter too. Classy.
On the bistro menu you'll find six varieties of exotic toast—Black Bean Toast on peasant bread, Goat Cheese Toast on pain cereale with garlic marinated tomato and roast peppers, Mushroom Truffle Toast, and "Fancy Toast for Fancy People," featuring fresh-cut fruit over goat cheese on brioche. Staying away from carbs? There are also house-made French and parfait yogurts, cheddar grits and cinnamon quinoa, and breakfast classics like a tofu scramble and steak and eggs.
Lunch offerings include eight grilled cheese choices every bit as intriguing as the toast lineup, and the Beacon Cheese Steak, featuring house corned beef, caramelized onions and a three-cheese blend on a fresh-this-morning toasted garlic baguette.Hungry yet? Stop in at 193 Main Street between 7am and 5pm and taste for yourself.