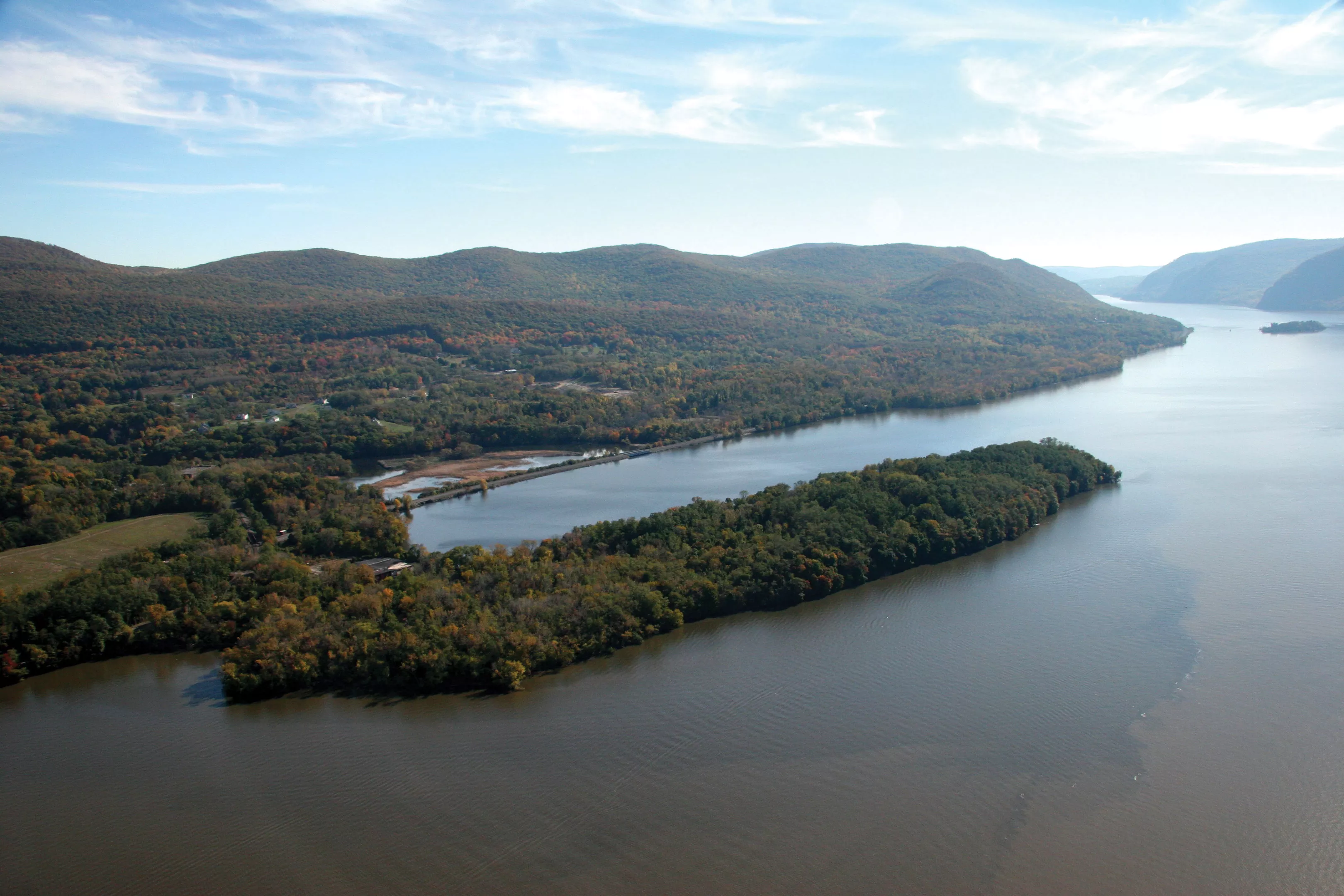 An arial photograph of Denning's Point by Patricia Dunne, provided by the beacon institute for rivers and estuaries.
It's become a model story for so many formerly thriving American cities as they strive to prosper in the face of economic adversity: Set the scene with assistance incentives to attract artists and entrepreneurs, and then sit back and watch as your shattered and shuttered community reinvents itself as a mecca for tourists, new businesses, and transplanted residents. Of course, not every town can be successful in such efforts, and there are dozens of crumbling municipalities going to seed as they wait for a resurgence that may never come. The story of Beacon and its neighboring town of Fishkill, however, is one of the good ones. In fact, the once mostly vacant postindustrial area's reemergence as an arts destination has been nothing short of meteoric.
"[The Beacon-Fishkill area] is unique in that it borders the Hudson River and the Hudson Highlands, as well as being a very diversified place when it comes to amenities," says Beacon Mayor Randy Casale, who grew up locally and served as the town's highway superintendent for 24 years before taking office in 2011. "With the way things are laid out geographically, you can go kayaking on the river and then hiking on Mount Beacon, both in the same day. The historic buildings and all of the new businesses also make it a very attractive place to visit and live in."

Artistic Arrival
Settled in the early 16th century as Fishkill Landing and Matteawan, the two villages, along with part of nearby Glenham, would eventually incorporate as the City of Beacon in 1913. During the American Revolution, the city acquired its name from the signal fires that burned atop its namesake mountain to warn Washington's troops of enemy movements. Beacon experienced explosive growth during the 1800s Industrial Revolution, and was for several decades known as "The Hat-Making Capital of the US," thanks to the dozens of such factories that set up shop in the area. When American industry started to decline in the early 1970s, Beacon's plight took a parallel path, and its numerous plants began shutting their doors; the subsequent closings of the nearby Dutchess Ski area and IBM facilities were further devastating blows. By the late 1990s, a staggering 80 percent of the city's commercial business spaces and factories were boarded up.
What finally got the ball rolling for the region's recent renaissance was the 2003 arrival of Dia:Beacon, the sprawling, internationally renowned museum of contemporary art housed in a former Nabisco box-printing factory. From the moment it opened the museum has been a consistent magnet for day-tripping New Yorkers, who arrive at Metro-North's Beacon station, which is in easy walking distance to the museum and the Lower Main Street Historic District. Artists have also flocked in to take advantage of the area's wealth of raw loft space. "I opened my studio in 2008, and I'm just constantly amazed by the range of artistic talent here—as well as the community itself," says woodworker Jessica Wickham, whose handcrafted furniture is made using sustainable materials culled from spots near the so-called Tree City. "There's a tremendous sense of optimism and goodwill about Beacon's remaking itself."
To accommodate Dia's culture-loving visitors and local residents, an abundance of exciting galleries, shops, restaurants, bars, performance spaces, and other businesses has sprung up along Main Street and its environs. "We saw the potential of the revival on Lower Main and knew we wanted to be a part of it," says Bonnie Stewart, who co-owns The Hop, a newly opened craft beer retailer and tasting room, with two Culinary Institute of America-certified chefs. "Being beer lovers ourselves and knowing enough others like us in town, we also saw the need for a place that has really great, locally brewed beers. We have six draft lines that we rotate daily—sometimes multiple times per day—and over 100 different bottled beers." The Hop pairs its fine beverages with dishes made using area-harvested ingredients (charcuterie is a specialty), and boasts a micromarket offering locally made products.
Other dining hot spots are Tito Santana Taqueria (Mexican fare), Poppy's Burgers (grass-fed and vegetarian farm-to-table burgers and fries), Sukhothai (Thai cuisine), Homespun Foods (a café with an accent on sandwiches and freshly baked desserts), and, to take the edge off on a warm day, Zora Dora's, for microbatch ice cream and traditional Mexican paletas (fruit-filled ice pops). Community grocer Beacon Natural Market sells a complete selection of quality organic and natural products, and the tellingly named Coffee Shoppe is a top hang for java, tea, and espresso.
One of Beacon's most beloved and longest running shops is Hudson Beach Glass, a multigenerational glass studio founded in 1987 and located in a former ice house. Hudson Beach offers handmade sculptural and functional drink ware, bowls, and plates, and its gallery/glass-blowing demonstration studio is a popular stop. Nearby and also stocking items made with hand-blown glass is Niche Modern, purveyor of sleek designer chandeliers and architectural lighting. Blackbird Attic maintains a specially curated mix of modern and vintage men's and women's fashions (consignments taken). Of course, a new 'do is the perfect compliment for those freshly acquired duds, and for that, Moxie Salon & Beauty Hub is the place to bring your head to.
Lighting the Way
In addition to enjoying a healthy retail scene, Beacon is certainly not a town wanting for entertainment. The architecturally jaw-dropping Howland Cultural Center, a Norwegian-inspired, inlaid-brick Victorian wonder built in 1872, presents world-class music, dance, and theater productions. Another visually wondrous and historic venue is the 800-seat Beacon Theater, an Art Deco performance hall constructed in 1934 and recently acquired, renovated, and reopened by its resident theater group, 4th Wall Productions. Training the stars of tomorrow is Beacon Music Factory, an all-ages grassroots music school located in the basement of Beacon First Presbyterian Church and organized by a collective of professional teacher-musicians founded by tireless local music booster Stephen Clair (he also heads up kids music program Rock Band Boot Camp and events promotion group Local 845). Yet another artistic space is the Beahive, a shared, socially conscious work environment for entrepreneurs, the creative class, microbusinesses, and consultants that began locally and now operates two other Hudson Valley locations.
And when Beaconites need a break from their work environment they often head to, well, the environment. The 4.8-square-mile city encompasses and is adjacent to several verdant, hikeable parks, such as Fishkill Ridge, Madam Brett Park, riverside Long Dock Park, and the aforementioned Mount Beacon Park. The last site was once home to the Mount Beacon Incline Railway, which from 1902 to 1978 shuttled sightseers to the summit to enjoy its spectacular views; interestingly, a group called the Mount Beacon Incline Railway Restoration Society is working to relaunch the attraction as "a living museum."
Headquartered in town is the Beacon Institute for Rivers and Estuaries, an environmental advocacy and preservation organization with two facilities, the Center for Environmental Innovation and Education at Denning's Point and a Main Street site with administrative offices and a gallery. "The Institute officially became part of Clarkson University in late 2011, although Clarkson has been our research partner since 2008 on the River and Estuary Observatory Network," says Chief Communications Officer Kathleen Hickey. "Our REON research team is working to develop and improve a variety of environmental sensors so we can have a better understanding of what is happening in the river, when it happens."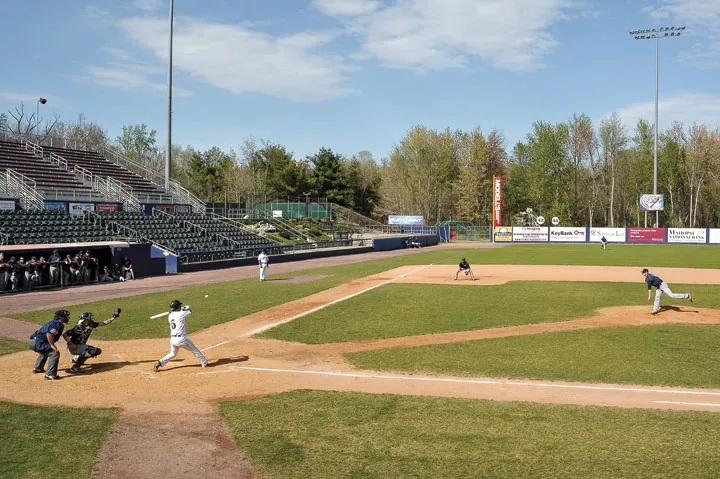 A preseason game at Dutchess Stadium in Fishkill.
What's in a Name
The Town of Fishkill is to Beacon's immediate northeast, and includes the Village of Fishkill. That story you may have heard about overzealous PETA members proposing the town swap its name for something that doesn't suggest "violent imagery" against fish actually happened, in 1996. Perhaps not so surprisingly, the burg declined changing its name, which derives from the Dutch vis kill and translates as "fish creek." Called Tioranda ("the place where two waters meet") by its original Native American inhabitants in reference to the intersection of the Hudson and Fishkill Creek, the land was purchased in 1683 by a pair of New York merchants and during the Revolution served as a supply depot for the Continental Army. In the 19th century textile mills fueled Fishkill's economy, but these days the town is mainly residential, with a leaning toward technology-based businesses.
Nevertheless, Fishkill also has its share of exceptional destination eateries. Ranking high among these are Farm to Table Bistro (locally raised organic meats and produce), Maya Café & Cantina (traditional and vegetarian Mexican), Golden Buddha (Thai cuisine, weekly cooking classes), and Il Barrilotto Enoteca (Italian/French/Spanish fusion with a formidable arsenal of imported wines).
Fans of America's Greatest Pastime take note: Fishkill is the stomping ground of Minor League Baseball team the Hudson Valley Renegades, who make their home at Dutchess Stadium. Constructed in 1994, the 4,500-
capacity ballpark is also the site of outdoor concerts and has hosted Bob Dylan, Bruce Springsteen, Wilco, and other big-name acts.
"This is definitely an up-and-coming area, with a lot of great things to do and a lot of opportunities for small businesses like ours," says Bill Perre, who opened A William Anthony Salon in December 2007. "What would I say to someone who's visiting the area for the first time? Get set for a great day and a great night out!"
RESOURCES
Art Along the Hudson
Artalongthehudson.com
Artisan Wine Shop
Artisanwineshop.com
Back Room Gallery (845) 838-1838
Beacon Art Emporium
Beaconartemporium.com
Beacon Barkery
Beaconbarkery.com
Beacon Music Factory
Beaconmusicfactory.com
Beacon Natural Market
Beaconnaturalmarket.com
Beacon Rivers and Estuaries Center
Bire.org
Beacon River Fest
Beaconriverfest.com
Brothers Trattoria (845) 838-3300
Caitlin Mahar Daniels Photography
Caitlinnmahardaniels.com
Cup and Saucer Restaurant & Tea Room (845) 831-6287
Clutter
Cluttermagazine.com
Dazzles
Dazzlessalon.com
Earth Angels Veterinary Hospital
Eartangelsvet.com
Echo
Echobeacon.com
Eleven 11 Restaurant & Bar
Eleven11grille.com
Ella's Bellas
Ellasbellasbeacon.com
Four Seasons Sunrooms
Fourseasonssunrooms.com
Giannetta Salon & Spa
Giannettasalonadnspa.com
Golden Buddha
Goldenbuddhathai.com
Homespun Foods
Homespunfoods.com
The Hop
Thehopbeacon.com
Hudson Beach Glass
Hudsonbeachglass.com
Jane McElduff, DDS
Drjanemcelduff.com
La Bella Rosa
Labellaflowers.net
Leo's Italian Restaurant & Pizzeria
Leospizzeria.com
Mad Dooley Gallery
Maddooley.com
Maria Lago Studio 502
Marialagostudio502.com
Mountain Tops
Mountaintopsonline.com
Moxie Salon
Nowthatsmoxie.com
Piano Piano Wine Bar
Pianopianowinebar.com
Pleasant Ridge II Restaurant (845) 831-3444
Rafeal Delgado
Watchpital.com
River Pool at Beacon
Riverpool.org
River Winds Gallery
Riverwindsgallery.com
The Roundhouse at Beacon Falls
Roundhousebeacon.com
Russell Cusick Gallery
Reflectionsonthehudson.com
Salon Arje
Salonarje.com
Seed to Fruit
seedtofruit.net
Seoul Kitchen (845) 765-8596
Sukothai
Sukhothainy.net
Tas Kafé
Taskafe.com
The Tomato Cafe
Tomatocafefishkill.homestead.com
The Vintage Cafe
Thevintagecafebeacon.com