Jesse Turnquist
Wedding at Owl's Hoot Barn in Coxackie
If you're thinking rustic barn, there are things to be aware of going in. "Many people seem to think that a barn wedding would be less expensive than a traditional wedding in a fully equipped banquet hall. In reality, the opposite is true," says Kerri Corrigan, owner of Owl's Hoot Barn in Coxsackie. "Generally, the barn is rented and everything else needs to come in."
You'll want to make sure you're dealing with a barn owner who's got everything in order. "Fire codes, zoning, event insurance, liquor license," says Mary Beth Boruta, ticking off a few of the logistics she handles running Germantown-based Apple Barn Weddings. "Do your homework, and don't go into it blindly. Get some advice from a coordinator who can help you find a venue that will be a good fit."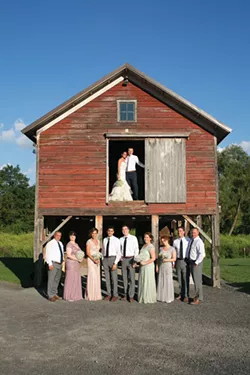 Jesse Turnquist
Wedding at Owl's Hoot Barn in Coxackie
The Hudson Valley area is peppered with barn owners who go above and beyond to tailor their massive beams, rural charms, and vintage collectibles to your needs. "We only host 12 weddings a year," says Richard Rozzi, manager of the Crested Hen on the Rondout Creek in High Falls. "So you have a whole week to customize our restored 1790 barn, and we have a lot of cool stuff—farm tables, antique pews, vintage unmatched tableware—that you're welcome to use." The farmer-hosts at Liberty Farms in Ghent will custom-grow organic produce and chickens for your caterer.
It's undeniable that renovated barns done right offer a flexibility that no banquet hall can match. "Our goal is for our clients to be inspired by our space," says Corrigan. "It's also key that it feels like it's their own place. Relax. We're here to help if you need us—have your joy."