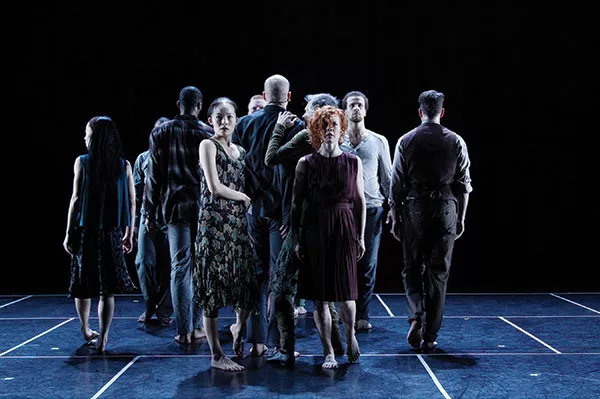 Bill T. Jones/Arnie Zane Dance Company and SITI Company members performing "A Rite."
If you are disinclined to cave in to the barrage of mind-softening entertainment that marks the summer months—cinema blockbusters and beach novels, anyone?—you are not alone. (In a woeful minority, indeed, but not alone.)
The annual SummerScape and Bard Music Festival (July 5 through August 18) champion the needs of the unapologetic egghead. For the 2013 season, Bard College unveils its seven-week schedule of theatre, film, opera, dance, classical music, discussions, and Spiegeltent cabaret for those who feel that the only proper response to the sweltering months is cerebral defiance.
Each year, Bard selects an avatar of the classical music world, honors him by reviving his works and then augments the schedule with a panoply of complementary pieces by the legend's contemporaries, mentors and protégés. This year, Igor Stravinsky (1882-1971), the Russian composer who bucked musical convention with his audacious Firebird, The Nightingale, and The Tale of the Soldier, achieving global fame, is canonized with stagings of his signature and lesser-known pieces alike.
A genre-smashing exploration of Stravinsky's 1913 masterwork, Rite of Spring, a collaboration between choreographer Bill T. Jones and director Anne Bogart, marks the upstart ballet's centenary. "A Rite" (July 6-7) will be performed by the Bill T. Jones/Arnie Zane Company and SITI Company.
When it comes to dysfunctional families, reality TV shows will always pale in the baleful face of "Oresteia," the Greek tragedy by Aeschylus. SummerScape will present the United States stage première of an operatic reimagining of the bloody tale of the House of Atreus, written in the 1890s by Russian composer Sergey Taneyev, a contemporary of Stravinsky (July 26-August 4).
Director Thaddeus Strassberger, the fearless wunderkind who strafed previous SummerScapes with "Les Huguenots" (2009), "Der Ferne Klang" (2010), and "Le roi malgré lui" (2012), reaffirms his penchant for a good theatrical challenge with this neglected epic, his first opera in Russian. (Strassberger directs his foreign cast through an interpreter.)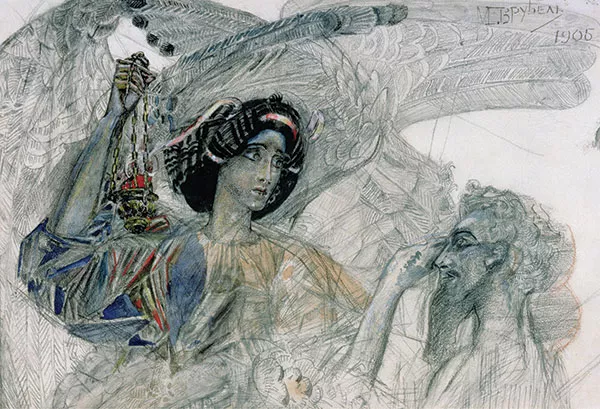 Courtesy of Pushkin Museum and The Bridgeman Library.
Six-Winged Seraph (detail), Mikhail Vrubel, 1905.
The director told Chronogram last year that he wants every opera he directs to be "an immersive experience. I like to create a whole world that you can live in for the few hours that you're in the opera house."
For "Oresteia," Strassberger, working with set designer Madeleine Boyd and costume designer Mattie Ulrich, both frequent collaborators, has created a cultural mash-up onstage that deftly melds echoes of ancient Greece and turn-of-the-century Russia—the latter as a nod to the composer. The action of the opera takes place in a crumbling Russian palace, modeled after the dilapidated Baron Steiglitz palace in St. Petersburg. (Strassberger and Boyd made a pilgrimage to the structure last autumn for inspiration, at the behest of the production's music director Leon Botstein.) Ulrich's costumes depict the "visual harmonies between the silhouettes of the ancient Greeks" and the Russians of Taneyev's era, the director said.
The music, set, and lights also echo the mélange. The result is not only historically accurate but it buttresses the main concept: "That we're looking at a classical story set in ancient Greece through the lens of the 1890s to mean something to us today," Strassberger says. "We're sort of dealing with these three time periods all the time that end up having their own universal, classical truth on top of them."
Swing dance lessons at the Spiegeltent with Chester and Linda Freeman of Got2Lindy Dance Studios.
There is ample reason why Taneyev's composition was criticized at its première, and soon fell into obscurity, Strassberger says. His depiction of a regime in disarray was an unwelcome entertainment to a Soviet government that preferred to see fiercely nationalistic pieces performed. Appealing propaganda were more likely to burnish their reputations. Taneyev, however, anticipated the gathering clouds that would lead to the Russian Revolution of 1917. "[W]e're definitely bringing those things to the forefront in our production," Strassberger says. "We feel like we're at the cusp of a regime change or in a sort of new world order. What's happening at the end of 'Oresteia' is the old system of justice has been replaced with a new one, completely different in its moral underpinnings and legal systems are changing."
Devil Went Down to Moscow
One of Russian literature's best-known and best-loved works,
The Master and Margarita
, has been adapted incessantly. In the past few years, it has been transformed into a film, television, ballet, and an animated cartoon.
"In Moscow, last year alone, there were 12 different stage adaptations of it," said Gideon Lester, Director of Bard's Theater Programs and the co-writer of the adaptation that will be staged at SummerScape. (This is the first American staging in two decades, due to legal issues.)