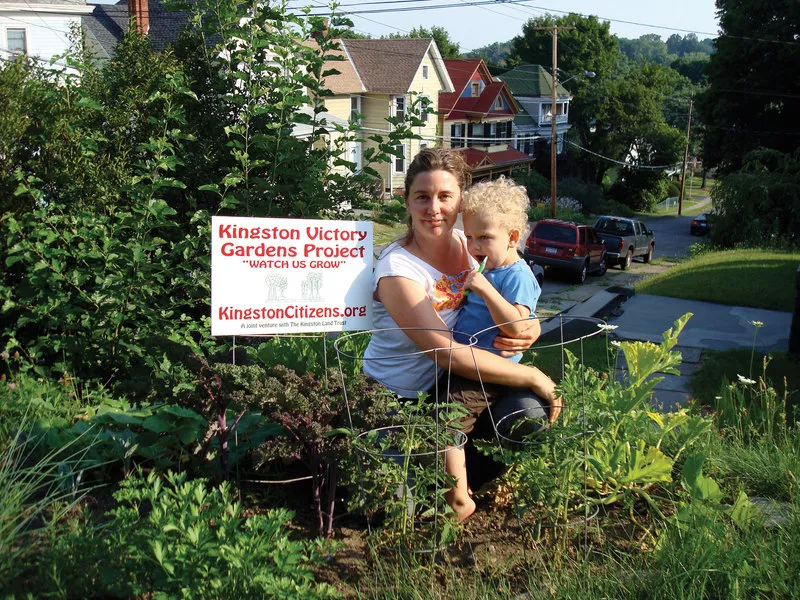 Rebecca Martin, Chair of the Garden Commitee of the Kingston Land Trust, with son Charlie Grenadier in one of three home gardens.
"Grow Your Own. Be sure!"
The words, circa 1940, are from a poster heralding the victory garden movement. The message, still resonant today, places emphasis on access to healthy food and food provenance rather than a dearth of food supply. The victory gardens of yore were community and private gardens encouraged by the United States government in order to ease the pressure on the national food supply that was strained by two consecutive World Wars. In 1943, those gardens—the work of three-fifths of the American population—produced some eight million tons of food. The victory garden program was one of the most popular in the war period and provided seeds, fertilizer, and simple tools for gardeners. An estimated 15 million families planted victory gardens in 1942, and in 1943 some 20 million victory gardens produced more than 40 percent of the vegetables grown for that year's fresh consumption. The majority of victory gardens were abandoned after the war, when the rationing of canned food ended and the newly implemented Interstate Highway System helped to develop the sophisticated national food distribution network still in place today.
Michelle Obama's decision to plant a kitchen garden makes her the only first lady to grow vegetables since Eleanor Roosevelt grew the first White House victory garden during World War II. The current White House garden broke ground on March 20, and while its primary role is to feed the Obama family and White House staff, according to Mrs. Obama, the garden's "most important role will be to educate children about healthful, locally grown fruit and vegetables at a time when obesity and diabetes have become a national concern."
The primary reason for the sudden new popularity of victory gardens is economic uncertainty, but the seeds for a full-fledged backyard garden revival have been germinating for some time. Since 1984, Slow Food International, Slow Food USA, and, on a local level, Pure Catskills, have sought to preserve regional food traditions and histories and reinvigorate community food systems. Food systems are comprised not just of farmers, but also processing facilities and retail outlets like farmers markets. Activist chefs like Alice Waters have brought celebrity power to focus public attention on creating healthy food programs for schools. Waters's Edible Schoolyard is a successful educational model at the Dr. Martin Luther King, Jr. Middle School in Berkeley and at affiliate schools throughout the country. Locavores emphasize consuming local, fresh food and supporting the philosophy of small family farms, community, and environmental health. Government subsidies to a handful of agribusiness concerns spur the market glut of corn and soy, two ingredients in numerous products from bread to beef to soda, which in turn have been linked to diabetes, heart disease, and other health problems. Deadly pathogens such as those recently found in spinach and jalapenos are the direct result of the environmental and moral bankruptcy of industrial farming. Genetically modified seeds threaten the disappearance of heirloom, antique, and heritage plants.
An Opportunity for Growth
Times of change elicit fear, however, and uncertain times also provide opportunities for growth. "One positive development of our current economic crisis is a rekindling of interest in the skills that used to be taken for granted by our ancestors," says Andy Turner, the executive director of the Cornell Cooperative Extension of Greene County. "We are noticing an unquenchable thirst for programs on backyard gardening, food preservation, local food systems, and beekeeping; or anything that teaches people how to live more artfully and joyfully in their own backyard."
Claire Parde, the co-op's community food systems coordinator, is seeing renewed interest in food preservation. "These people are not foodies per se, but people who feel uncertain, people who need to know how to do for themselves," she says. "There is an interest in offsetting some of food bills but also in a strategy for self-sufficiency. The growing interest in home vegetable gardening and home-based food and fiber gardens reflects the climate of scarcity of economic resources that people perceive. People are trying to reshape their household economies, reduce costs, and maybe feel more resilient."
Parde and others, including former Brooklynite and current Cairo resident Walter Prapolsky, were recently given official permission to have the community garden in Cairo. Back in 1942 Brooklyn, the young Prapolsky was involved in the Highland Park Community Garden. "There were no such things as school buses, so we'd walk home from school and stop by the park with the individual plots," he recalls. "We did everything from scratch—dug it up, planted everything, weeded, harvested when everything was ripe, and brought it home." Does he see any connection between the former Victory gardens and the current victory gardens? "Sure," he says. "Those were hard economic times—we're having a hard time now."