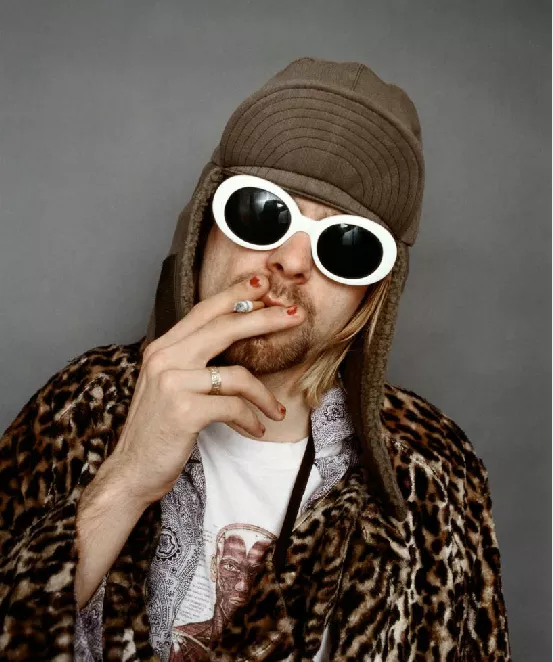 © JESSE FROHMAN, 1993
Kurt Cobain; Smoking A. Part of The Morrison Hotel Gallery and Dream Downtown's exhibit KURT COBAIN by Jesse Frohman, displayed April 4-May 6.
My coworker hung up the phone. "Kurt Cobain is dead, man." His girlfriend had called with the news.
We were at Kinko's copy shop, the branch at 12th and University, right down near NYU. Over the course of my nearly 10 years in New York I'd worked at pretty much every damn Kinko's in the city. Turnover was high, so between my band's tours I could always find an opening at one of the stores. Plus a job there meant all the free press kits and fliers I could sneak out the door, which was many. But it was an insane place to work. Especially if you drank as much coffee as I did back then. Always a swirling shit storm of buzzing machinery and stressed-out employees, and an endless assault of irate, besuited, steam-spewing customers who needed 80 million copies of some thousand-page, spiral-bound sales report done in 15 minutes. This kind of chaos spiraled around you the instant you punched in, every day. On April 5, 1994, however, with that phone call, it all suddenly turned to watery, slow-moving mush. The screams and snarls of the power-lunchers at the counter and the clackity-clack of the electric staplers faded into the far-off distance as I stood dazed and frozen at the report that Kurt Cobain was no more.
I met Kurt a couple of times, but I can't say I knew him. I get the feeling that not a lot of people ever did, really. Even those he was supposedly closest to. Which is, of course, the great irony, as he's now one of the most iconic figures in music history, with a voice and visage that's recognized by people of all walks of life, everywhere from Chicago to the Congo. (When I lived in Saugerties, New York, in the mid 2000s, there was a house at the end of my block whose ground-floor window shade had been decorated with a giant line drawing of Kurt's face. Driving to work and meeting his lonely eyes at the stop sign every day always saddened and unsettled me to no end.) But that's fame for you, I guess; many, many people knowing your work and knowing you exist, and thinking that that somehow means they know you, too.
Kurt's reluctance to accept his fame is well documented, and indeed that aspect of his personality is now part of his mythos as some kind of perceived rock 'n' roll martyr. There are those who decry the inner struggles of artists when it comes to stuff like this, saying things along the lines of, "Well, why the heck did you become a singer in a rock 'n' roll band if you didn't want to be famous?" Kurt Cobain became famous because he was a great singer and performer and an utterly brilliant songwriter, one who, fortunately for those of us who have been moved by his music, was recognized as such by the people at Sub-Pop Records and a handful of other sage folks early on and didn't fall through the cracks, like so many great artists have. From what I know of Kurt's childhood and early family life, he experienced the kind of fucked-up shambles that would leave most kids feeling alienated and unwanted. So I think he became a musician for the same reasons that many people become musicians: to express what they've been carrying around inside, to do something that says, "Hey, I'm here. I have something to say. I matter, just like you matter." I think he felt unloved, and very much wanted to be loved—but simply for who he was, not as some kind of second coming of John Lennon or something. And, not to judge, but unfortunately I think it was this confused, underlying desire for love that led him to confuse the glitter-grabbing attentions of certain unbalanced, media-mongering parasites for the genuine article. I'm no psychoanalyst, but at least that's how it looks to me. So in my view fame was the furthest thing from Kurt Cobain's mind from the moment he picked up a guitar to the moment he died. He rocked because it was a way to work out his own deep-seated emotional stuff, something he had to do, and because he enjoyed making music and connecting with others who loved music in the same way that he did. Not to be famous. To me, it's like that almost happened in spite of who he was.
When I first found out about Nirvana, I was all set not to like them. I was a rock club promoter and a college radio DJ in my hometown of Cincinnati, so I was right in the thick of things at the beginnings of what became known as grunge. On my show I was spinning all these cool records on labels like Amphetamine Reptile, Touch & Go, C/Z, and, yes, Sub-Pop. At a time when college radio was inundated with gutless, glossy stuff like U2 and Gene Loves Jezebel and the once-vital hardcore scene had degenerated into heavy metal pastiche, grunge (I've never really liked the term; it was just reawakened punk to me) seemed like a much-needed breath of fresh, noisy air. By the time word of Nirvana started making its way to the Midwest underground (remember, this is all pre-Internet), I'd already booked shows by pioneering grungers like Green River, Tad, and the still amazing Mudhoney. So Nirvana was actually a little late to the party. And, without hearing them, there was this eye-rolling assumption that they were probably another Swallow or Blood Circus, grunge-by-the-numbers acts that Sub-Pop was hyping to collectors via its subscription Singles Club. "Dude, the Sub-Pop backlash has already begun," said my friend Greg Dulli of local Sub-Pop signees the Afghan Whigs, with palpable resignation. "We're bracing for it. People are starting to say there's a generic Sub-Pop sound, and I bet that's what the Nirvana record is gonna turn out to be." I agreed. We'd both be proven wrong. Very, very, wrong.