Page 3 of 3
But during and after the Wonder years, Cecil remained busy, making hit records with a slew of other artists in the 1970s and '80s: the Isley Brothers, Steven Stills, Billy Preston, the Jackson Five, Little Feat, Bobby Womack, T. Rex, Jeff Beck, Weather Report. For much of the latter decade, Cecil, his family, and TONTO lived in the Los Angeles area, where Cecil and his creation found lucrative work in the film industry, recording the soundtrack of the first Star Trek feature and other movies. But something was missing in his life.
"I'd been doing all this work on other people's music for years, but I hadn't really been playing any myself," he says. "On my birthday in 1992, I got a call from John Halliwell, the saxophonist in Supertramp, who was my neighbor. He said he knew it was my birthday because he saw my bio in Grove's Dictionary of Jazz, and he asked if I wanted to jam. I told him I'd stopped playing years before, but he said that I couldn't stop if I was in Grove's!," Cecil laughs. "That got me playing the bass again."
So how, then, did he end up in Saugerties? Like most of his life's journey, the route was an unplanned, circuitous one. "Poli and I had moved back to New York in the late '90s, after I'd taken a job with TVT Records, for whom I was recording [poet-musician-activist] Gil Scott-Heron," Cecil says. "Then TVT went bankrupt, owing me and a lot of other people money. Luckily, we knew that if we were going to be in the city we had to have an upstate getaway and we'd bought this place." The Cecils became full-time Saugertesians in 2002.
Since then, the reenergized instrumentalist and composer has been involved in a number of live and recording projects, playing in solo and group settings at area venues like Woodstock's Colony Cafe and Kleinert/James Arts Center, the latter of which has featured his newest ensemble, Superstrings, a jazz-ethnic-folk fusion duo comprised of Cecil and Russian violinist Valeri Glava.
But if TONTO once held the future, what does the future now hold for TONTO? Any chance of dragging the beast out for another live performance? Unfortunately not much of one, as the instrument's sheer mass makes moving it an extremely difficult and cost-prohibitive proposition. Thanks to recent technology, however, Cecil has been able to give "Virtual TONOTO" concerts using digital samples taken directly from the source; in fact, last year he headlined at England's Big Chill festival with just such a presentation. But that doesn't mean that the TONTO mothership is destined to hide in a barn for the rest of eternity. After all, life, like TONTO, is full of surprises.
"As long as I've learned something new every day," Cecil says, "then I know I'm making progress."

Superstrings, featuring Malcolm Cecil and Valeri Glava, will perform at the Kleinert/James Arts Center in Woodstock on August 25. www.myspace.com/tontosexpandingheadband.
Fionn Reilly
Malcolm Cecil inside TONTO, the world's largest analog synthesizer.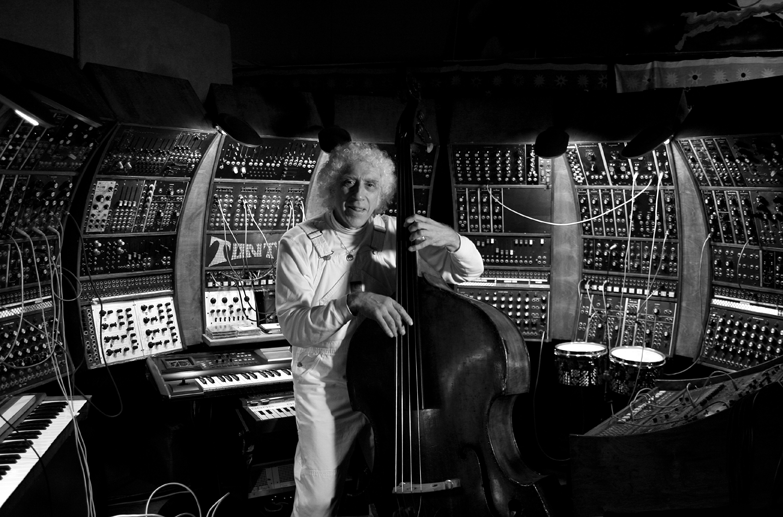 Fionn Reilly
Malcolm Cecil inside TONTO, the world's largest analog synthesizer.