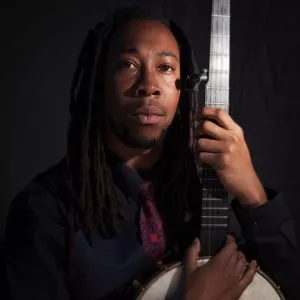 The leaves are turning brilliant hues of orange and red. The kids (and the kids at heart) are contemplating their costumes. And all of us are trying to figure out if we need a sweater under that light jacket. It can only mean one thing: Mid-October is upon us. Here's some stuff to do.
MUSIC
Hubby Jenkins in Rosendale For several years, singer and multi-instrumentalist Hubby Jenkins was an integral member of the great old-time roots trio the Carolina Chocolate Drops. Since that group went on hiatus in 2014, the Brooklyn-born Jenkins has recorded and toured with Chocolate Drops member Rhiannon Giddens's band and as a solo artist, and it's in the latter capacity that he'll ramble in to the Rosendale Cafe on October 19 at 8pm. Tickets are $15. http://www.rosendalecafe.com/
FOOD & DRINK
Hudson Valley Wine Trail on Sunday
The Hudson Valley is home to over 50 wineries, producing a range of European and American native grapes. With pick-up service from Manhattan's George Washington Bridge Terminal, the eight-hour (10am-7pm), sommelier-guided Hudson Valley Wine Trail tour visits three of the region's finest wineries, allowing participants the opportunity to taste some the wines while discussing the different grapes, soils, climates, and more. A complimentary lunch includes cheese and charcuterie bites, bread, fruits, and water. For ticket prices and information, visit
https://www.localwineevents.com/events/detail/763555/new-york-city-wine-tickets-hudson-valley-wine-trail-in-new-york#details-section.
COMMUNITY
"Housing Stories" Workshop in Kingston
The nonprofit transmedia organization known as the TMI Project has become the conscience of the Hudson Valley, focusing on story sharing and a plethora of incentives aimed at bettering the lives of all. On October 23 from 6-9pm at Clinton Avenue Methodist Church, TMI will host one of its ongoing True Storytelling Workshops. Titled "The Housing Stories," the program will focus on the current housing crisis and encourage attendees to share their own stories relating to the situation with the aim of inspiring them to create change in the community. The workship and performance series will culminate with a live performance in January.
https://www.tmiproject.org/
FESTIVALS
Chronoween in Kingston Boo! Chronoween, Chronogram's yearly Halloween dance-party extravaganza rises from the graveyard to once again haunt the Backroom Theater of BSP in Kingston at 9pm. Titled "Disco of the Dead," this year's sinister soiree features performances by Brooklyn band Midnight Magic and DJ sets by Bamboozle (Eli of Soul Clap!) and DJ Shaman Vybez; décor and an installation by the Barn of Terror; food from Midtown eatery PAKT; a photobooth; and a costume contest with $1,000 in prizes sponsored by Founders Brewing Co. Tickets are $20 in advance or $25 at the door. http://bspkingston.com/
THEATRE
Verna Gillis Reads in Woodstock
Local writer and ethnomusicologist Verna Gillis founded the pivotal New York multicultural performance space Soundscape in 1978, going on to assist with the careers of such musicians as Youssou N'Dour, Yomo Toro, Salif Keita, Carlinhos Brown, and her late partner, Roswell Rudd. At Colony in Woodstock on October 27 at 1pm, she'll give a performance/reading of her autobiographical, one-woman "sit-down comedy" show, "Tales from Gerassic Park: On the Verge of Extinction." Tickets are $20.
https://www.colonywoodstock.com/
To find out about more upcoming events in the Hudson Valley, subscribe to our weekly newsletter Eat. Play. Stay.