From Women Holding Things (Harper Design, 2022)
Award-winning Israeili-American author and illustrator Maira Kalman has worked on over 30 books for children and adults. A graduate of NYU, her work has regularly graced the cover of the New Yorker and the pages of the New York Times since the mid-'90s. It was after she became a mother in the '80s that her focus shifted to children's stories.
In addition to her own original writing, including the series on poet-dog Max Stravinsky, Kalman has also famously created and published illustrated books to the words of others, from the lyrics of David Byrne to Strunk & White's writing bible The Elements of Style and Daniel Handler's Lemony Snicket series.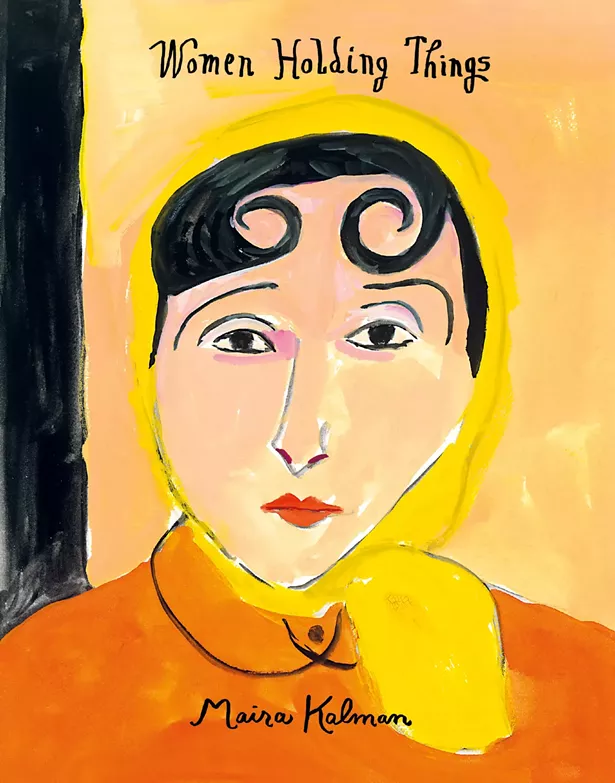 From Women Holding Things (Harper Design, 2022)
In the late aughts, she wrote two illustrated blogs for the New York Times: The Principles of Uncertainty followed by And the Pursuit of Happiness about American democracy, which were both later published as books. She's also designed sets, acted in theatrical productions, and curated exhibitions—and her work is also in museums world-wide.
Now, the prolific artist comes to Paper Trail in Rhinebeck on Saturday, December 17 from 3pm to 5pm, for a signing of her new hardcover book Women Holding Things. In Kalman's words, her central question of the book is, "What do women hold? The home and the family. And the children and the food. The friendships. The work. The work of the world. And the work of being human. The memories. And the troubles. And the sorrows and the triumphs. And the love."
From Women Holding Things (Harper Design, 2022)
As with all her works, Kalman's distinctly human empathy is on display in Women Holding Things with quiet moments rendered in her colorful, painterly fashion. Maria Popova, of The Marginalian newsletter, has called her "an uncommon philosopher of the quietly magnificent in the mundane."

Paper Trail co-owner Maureen Missner dubs the Rhinebeck book and gift shop "headquarters of the Maira Kalman, Paper Trail's co-owner, adding "We are beyond thrilled to host Maira Kalman in our store. We expect a large audience for her appearance."
From Women Holding Things (Harper Design, 2022)
Scoop a signed copy of the book as a holiday present (or for yourself) or bring a copy of an older beloved work for Kalman to autograph. If you can't make it, signed copies of Women Holding Things will also be available to order on Paper Trail's website.
Maira Kalman will sign books at Paper Trail on Saturday, December 17, 3-5pm.