Matt Spaccarelli and Casey Erdmann of Milton-based Fjord Vineyards in the winery's cellar.
Natural wine—that nebulous and sought-after darling of today's wine world—has actually been around for centuries, but the past decade has seen accelerated growth of the low-intervention wine market and the resurgence of farmer-made wines. Given the ambiguity of the terminology, tracking sales has proven a squirrely task, but according to a recent Nielsen study, in just the past two years, sales of organic and biodynamic wine rose 21 percent by value and nearly 17 percent by volume.
Used interchangeably with "low-intervention," the term "natural" describes a process rather than a style of wine. The ultimate goal is for the grapes to be both grown and fermented with minimal manipulation or inputs, including fertilizers and pesticides, which is why wines in this category are often also organic or biodynamic. This purist, grape-to-glass approach has given rise to the term "farmer wines," as these vintages are truly agricultural products.
Wine merchants have seen a dramatic shift in consumer openness as these wines take the market by storm. In Beacon, Dirty Bacchus wine shop owner Steven Ventura notes an interest in new grapes, regions, and method of production saying, "There was once a barrier to these kinds of grapes; now they are being sought out."
Though the Hudson Valley is home to some of the country's oldest vineyards and wineries, the region has struggled to find its foothold in the wine world. But our fertile valley is well-positioned to ride this latest wine trend. With a rich agricultural heritage and a sustainability-centric culture on both the grower and consumer sides, farmer wine is a natural fit for the region. Still, growers will have to contend with consumers' historic bias as well with the local climate as they seek to find grapes that can survive the region's weather extremes.
Heirloom or Hybrid?
Philosophical ideals aside, a winery is a business and a business can't survive without a product. Our region's climate, with its weather extremes, forces the hand of many winemakers to intervene in order to produce a yield. The risks are many: an overabundance of rain causes the grapes to split; humidity allows powdery mildew to grow; an early frost can stunt the grapes' growth before they ripen.
Natural winemakers in our region are exploring two main avenues to deal with the erratic weather: hybrid grapes and heirloom varieties.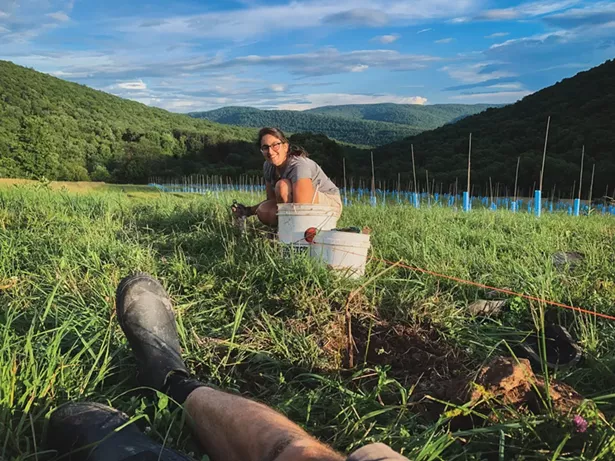 Photo by co-owner Alfie Alcantara.
Deanna Urciuoli of Dear Native Grapes planting vines in Walton.
Once the downtrodden outcast of the wine world, hybrid grapes are having their moment. To minimize intervention at every stage of the process, you need fruit that is well adapted to regional pressures. Lower pest load equals less spraying. Grapes free of disease equal less manipulation in the cellar. That's where hybrid grapes come in. Bred specifically to combat hyper local pressures like insects, fungi, and weather patterns, hybrids can offer resilience in regions that have historically struggled with grape production.
Alternatively, native or heirloom grapes evolved in a region and so are intrinsically well suited to grow vigorously and survive the suite of local pressures. A love letter to the heirloom varieties largely swept away by the tide of time and Prohibition, the new project Dear Native Grapes aims to put these grapes back on consumers' radar. On 30 acres in the Delaware County town of Walton, owners Alfie Alcantara and Deanna Urciuoli began growing 24 heirloom grape varieties in 2019. "A lot of great growth happened in the Hudson Valley around the late 1800s. We tracked down these varieties to propagate them," says Alcantara. "They allow us to be more hands-off. We're not adding chemicals, fighting against climate change, or fighting against the environment—instead we can really let the vines tell us what they like."
Hudson-Chatham Winery has been at the local forefront of hybrid and heirloom grape use for almost two decades. When he first bought the vineyard, former owner Carlo Devito tried growing Muscat but never had great results. His winemaker Steven Cassacles became adamant about moving away from vitis vinifera (common wine grapes) in favor of hybrids and native varieties. As with many pioneers, they were ridiculed for their shift. "People laughed right in our face," DeVito recalls. "But the difference was night and day—we went from trying to coax stuff to needing a machete to hack my way through a block." Since then, the winery's Baco Noir has scored 90+ points from Wine Enthusiast and top French sommelier Pascaline Lepeltier herself put it on the wine list at the now-defunct Chelsea destination Rouge Tomate.
After years of playing with these varieties—both hybrid and native—the region's winemakers are starting to come into their own and create a body of hyperlocal knowhow. Matt Spaccarelli, winemaker and vineyard manager of both Benmarl and Fjord Vineyards, recounts the early days of working with hybrid grape Seyval Blanc. "We've played around with it for the past 10 years, and in 2015 I harvested really early and found that at ideal numbers of acid and Brix, it takes on an overripe flavor," he says. "From a sustainability aspect, it's a low-input variety that you can crop really high because you can pick really early and get a style that's lean and bright."
Moving Toward Sustainable Horizons
When Todd Cavallo of
Wild Arc Farm
announced his plan to grow and make wine biodynamically in Pine Bush in 2016, responses ranged from amused laughs to skeptical break-a-legs. Five years later, he has ramped up production by 20 percent because of demand.
Cavallo is far from the only intrepid grower with sustainability in his sights. Considered trailblazers in the Hudson Valley natural wine movement, Eminence Road Winery released their first vintage in 2008 using grapes from sustainably managed Finger Lakes vineyards. Everything is bottled by hand, unfined, and unfiltered with nothing added but a minimal amount of sulfite for stability and occasionally neutral yeast.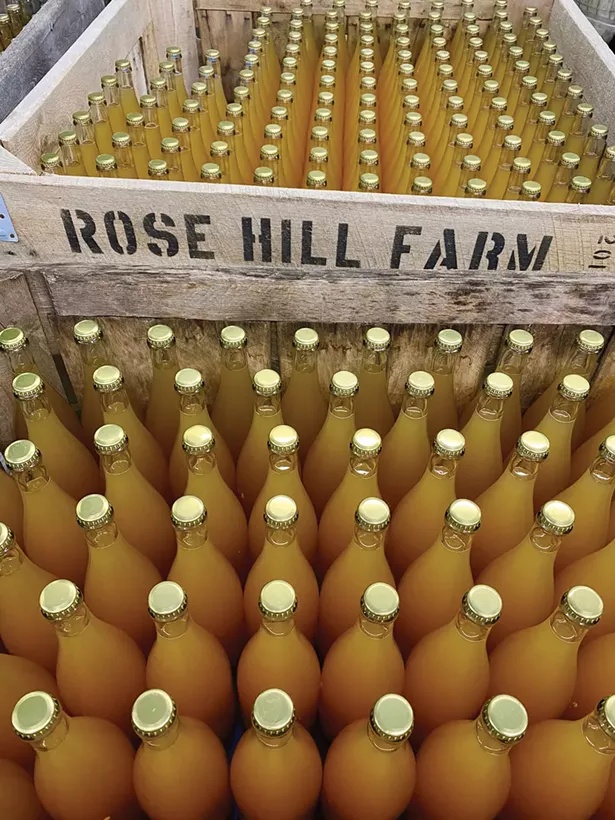 Rose Hill Orchard in Red Hook debuted their line of raw, unrefined, unfiltered natural wines and ciders in 2019.
Old school local wineries are making transitions towards sustainability as well. In 2015, Chris Belardi and Holly and Bruce Brittain took over the historic Rose Hill Orchard in Red Hook which was previously conventionally farmed. "We've tried to preserve the historic nature of the farm and are careful to be good stewards of the land and community," says Bruce. They have implemented a holistic orchard management practice and make a number of wines and ciders, as well as some co-ferments using estate-grown fruit.
Steven Rosario and Justen Nickell, who in 2020 purchased Hudson-Chatham from DeVito, are intent on taking the winery's legacy of native and hybrid grapes to the next level with sustainable farming practices. "We wanted to work in more regenerative farming with a strong biodynamic influence," says Rosario. "We want to leave our stamp on a grape without too much intervention." In the past year, they have released three pet-nats—a white, which is a co-ferment of Seyval Blanc and Cayuga, aptly described as an adult lemonade; a rosé, which is a blend of Chelois and Riesling; and field-blend red that Rosario describes as a "Lambrusco with chutzpah."
Other wineries are going as natural as possible without being dogmatic. After years at Benmarl Winery, in 2013 Spaccarelli started Fjord Vineyards to have an outlet for more experimental vintages. A fan of spontaneous fermentation, Spaccarelli waxes poetic about the beautiful effects this type of natural inoculation can do. "The real benefits happen in the first two percent of alcohol. After that, it's basically some form of saccharomyces that's doing your fermentation and that really diverse biomass creates small layers that build the wine up," he says. Translation? "Growing in a cool region where full flavor development can be difficult, it really helps to add complexity," he explains.

Whitecliff Vineyard and Winery winemaker Brad Martz is also a fan of native fermentation. "If the grapes are clean, I can treat them minimally throughout the whole process," he says. "Using native yeasts, unfined and unfiltered bottling, and just a small amount of sulfites." Owners since 1999 Yancey Stanforth-Migliore and Michael Migliore are open to the results these techniques can yield but are tempered in their endorsement. "We are interested in that approach if it is going to give a clean, beautiful expression of the grape," explains Stanforth-Migliore. "We can only do it if the grapes warrant it, and only with estate grapes so that it's an expression of our terroir."
New Technologies
There are other ways to reduce intervention besides the use of hybrids. Organic sprays are being used by wineries like Whitecliff. "We live in the middle of our vineyard, so we make every single effort possible for minimal intervention," says Stanforth-Migliore.
Rose Hill tried to go completely biodynamic but the extreme weather squashed those plans, so like Wild Arc, they are implementing a mix of biodynamic practices and holistic management wherever possible. "When we eliminated all synthetic inputs and went towards being biodynamic, we lost most of the fruit," says Bruce. "But what it was really successful at doing was helping us figure out how we could scale back synthetic inputs pretty heavily."

Cavallo has found that some biodynamic preparations are useful in vineyard management. "Horsetail, a natural accumulator of silica, has a drying effect that helps moderate wet conditions that foster mildew growth," he says. "We spray a combination of neem and thyme oils early in the season, bio-antifungals later on, and recently experimented with pH-based sprays." He is excited about a groundbreaking technology (still in development) that hits the mildew spores with strong UV light and kills them, preventing propagation.
Becoming organically certified is another thing altogether. "There have been several that have tried and some that are technically doing it, but sooner or later, the weather in New York will force you to choose between organic certification and your crop," says Stanforth-Migliore. "To make great wine you need great grapes. We want to do as little as we can and allow the grapes to express whatever wonders they may have to offer in a given year."
With dedicated growers and makers changing the game in the Hudson Valley, there's a bright future ahead. Like-minded wineries that pop up will already have the luxury of a global audience thanks to their hard work. The continued trajectory of hybrid and native grapes has the potential to put us on the map. "The one upside of COVID was guests coming upstate because they couldn't travel anywhere else," says Rosario. "A microlens was put on Hudson Valley wineries and people were becoming aware of these grapes they've never heard of that sound like stripper's names—La Crescent—come on, that's great."