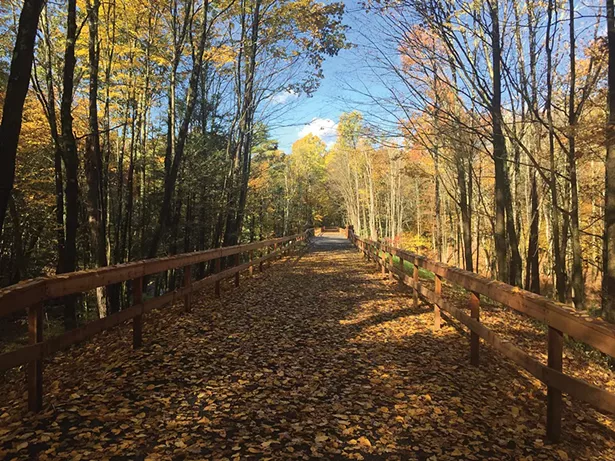 The Butternut Creek section of the Ashokan Rail Trail
Ashokan Rail Trail Fast Facts
Location: Runs from West Hurley to Boiceville in Ulster County
Distance: 11.5 miles
Surface: Compacted crushed stone (ADA compliant)
Uses: Hiking, bicycling, running, nature observation, crosscountry skiing, and snowshoeing
Parking: Woodstock Dike Trailhead (1285 Route 28, West Hurley); Ashokan Station Trailhead (3045 Route 28, Shokan); Boiceville Bridge Trailhead (5080 Route 28A, Boiceville)
Website: Ashokanrailtrail.com
Gently and gracefully skirting the northern shore of the majestic Ashokan Reservoir, the 11.5-mile long Ashokan Rail Trail (ART) fits the landscape like a well-sized crown. The trail, with its commanding views, is the jewel among Ulster County's growing number of rail trails. The ART has rapidly become a top local recreational destination, drawing 40,000 happy visitors in the six months since its opening, and is expected to draw 100,000 people this year.
The railroad was the main mode of transport in late 19th-century and early 20th-century America, but succumbed to the age of automobiles. Railroad beds are like the fossilized tracks of these steel dinosaurs, and people have busily been "mining" them for other uses, using them as ready-made footpaths since the late 1900s and more recently for the popular rail-bikes, as well. I find it particularly interesting that they represent a turning of some great cycle. Most railroads—like many roads—were built on indigenous trails and now are returning to that use. The old Ulster & Delaware (U & D) railbed followed what was once referred to as the Onteora Trail, an ancient path that crossed what is now Ulster County from the high pass at Belleayre, generally following modern-day Route 28 and the railroad, terminating at the Rondout in Kingston, a known Native American village and river-trading site. Once again, we are walking on this old, old path.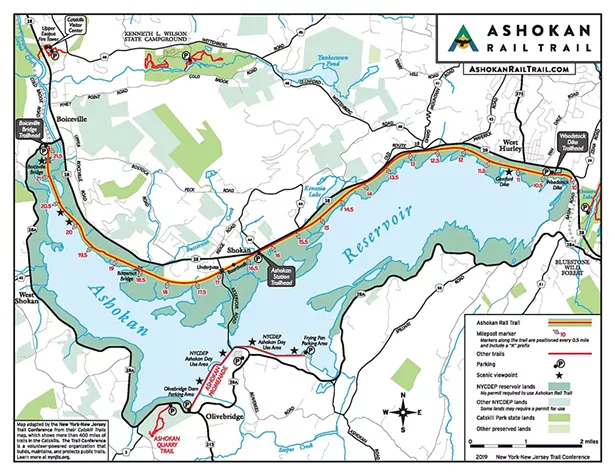 None of this has happened through magic. A lot of hard work and imagination have gone into this project. Local railroad enthusiasts worked for many years to try and continue light rail on this line (which carried passengers until 1954), mainly for recreational tours, but also with some thoughts of keeping commercial rail dreams alive. Ultimately, they weren't up to the task. Fortunately for all, as the tracks rapidly moldered into disrepair, and the railroad embankment was damaged by unrepaired drainage issues, Ulster County spearheaded an interagency project that could achieve the dream of what this gem-in-the-rough of a corridor could become. Ulster County negotiated a historic agreement with New York City's Department of Environmental Protection (DEP), which oversees the Ashokan reservoir, to allow and partially fund development of the trail.

With funding assistance from DEP, New York State's Department of Environmental Conservation (DEC) and NYS Office of Parks, Recreation and Historic Preservation, and community support from the Open Space Institute, the Woodstock Land Conservancy (WLC) and local residents, Ulster County transformed the deteriorated railroad right-of-way into a world-class, sustainable nearly 12-mile long linear park. In October 2019, the ART opened to much (justifiable) fanfare and instant popularity.

While all parties deserve praise for this almost unprecedented accomplishment, what strikes me as perhaps the most amazing transition: the DEP allowing the general public—for the first time in over 100 years—to have access to their property, without permits (but only on the ART itself; permits are still required on all adjacent lands). This represents (at least to my way of thinking) an unprecedented invitation to share this incredibly beautiful space that also supplies 40 percent of New York City's drinking water. I think this was an awesome thing for the DEP to do, and we should all appreciate this openness and willingness to share this important resource. But it also comes with great responsibility on all of our parts to, most importantly, leave no trace. We must not litter in any form, including dog litter; and we must also respect fishermen and hunters who have accessed DEP properties for years.
To me, the most extraordinary aspect of the Ashokan Rail Trail is that as soon as you start on the trail, you know you have entered a different world, surrounded by deep history exposed in blasted rock faces, engulfed by thick, verdant life but, because of the width of the trail, it never feels claustrophobic, like it's closing in on you. You bike or walk along, mesmerized by the constantly receding vanishing point ahead of you, showing you what a railroad grade looks like. Then, suddenly, a vista opens up to a small bay, with the broad Ashokan beyond, Ashokan High Point totally dominating the view south and west, with South Mountain, Balsam Cap, Friday Mountain, Cornell Mountain and the Wittenberg Mountain trailing off to its right. It's not uncommon for a bald eagle to soar past, less commonly, an osprey. If you keep your eyes open, every other form of local wildlife may appear. It is also a birder's paradise.

The spring avian cacophony will soon begin, to be joined by the joyous vernal sounds of spring peepers and wood frogs. Besides the historic plaques, the walker will see rebuilt bridges, old railroad tracks, and the remnants of stone walls that masons made (many of whom had been bluestone quarrymen only a few years earlier). Every time I walk here I see something new and exciting.
Aerial view of the Glenford Dike section of the Ashokan Rail Trail
The ART is beautiful but it is also a truly phenomenal trail itself, reflecting thorough planning and deft, highly professional execution. A focus of the engineering for it was to take great care of all of the natural drainage surrounding it, in many cases returning those drainages to their original state for the first time in a century. By doing so, the county protected adjacent wetlands, thereby promoting healthy storm water runoff and safekeeping of the reservoir's water. New York residents can now see where their water comes from—up close. Going a step further still, the goal is to educate the public on the importance of these projects—not just for New York City, but for all. The trailbed itself is masterfully designed and well-engineered, made of a natural surface of crushed stone, suitable for bicycles (even with narrow tires), wheelchairs (the entire ART is ADA compliant), for people of all ages, walkers and runners. Because of its makeup, the trail-surface stays well-drained and never loses its ability to support users. It is a green trail, sustainably produced from local materials by locals. Many of those who worked on the trail live nearby and spend time enjoying it. The ART—like all outdoor forms of recreation—helps everyone to live healthier lives.
Ulster County recognized that there is much history in this location and it has gone out of their way to "open a window" on it, to promote its relationship to the past. Lining the trail at intervals are many interpretive panels describing what former activities or historic sites were found along the ART. There are panels that describe the railroad stations, the former towns and villages that were removed to make way for the construction of the reservoir, and others that explain the lengths that the team went to redirect and preserve natural streams. Even when replacing bridges and culverts, an effort was made (successfully, I believe) to do so with respect to the history of the location, so they fit into their (newly refurbished) environment.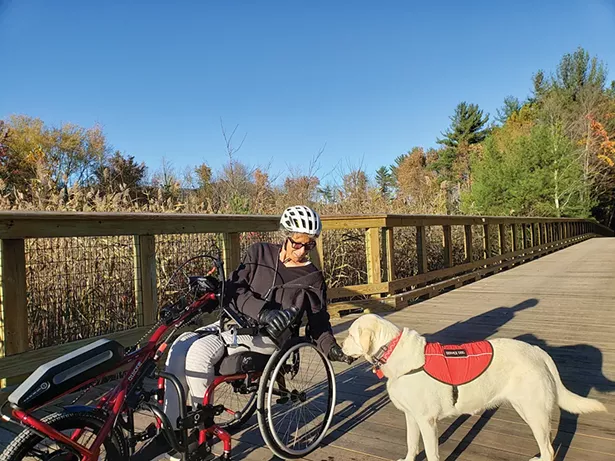 Photo by Maxanne Resnick
Deborah and Winter on the Ashokan Boardwalk in October 2019.
So far, the Ashokan Rail Trail, and everyone associated with it, official or otherwise, is very happy with this new addition to our already long—and growing—list of places to recreate outdoors. The only thing remotely like a caveat that I would add to the above is that the ART is so successful that parking regularly fills up as more and more folks are drawn to this valuable resource. It is not uncommon to find the Woodstock Dike Trailhead parking lot full on nice days during peak hours. Of course, it is the most accessible to the most amount of people. Right now, there are no plans for additional parking, so everyone is going to have to adapt to this situation. Most times there will be well-trained trail stewards available to help with any issues, including parking. One idea, if that lot is full, is to go to either the Ashokan Station Trailhead in Shokan or to the Boiceville Bridge Trailhead—or visit early or late in the day. Both are wonderful jumping off points for the ART, with as much to see as in West Hurley. Another alternative for all to keep in mind is that there are other excellent trails nearby, like the expanding trails at Onteora Lake and at the Ashokan Promenade and the Frying Pan, across the reservoir.
Much thanks to all who helped design and create the Ashokan Rail Trail. Also, thanks to all of us that enjoy it and feel protective of it. This incredible resource could not have been developed without all of us—public and private, groups and individuals—working hard together to make this dream come true.