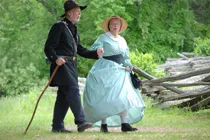 History comes alive in the foothills of the Catskills at Ashokan Center's second annual "Civil War Days," May 22nd and 23rd.  The sights and sounds of the most significant event of 19th century American history will be recreated, this year commemorating the final days of the Civil War on this the 145th anniversary of the surrender at Appomattox on April 9, 1865.
Soldiers and civilian re-enactors in full Civil War uniforms and regalia will recreate military events and day-to-day life during the 1860s.  The encampment opens to the public at 10 a.m. each day.
"During the weekend we will recreate the moment when two great armies finally ended the conflict. You will see and hear the actual exchange of words at the 'Surrender Meeting' between General Ulysses S. Grant and General Robert E. Lee at the Appomattox Courthouse," said Ashokan Civil War Days organizer John Quinn.  The public is invited to:
Watch infantry and cavalry drills, hear the lifelike sounds of the battlefield during the firing demos, and stand right behind the split rail fence to witness a live action skirmish.

Visit Union and Confederate camps to witness firsthand the daily life of a soldier.

 

Learn about the life and times of abolitionist and preacher Sojourner Truth in a memorable portrayal of her life by marionettes, performed by the Hudson Valley Puppet Company.

 

Take a break for lunch at the pavilion (served from 11am to 3pm), then stroll through the colonial craft village and get hands-on experience creating a take-home souvenir working with a blacksmith, tinsmith, or broommaker.

 
An appearance by President Abraham Lincoln, an historic quilting exhibition, a unique surgical presentation with authentic memorabilia, and an 1860s "cakewalk" with prizes will provide a rich 19th-century experience for the whole family throughout the weekend.
Despite the trying times of war and hardship, music was still a prevalent feature in 19th century life — bringing people together with songs of joy and sorrow.  Performances include nautical music with the Iron Jacks and traditional songs with fife & drum in camp by Rural Felicity and the 77th Regimental Balladeers. 
Participants are invited to stay for dinner on Saturday (served 5pm-7pm) and dine to the sounds of an old-time jam session under the pavilion.  The musical festivities hit a crescendo Saturday evening with a concert and dance beginning at 7pm, where David Kincaid will be joined by Jay Ungar & Molly Mason to perform "hits of the '60s" --the 1860s that is!
Daily admission (Sat. 10am-5pm, Sun. 10am-4pm) is $10 adults, $6 ages 5-12, under 5 free.  Saturday evening concert and dance (7pm) is $15.
For a full schedule and more information, visit:  www.ashokancenter.org or call (845) 657-8333.
Additional support for this event was made possible by Rondout Savings Bank and The Woodstock Chimes Fund.