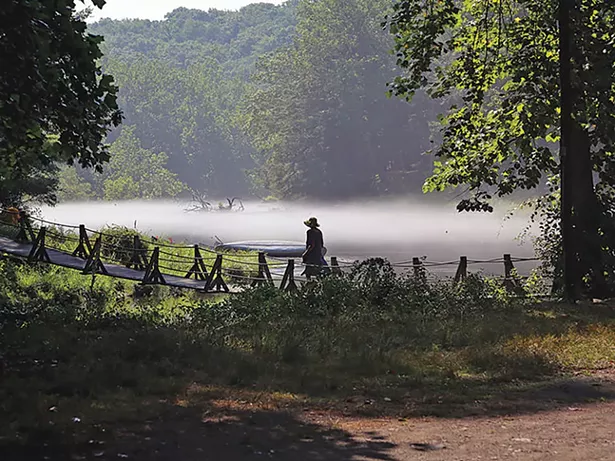 Stewart Dean
Summer campers have collectively raised funds to renovate the Ashokan Center's iconic "wiggly bridge."
Nestled in the lush foothills of the Catskill Mountains, The Ashokan Center welcomes students and guests from around the world. Visitors flock to this peaceful place for its immersive Music & Dance Camps; events like the family-friendly Summer and Winter Hoot festivals; and school programs focusing on natural science, living history, music and the arts, team building, environmental responsibility, and outdoor recreation. It's estimated that over 100,000 students have crafted a fire poker in the Center's blacksmith shop, one of Ashokan's unique offerings.
This kind of hands-on, unplugged education is increasingly crucial—and increasingly rare. In a world overtaken by technology, climate crisis, and "nature deficit disorder," Ashokan provides experiences that allow people of all ages to connect with each other, the planet, and themselves on a deeper level.
Ten years ago, this thriving present was precariously uncertain. The campus, founded in 1967 by SUNY New Paltz, was set to be sold by the university, spelling an end to the magical nature center and its long-running music and education programs. But thankfully, a group of Ashokan advocates, including current president/CEO Jay Ungar and his wife Molly Mason, sprang into action to form the Ashokan Foundation. With help from the governor's office, the New York City Department of Environmental Protection, The Catskill Watershed Cooperation, and the Open Space Institute, the Foundation was able to preserve 385 idyllic acres, and build new, sustainable learning and lodging spaces, to create the Ashokan Center of today.
The Ashokan Center will be celebrating its first decade as an independent nonprofit organization with a Harvest Gathering benefit, taking place on November 17 from 1 to 4pm at the center's Olivebridge campus. Tickets are $75 per person. For tickets and information, call (845) 657-8333 or visit ashokancenter.org.