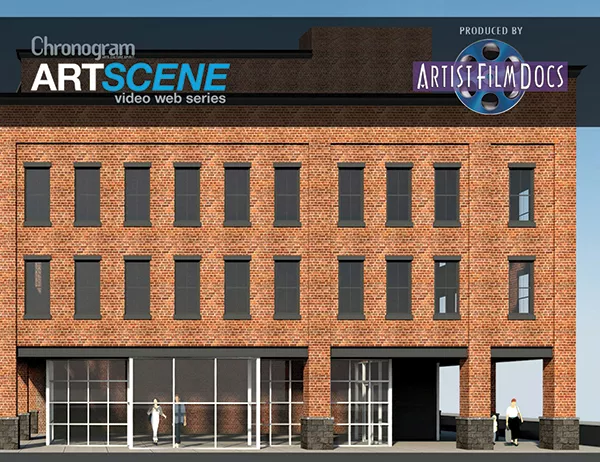 Each month, filmmaker Stephen Blauweiss produces "ArtScene," a monthly video Web series with short segments on artists, galleries, and museums in the Hudson Valley. Here, Stephen gives an outline of this month's film.
A trend has definitely started—Kingston has become a magnet for young urbanites looking to relocate. But back in the year 2000, architect Scott Dutton bought a 28,000-square-foot warehouse building in the heart of desolate midtown Kingston. The roof was leaking, pigeons were flying around—oh yeah, and he couldn't afford it, but he knew he had to have it.
After securing the building, the next big hurtle was to lobby the city for a variance to allow for him and his wife to live in it. That helped pave the way to change the city ordinance in other parts of the city too, which has certainly contributed to the rebirth going on in Kingston.
"We love working on older buildings," Dutton said. His experience with "adaptive reuse" projects began with his own building, then the Ulster Academy Lofts (the old PS2), and most recently the Rural Ulster Preservation Company (RUPCO)'s 80,000-square-foot Lace Mills lofts, which had been boarded up and abandoned for 25 years. Now it houses 55 lofts, all designed to "Energy Star for Homes" standards. All 55 units were designed as live/work lofts preferenced for artists that meet low income requirements established by New York State.
"The interesting thing about working on older buildings is that there is a moment in time when you start to feel like you can connect with each of the prior inhabitants of that building," Dutton says. "Everybody leaves their mark somewhere along the way. When you stop and you think about how buildings change and evolve, they're just like people." He adds, "The perception of what the appropriate use of a building is depends a lot on who the user is, and the user imparts some of themselves in that shell."
Dutton feels the job of architect is a deeply collaborative effort, not only among his firm but also including contractors and engineers. "We all work together as a team, each adding to one another's strength. We consciously designed the office space with the intent to foster our collaborative philosophy," he says. No one in the firm has a private office, and the two main floors are connected by a large open space.
Dutton Architecture's next big project is Energy Square, which will be on the site of an abandoned bowling alley in midtown. "Kevin O'Connor, executive director of RUPCO, asked us to help him create a transformative project. With a goal of net zero for living, the structure will have a 240kw solar array and geothermal HVAC to offset the utility demand for the residents. The project also includes a community vegetable garden and greenhouse on the roof to improve access to healthy food for the residents.