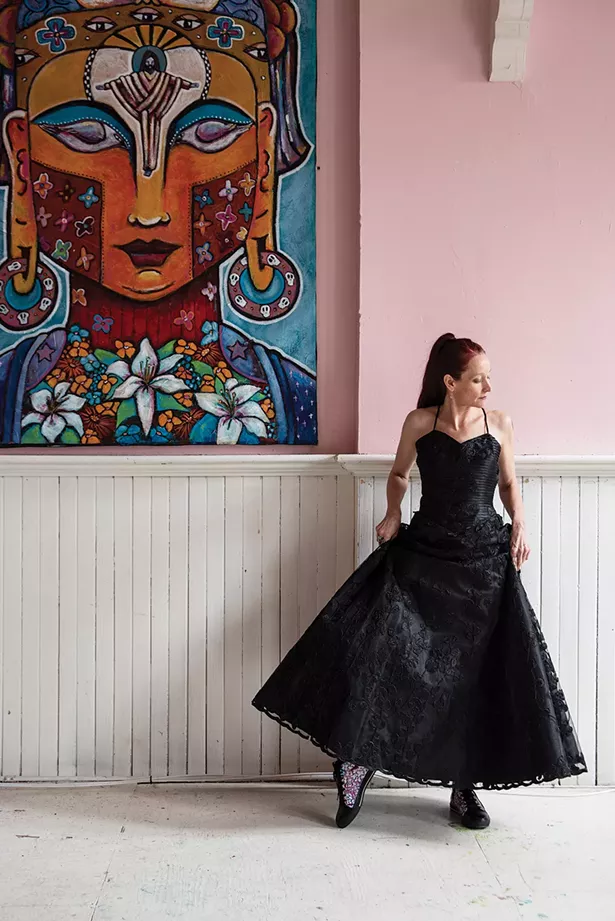 Photo by Deborah DeGraffenreid
Kelli Bickman is on the third floor ballroom of her loft. Hanging behind her is Christ Buddha, a 5' by 7' acrylic on canvas painting she completed after a trip to India. Raised a Catholic, Bickman has spent years studying a variety of spiritual traditions, including meditation, Buddhism, Hinduism. "So many spiritual traditions come from a place of lack and not being open to abundance," she explains. Her life and art are the result of a process of conscious creation. "The universe always has your back."
Kelli Bickman has a chest full of hope. Currently, it's sitting at the foot of her bed under one of her exuberant, mural-style paintings—this one six-by-twelve feet of acrylic, oil crayon, and glitter on canvas. Titled Long Life, Joy, Prosperity, the piece is a meditation on the White Tara of Buddhist philosophy interwoven with sketched scenes from her life as well as the skull and blossoms motif that reoccurs throughout her work. It typifies Bickman's larger body of art, much of which is hanging, in print or original, along the walls of her sunny, floor-through loft. Comprised of the three upper stories of a former Odd Fellows Temple, it's a place where history, square footage, and purpose have conspired to create an 8,000-square-foot live/work/gallery space for Bickman. Themes of abundance and generosity, as well as iconography, memories, archetypal imagery, characters from ancient myths, and even candy wrappers blend into the many layers of her vibrant work.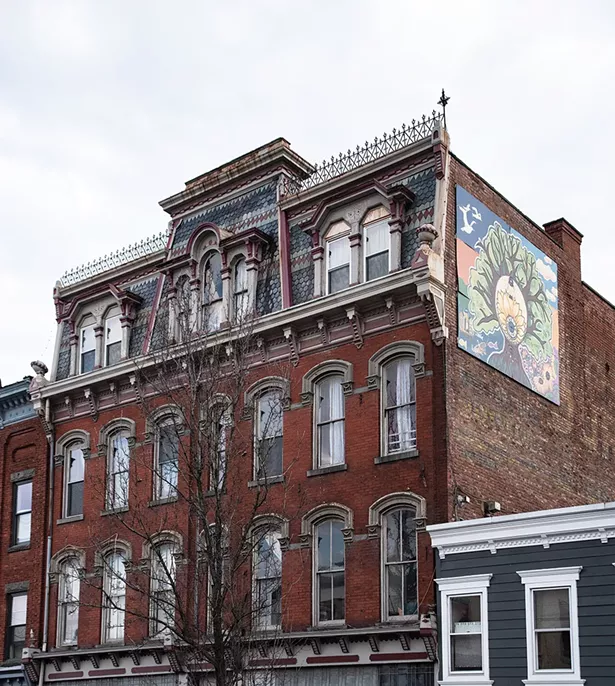 Photo by Deborah DeGraffenreid
Bickman's loft occupies the top three floors of a former Odd Fellows Temple. Bickman's mural Timeless Saugerties compliments the building's 19th century gothic facade. Bickman painted the piece with 9 local young people during the summer of 2017 as part of her Mural Arts Program.
"Reappropriation is key," Bickman explains, describing both her creative process and her decorating style. Her hope chest sits at the center of the open, street-facing second floor which is large enough to house her painting studio, a sleep area, and an alcove where she designs and mocks-up shoes, yoga clothes, and streetwear for her 11:11 clothing line. Inherited from her grandmother and restored by her father, Bickman has carried her carved cedar treasure chest with her from Minnesota to New York to Florida to the Catskills, using it to hold her sketch books and mementos. "It's the only piece in here I really care about," she explains, looking over the eclectic blend of dressers, end tables, lanterns, and desks she's salvaged, traded for, or picked up at thrift stores. "I'm really good at taking nothing and turning it into something," Bickman explains. Like her paintings, the harmonious whole of her home is so much more than the sum of its cacophonous parts.
Young Artists Wanted
A Minnesota native, Bickman attended the
University of Wisconsin-Stout
, where she double majored in sewing and art. "I've always been super creative, but I didn't really explode in creativity until I was in college and I had all these materials to play with. College was a free zone to do just that," she remembers.
Photos by Deborah DeGraffenreid
Once the center of Odd Fellows revelry, Bickman now utilizes the building's third floor ballroom as a community event space. Musical performances, aerial yoga and her Mural Arts Program are regularly held in the 24-foot-high room. Her 4' by 6' Laughing at Death hangs above the mirror. Hanging amongst the arches, her 5' by 7' series contemplating spiritual themes was completed during her time in Florida. From left to right is Dancing Shiva, Vajrayogini, Taming the Mind, Christ Buddha, and Green Tara.
Her first two years were spent in apparel design, where she took classes on textiles, tensile strength, and pattern making. It gave her a solid foundation in fashion production, but she didn't like working with conventional sewing machines, so she transferred to the art department. The freedom to be completely creative proved intimidating at first. "I took my first painting class and was so freaked out by the giant white surface, I didn't know what to do." So, for two years she focused on drawing, amassing a large collection of sketch books filled with her ideas, memories, and images. She kept them in her treasure chest at her parents' house.
It was in college while working at a local restaurant that Bickman met Neil Gaiman, who was living there with his family. "He has been one of my best patrons and supporters," Bickman says of the author, who is now a professor at Bard College. Over the years, Gaiman collected a dozen of her paintings, and his mentorship has proved invaluable. "He gave me the fearlessness to be creative and get out in the world. As a mentor, he has shown me that it's possible for an artist to make a living through discipline and focused intention."
Photo by Deborah DeGraffenreid
The loft's main kitchen looks over the backyards over the neighboring buildings. Bickman painted the wall and trim a contrasting orange and blue, but left the original sideboard grey and yellow. Over the desk, she camouflaged some unsightly pipes with hanging lanterns and mementos.
After college, she wanted to give New York City a try. It was Gaiman who encouraged her to move, and connected her with a job working for Chris Claremont, a comic book writer best known for working on the Uncanny X-Men. She called up another friend she'd met at college who just happened to need a roommate for her West Village apartment.
Trunk Show
Meanwhile, her trunk overflowed. When she couldn't fit anymore sketch books inside, Bickman began the process of taking her drawings and turning them into paintings. "I had this trunk full of sketches that was just so full I didn't know what to do, but I knew I had to do something with it." Her first works were studies of found objects, painted in a stream-of-consciousness style. After completing a larger image, she would start drawing on the canvas, and then graffiti on top of her work. Her interest in spiritual studies quickly began to seep into her creative compositions.
Photo by Deborah DeGraffenreid
The hanging installation includes gifts from her mother, crafts created by her daughter, and found objects —each one meaningful in its own way. "It was all stuff jammed up in a junk drawer," she remembers. "I thought, so why not make it art?"
While living in Manhattan, Bickman took sojourns upstate to visit the Karma Triyana Dharmachakra Buddhist monastery in Woodstock. "I would bus up and stay here, volunteering in the kitchen," she remembers. "I was always studying as much as I could." After 14 years in the West Village, she moved to Florida, first to Jacksonville then St. Augustine, where she delved deeper into both Buddhism and Hinduism by joining a meditation group. "These deities just started coming to me in waves," she explains. "I started painting them and then studying the meaning behind them." She went on to study Christian iconography as well as Native American traditions, including images and themes from both philosophies into her later works.
Acts of Co-Creation
A move to Peekskill in 2009 inspired her to begin full scale murals and outdoor installations. "I was so sick of being bombarded by billboards selling me crap, so I made exterior pirate billboards and put them up on the street in Peekskill," she says. (The pieces,
Art Can Set You Free
and
We Are Here to Be Happy
, were later hung on the outside of the
Varga Gallery in Woodstock
.) Bickman's mural arts program came next. "Everywhere I looked I saw a blank canvas for art," she recalls. She began a program teaching local young people how to paint large-scale installations. Over the course of a year, Bickman worked with a group of students under the age of 21 to create an 8' by 36' acrylic on wood mural. Now installed on the exterior of the Peekskill Youth Bureau, facing city hall, the mural and the experience creating it inspired Bickman to continue the program. Her clothing and shoe line of "wearable art," 11:11, was created, in part, to help fund the mural arts program. (Gaiman has also invested in Bickman's clothing line.) The mural arts program has continued regularly and Bickman has jointly created several other murals throughout the Hudson Valley with groups of young people.
Photo by Deborah DeGraffenreid
Bickman with some of her 11:11 brand clothing line. Painted with spiritually inspired motifs from her work, the line includes hoodies, yoga pants, tanks and shoes and is manufactured by a woman-run factory.
A move further north—toward mountains and fresh air—was Bickman's next step. "It seemed like the natural progression," she says. Her long-term rental loft in Saugerties came five years ago. When she stumbled on it, she loved it immediately. "I loved this space, it was like a Tribeca loft, and I loved the light," she remembers. The gothic brick building features an exterior facade of ornate scrollwork, trim, and a detailed cornice along the roof. Above the street-level front door, the letters "FLT" are printed. "They stand for friendship, love, and truth," Bickman explains. "It was the Odd Fellows' motto. They wanted to feed the orphans and help the poor, but they wanted to do it with revelry."
Photo by Deborah DeGraffenreid
A gift from her mother, a Buddha statue graces a corner of her guest room. "I wake up every morning and make my gratitude list," Bickman says. "I am so grateful to have the best patrons in the world."
The second-floor landing features a large alcove where the charitable organization's members hung their robes; Bickman now utilizes the space to showcase her "wearable art" clothing line. The spacious, sunny kitchen with 12-foot ceilings, has room enough for an eight-seat dining table at its center as well as a generously sized corner office nook. Decorated with a mix of art and festooned with a collection of hanging lanterns and mementos, the peaceful space overlooks the backs of the surrounding brick buildings. Bickman painted the walls orange and trimmed the window frames with blue. The original yellow and gray built-in sideboard features original sliding doors of beveled glass. Her painting Mind/No Mind serves as a large backsplash behind the sink. During a film shoot, the full downstairs bathroom was painted with graffiti. Bickman left the bathroom untouched after the film crew left. A double door parlor and back bedroom painted purple and blue complete the second floor.
Photo by Deborah DeGraffenreid
Bickman's bedroom is decorated with her grandmother's hope chest and some of her work. Her shoes are painted with the cherry blossom motif which, along with skulls, reoccurs throughout her fine art. "The skulls represent impermanence; the blossoms represent new life."
Bickman painted the staircase leading to the third floor with a floor-to-ceiling white dove, and added a wall-size decal of Ganesh along the third-floor landing. Once the center of the Odd Fellows' revelry, the building's third floor is a large ballroom painted bright pink, complete with Art Deco bar, and a second kitchen. Decorated with her first large-scale spiritually themed work, Bickman has tried to remain true to the spirt of the Odd Fellows' original intent for the space, holding community events whenever possible as well as aerial yoga, German longsword classes, and musical performances. (The third floor has two more garret-style bedrooms with mountain views. Bickman rents them to fellow artists.). Like the Odd Fellows, Bickman sees how readily revelry and generosity coexist. "Everything can be spiritual," Bickman explains. "It's art as self as art."
Photo by Deborah DeGraffenreid
Executive Cosmonaut, a 30" by 46" acrylic and glitter on canvas, is an example of Bickman's tendency to utilize found objects in her art. Bickman bought 30 unfinished canvases from an artist who was moving across country. It's now hanging in the hallway leading between the second and third floors of her loft.
Kelli Bickman will be exhibiting her paintings in a two-person show with Christina Varga at the Burnette Gallery in Woodstock through the end of May.