Alleyway Ice Cream in Saugerties
Now that the Hudson Valley is well into the summer season, it's time for local ice cream shops to take the spotlight. With its growing culinary reputation and robust farming community, it's no surprise that the Hudson Valley has a lot to dish up in the way of artisanal ice cream. The local scoop shops offer more than just the average ice cream experience; they bring this favorite summertime treat to the next level with their homemade goodness made with local produce and dairy, in a seemingly endless array of classic and experimental flavors that change with the growing season. Here's the scoop on artisanal ice cream shops in the Hudson Valley.
Zora Dora | Beacon
Zora Dora's "microbatch" popsicle shop is the brainchild of culinary school grad Steve Astorino and a fan favorite in Beacon. Specializing in artisanal methods and ingredients, Zora Dora produces a wide-range of frozen goodies every morning using organic, local dairy and farm-fresh produce, including milk-based gourmet ice cream popsicles and traditional Mexican paletas, or fruit-filled sorbet pops. Their highly Instagrammable options come in mouth-watering summery flavors like blueberry mascarpone, passion fruit raspberry chip, and strawberry cookies and cream.
Alleyway Ice Cream | Saugerties
Alleyway Ice Cream takes its name from its shoebox location in the alley between English Garden Antiques and Frank & Co. Fine Jewelers on Saugerties' Partition Street. Despite its kiddie cone size, Alleyway Ice Cream is a mighty force and after just two years, has already been dubbed the best ice cream in New York. Under the ownership of life-long ice cream lover Julian Hom, the shop makes a plethora of unorthodox ice cream flavors made with Hom's proprietary blend of dairy from Hudson Valley Fresh, which has the perfect balance of milk, cream, and sugar to achieve perfect creamy consistency. This small-batch ice cream is made four quarts at a time, and comes in adventurous flavors like Thai tea cookies and cream, ube heath bar crunch, and buttermilk strawberry. Vegan flavors like chocolate sorbet are also available.
Nancy's of Woodstock Artisanal Creamery | Woodstock

The idea for Nancy's of Woodstock Artisanal Creamery was inspired by one of the owners' mother, Nancy, who would create magical bread and desserts and scratch. The creamery carries on Nancy's legacy with homemade ice creams made from locally sourced ingredients from the Catskills. The ice cream shop offers a wide-range of flavors like sour cream cherry, vegan mint chocolate chip, and blackberry basil sorbet. The creamery also offers "outrageous sundaes" for customers to indulge in frozen masterpieces like the grasshopper sundae.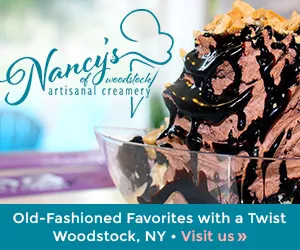 Jane's | Kingston, throughout the HV
Founded by Amy Keller and Bob Guidubaldi in 1985, Jane's crafts ice cream using family recipes passed down through the generations. Jane's uses milk from New York State cows, local ingredients, and plant-based stabilizers to ensure that their ice cream is natural and free of artificial ingredients. The family-run shop offers classic flavors like vanilla and chocolate, but they go way beyond that with their premium specialty holiday, themed, and seasonal flavors. The expansive list of specialty flavors includes date rosewater, pomegranate molasses, eggnog, and caramel apple spice. Head to the scoop shop on Wall Street in Kingston, or pick up a tub at many local markets.
Zoe's Ice Cream Barn | Lagrangeville
Zoe's Ice Cream Barn is a collaborative project between fourth-generation farmer, realtor, and Beekman town judge Bob Ferris and his youngest CIA-trained daughter, Katie. The ice cream barn exclusively uses milk and cream from local dairy collective Hudson Valley Fresh, and lives by the motto "from cow to cone in three days," for extra fresh ice cream. Their homemade flavors like lemon poppy seed, strawberry peach crumble, and orange pineapple are sold in every size from single-scoop cones all the way up to a gallon for you to take home.
Fortunes Ice Cream | Tivoli
When husband-and-wife owners of Fortunes Ice Cream, Lisa Farjam and Brian Ackley moved back to Tivoli, where they met as students at Bard, they realized their lil' upstate town was sorely lacking a scoop shop where they could get artisanal ice cream made with fresh, local ingredients. Now, their sherbert-colored ice cream shop rotates flavors with the seasons, using Ronnybrook Farms dairy and sourcing fruit from area farms like Kleins Kill Fruit Farm in Germantown, Rose Hill Farm in Red Hook, Montgomery Place Orchard, Fix Farm, and Greig Farm. Some flavors this summer season include labne sour cherry (made with a yogurt-kefir base), vegan blueberry verbena, halva honeycomb, and apricot bay leaf sherbet.
Moo Moo's Creamery | Cold Spring
The quaint town of Cold Spring wouldn't be complete without a scoop shop to round it out. Moo Moo's Creamery started off with a homemade family ice cream recipe. After thorough R&D into ingredients and methods, Moo Moo's has perfected their "secret formula" for amazing ice cream. The team makes 16 flavors fresh every day in the back of the shop but any of their 95 flavors can be made upon request. The extensive list includes the classics as well as unconventional options like peanut butter banana marshmallow chip, shortbread cookie cream, and root beer. They even have vegan ice cream and gluten-free sprinkles! For daily specials check their instagram.

Bellvale Creamery | Warwick

Perched atop Mount Peter, Bellvale Creamery offers spectacular vistas of the Catskills and Warwick Valley with each handmade scoop of ice cream. Holding steady at #2 on Trip Advisor's list of the top 10 ice cream parlors in the entire United States, Bellvale gets its milk and cream from right onsite—from the historic, 201-year-old Bellvale Farms dairy. In addition to the 50+ flavors of ice cream made in house, Bellvale also makes its own waffle cones, ice cream cake, and ice cream pies and is open to hikers, tourists, and locals April through October. Flavors change seasonally and include gourmet specialties like honey lavender, banana walnut, and Jumpin Jersey, a tumeric ice cream with mint, hot pepper, and white chocolate chunks.
The Chocolate Studio | Beacon
Sisters Regina Murphy and Anne St. George are the masterminds behind Gourmetible and The Chocolate Studio, a tasty shop on Beacon's Main Street specializing in gluten-free, nut-free, and vegan desserts, chocolate, candy, and ice cream. Their non-dairy and nut-free ice cream offerings (dubbed "the vegan stuff") is made in-house and comes in more than 24 indulgent flavors like Rocky Road, mocha chocolate chip, caramel brownie, and mint chocolate chip. Their dairy-based ice cream comes from Moo Moo's Creamery in Cold Spring.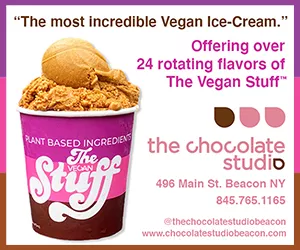 Culture Cream | Hudson
When an artist/chef/spice collector sets their sights on ice cream, you can expect mouthwatering results. Hudson-based scoop shop
Culture Cream
was borne out of creator Katiushka Melo's fascination with fermentation and living foods. This is the only place we know of in the region where you can get a cone of living ice cream, packed with probiotics (so very Hudson). Made with local cream and produce, the flavor menu changes weekly, but recent options included exotic delicacies like pear ginger kombucha sorbet, mango merquen kefir ice cream, and lacto-fermented strawberry ice cream. The kombucha and kefir that serve as the live, bubbling base for many of the ice creams and popsicles are made made in-house.