At Stems Inc., a wedding, floral, and event design studio in Red Hook, Maggie Oyen and her staff don't use black buckets, the staple of most florists and grocers. Instead of placing their product in black containers, which mask the condition of the water, they coddle their stems in white buckets, allowing them to gauge the cleanliness of the water and to change it often.
Stems also doesn't use a cooler, another rarity in the business. "Our flowers are never put into a cooler—never," Oyen says. "They get to drink and revive."
A former pilot and flight instructor, Oyen is adamant about how flowers should be treated after traveling thousands of miles by air. "Flowers are living things," she says. "After flowers are harvested, they're put into boxes. They're thrown into unpressurized cargo bins on airplanes, without oxygen. It's freezing cold at 37,500 feet when you're not sitting in the passenger cabin." She winces when comparing her product's journey to that of a dog trapped for hours in the belly of a plane.
After the flowers land, they are loaded onto trucks and delivered to wholesalers. Then they are picked up by other wholesalers or florists. "They get chopped and thrown into cold water and put into a 42-degree cooler," says Oyen. "How well would you do?"
Over the past 10 years, Stems has gone from being a company that ships flowers throughout the US, including Alaska (which is "very difficult," according to Oyen), to a small but successful event design studio. Instead of operating as a traditional flower shop, or being located in an area with constant foot traffic, Stems is based at the Chocolate Factory, a restored 19th-century industrial building that now houses galleries, shops, and businesses, and that is tucked away a short distance from the intersection of Routes 199 and 99 in Red Hook. The Stems space is loftlike, with sleek wood floors, a high ceiling, and skylights.
While individuals are welcome to purchase flowers directly from Stems, they need to order ahead of time. "Our position on purchasing is that we do not purchase unsold perishable materials," says Oyen. Occasionally, on a Monday or Tuesday, after the weekend's weddings and events, there are flowers to sell. Yet there is no guarantee. "Walk-ins should preorder," says Oyen. "We have one nice woman who comes up from New York City, and she's the only one who will stop in by chance. Sometimes she's lucky."
Every Wednesday, Oyen drives to New York City to hand-select the flowers that she will need for the coming week. After returning to the studio, she places the stems in warm or tepid water, depending on the variety of stem. While some florists chop all stems the same way, Oyen cuts them according to the type of flower. Roses are cut on both sides at a 45-degree angle. Woody stems are smashed with a hammer. Stems that are pulpy, like those of a tulip, are cut straight across. "Each flower requires a different procedure for taking care of it," she says. "When people say 'A rose is a rose is a rose,' that's not true." Each rose has its own personality. "Some roses take three weeks to open, and they need to be cultivated," she says. "Other roses pop full-blown if they're not cooled. They are full-blown in a day and a half, and just stay there. You have to know your product. Flowers dictate to you. You don't dictate to them."
She says that tulips are another misunderstood—and mishandled—flower. "Chopping tulips—which are supposed to be [like] erotica from the pond—down to one-inch stems and making them stand up like soldiers in a square box, that's not what a tulip is," she says. "You can't make a Chihuahua out of a Labrador. But you have to love the Chihuahua for what it is."
In 1997, Oyen started Stems after she became pregnant and, at 20 weeks, could no longer work as a pilot and flight instructor due to FAA safety rules. Unwilling to sit still and be bored, she decided to form a business that would draw upon her affection for flowers and her knowledge of transporting cargo.
"I have a British mother, who has always been a flower person," she says, "and I've always had an understanding of flowers. Although we had a home in the Hudson Valley, my husband, a commercial pilot, was based in St. Louis. When I used to fly to St. Louis to see him, I realized that you couldn't get any fresh flowers in the Midwest." She also realized that consumers who lived beyond a 100-mile-or-so radius of the three major flower-import centers—JFK in New York, LAX in Los Angeles, and Miami International—had trouble finding quality flowers.
Since Oyen knew, as she describes it, "how things get from A to B," she started Stems Inc., which she cites as being the pioneer in shipping flowers from the wholesaler to the end-user without a middleman. With her business, Oyen could prepare all of the flowers "correctly" in the studio, she says, and then observe them for 14 to 24 hours prior to shipping them via UPS from Red Hook to anywhere in the country. About 18 months later, according to Oyen, Martha Stewart Flowers began shipping directly to the consumer. Other floral delivery companies followed.
Stems no longer ships flowers, in part, Oyen says, because of the way that Martha Stewart Flowers undermined consumer confidence. "Martha Stewart Flowers proved the fiscal viability of what we were doing," she says. "Unfortunately, they didn't do it well."
At Stems, Oyen and her crew "tubed" flowers. To keep each stem fresh, they placed it in a 72-hour water tube. According to Oyen, Martha Stewart Flowers didn't tube. "Flowers are a crop like anything else—bananas, apples, potatoes," says Oyen. "The minute you harvest, you are on damage control. So the more conscientious you are, from the point of harvest, the longer your flowers are going to live. Tubing takes time and labor and additional cost." Consumers didn't want to purchase expensive flowers that wouldn't last longer than a day or two.
Today Oyen uses her floral and business skills to design events, principally weddings, and to provide floral arrangements and installations to private homes and locations. For events, she says, "We can do everything, from lighting, to security, to full event coordination."
For weddings, Oyen has expanded her original made-to-order couture line to two others: Ready to Wear, for budget-conscious brides, and DIY (as in "do it yourself"), for brides and family members who are creative and able to follow the instruction cards that Stems provides. Clients can also mix and match, drawing upon elements from the different packages.
Each bride is asked to fill out a questionnaire to determine the components she wants and the budget category into which she fits. "People need to be treated with respect, regardless of their budget," says Oyen. "That's what we do first and foremost. We sit. We listen. And we're respectful about it. We call ourselves 'smiths.' We smith our trade."
Sophia Tarassov works with Oyen on advertising and marketing, including the website, and she oversees Stems Ink, which is responsible for all printed materials. Tarassov also assists Oyen in designing a tabletop look. "Most tabletops begin with linens," says Oyen. "Sophia's sense of color begins the process."
Karen Jerro handles Stems' finances and is involved in customer service, vendor relations, and event coordination. Oyen does all of the floral design herself. All three women cut flowers, wash buckets, and mop the floors. "No job goes undone by anyone here," says Oyen. "We all know how to wear each other's hats."
The company's success is in the details, says Oyen. "Every client wants their event to be memorable. People who attend the event never quite understand why it's so memorable, but when it's in the details, when you've got every detail down, they think, 'How lovely is this?'"
Oyen refers to what she calls an old pilot's adage, which all pilots need to know before and during communication with air traffic control. A pilot, she says, has to ask herself, "Who are you? Where are you? And what do you want to do?" This means knowing the name and make of the aircraft, the exact location upon initiating communication, and your intentions—what you want to do.
In planning decor and design, the staff at Stems asks each client, "Who are you? Who are you? We can't design for you unless we know who you are. What place are you in right now? And what the heck is it that you want to say, what you want to do? Our job is to interpret the client and make it so that when the client's friends walk into the party, they say, 'This is so her.'"
Stems Inc. 54 Elizabeth St., Red Hook (845) 758-8080; www.stemsinternational.com.
Hillary Harvey
Maggie Oyen arranges a bouquet for a client's birthday as Sophia Tarassov paints birch cups for petal flowers.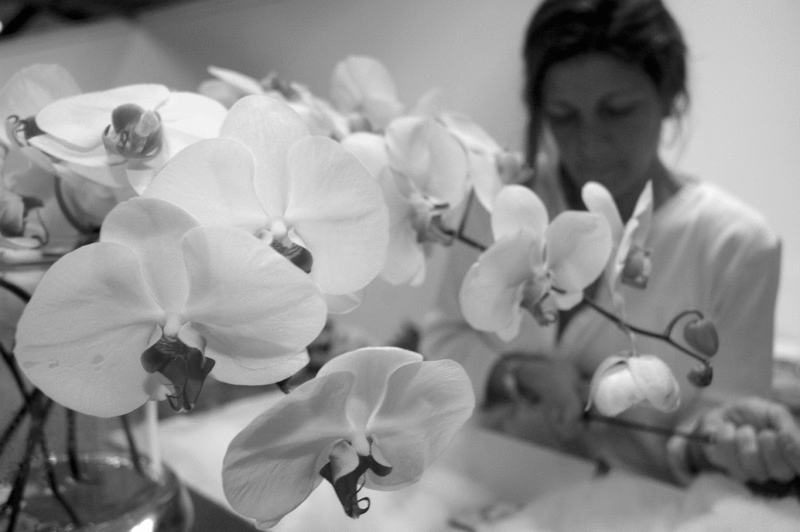 Hillary Harvey
Karen Jerro tends to newly arrived orchids.