Lindsey and FireDean in front of the Dutchess County barn that serves as their shared creative space
"When we moved up here permanently in 2019, we had to figure out how to make the space work for us creatively as well as for both of our businesses," says Lindsey Brown of the 200 year-old barn-turned-studios near Rhinebeck that she shares with her husband, FireDean Schilling.


With two decades in New York City as an artist and several years as a gallery owner in Chelsea, Brown now owns a consultancy specializing in buying and selling art from private collections with a focus on post-war, contemporary, and outsider works.
Art Sales & Research, Inc
is the culmination of her diverse experience with curation, research, conservation, and sales. Schilling, a singer-songwriter and landscape designer with over 25 years of experience, owns the Brooklyn Garden Club, a high-end landscape design and installation business that works both in New York City and upstate.
The center of the barn is a multi-purpose gallery and performance space
When Brown bought the Dutchess County property in the 2000s, she had just closed her gallery, Lindsey Brown, in New York City's West Chelsea Arts Building and was starting to focus on her own artwork again. After rehabbing part of the dilapidated barn herself, she and Rose Burlingham (who also represented Brown's artwork) invited artists from the city to the barn to participate in one-day group shows.


After meeting her husband almost ten years ago, the two began working on the barn's rehabilitation together. Today, the couple occupy studio spaces located on either end of it, with an exhibition/performance space in the center.

The latest private show in the barn: "Selected Works, 2016 - 2019, Marilyn Gold"
Since she started Art Sales & Research, Brown's work has focused on the sale of high-end artwork. Recently working with a client to sell a drawing by Alberto Giacometti, she found herself in the Morgan Library in New York City paging through letters from gallerist Pierre Matisse to establish provenance for her client, and later, submitting to a year-long trans-continental authentication process by the Giacometti Foundation in Paris. "You get to know a piece so intimately through all this. It becomes so meaningful to finally sell it," she says.

As part of her process, Brown often invites clients to come to the property where they can view one of her intimate shows or catch a glimpse of the backyard gardens her husband has been curating. "The whole property is really turning into integrating the art that's on the wall with the art that's in the landscape," she says."The open-air barn has doors on either end and light filtering in through high windows. It's really quite special." She also imagines the potential to build a greater sense of community, offering the space to host artists in performance and other disciplines.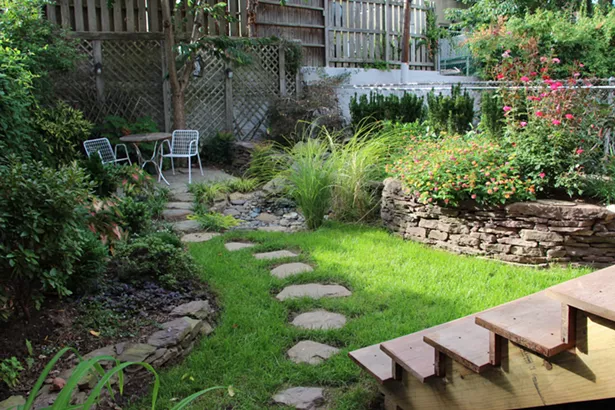 A Brooklyn Garden Club residential project in New York City
When Schilling isn't working outside the barn or on clients' landscape projects, he's teaching others how to create the sought-after natural look the Brooklyn Garden Club is known for. For the past several years, he's used his studio space in the barn to produce video content for all levels of gardening and landscape enthusiasts.

He teaches landscape design at the New York School of Interior Design (NYSID) and long before the pandemic made Zoom cool, he began teaching homeowners how to do projects themselves through private virtual consultations. He also hosts free gardening courses on Instagram and Facebook with topics like "How to Create a 'Been-There-Forever' Garden" and "Making Native Plant Selections."

A still from one of FireDean's Zoom gardening classes
"People want to be more involved because they want to learn and do themselves, but they're stuck between not knowing anything and wanting to make a transformation," he says. "The goal is to empower and inform aspiring gardeners and landscape designers while providing a 'safety net' needed to work with more confidence."
As many married couples know too well, working together, especially in the same space, can be a constant process of negotiation. "We both have different sensibilities," says Brown. "I like to have things evolve in an organic way and he's a little more structured, but we learn how to take from each other what part of each other's sensibilities we need."

To learn more about Art Sales & Research, visit the website on Artsy.net, Facebook, Instagram, or call (347) 768-3954. To learn more about the Brooklyn Garden Club, visit the website, Facebook, or Instagram.