Since 2001, Arm-of-the-Sea's Esopus Creek Puppet Suite, performed in Tina Chorvas Park for a weekend every August (2015 and 2020 excluded), has been an annual cultural ritual. Summer in the Mid-Hudson Valley just wouldn't be the same without that magical evening—sitting on a blanket on a sloping lawn after a picnic repast watching a performance recounting the building of the Ashokan reservoir, or a migrant's thwarted efforts to cross the border, or the chemistry of dirt through the pageantry of giant puppets. The show has the power of ancient spectacle, full of resonating symbolism and a ritualistic pacing that allows for contemplation. The moving parts of the handmade set crafted from swirling fabrics, painted cardboard, and other basic materials cleverly transform into a cityscape, PCB toxins, strands of DNA or the fish-filled depths of the sea, while performers in black manipulate the puppets as they dance to the percussive beats and haunting notes of a live band. The glowing stage floats dream-like in the black night as crickets trill and stars twinkle overhead.
The Esopus Creek Puppet Suite was originally crafted as an outreach to the local audience: though based in Saugerties, the company, for much of its 38-year-history, has mostly been on the road, performing for school kids and the general public at festivals, performing arts centers, and community venues in the New York metropolitan area and as far afield as Wisconsin. But now Arm-of-the-Sea plans to spend more time at home. Last spring, its master plan for the Tidewater Center, a permanent performance space and cultural venue to be situated on the banks of the Esopus Creek, was approved by the Village of Saugerties Planning Board. Though the project is in the infant stages, Arm-of-the-Sea will host its first performances at the site this summer. It'll be just a lawn initially, but when fully built out will consist of a 99-seat theater and outdoor awning-covered performance space; a building for operations support; a studio for resident artists; a waterworks play area; a kayak launch; and an environmental science lab, which can be used by students and for citizen science projects.
"We're trying to work closer to home," says Patrick Wadden, who founded the company with Marlena Marallo in 1982. While Arm-of-the-Sea post-COVID still plans to tour regionally, it is also forming a Saugerties-based company, which would perform at the Tidewater Center in the warm-weather months, along with other local theater, dance, and music groups. The center and local company represent "an effort to have a longer or more in-depth participation by local people that could hopefully feed into training people for the touring company," Wadden says. The center would "tell the multi-layered story of this place," says Wadden. "If you go deeply into one place, you'll find the whole world connected to it. That's one of the guiding principles of programming and developing this project. We're on a body of water that connects us to the Seven Seas."
Same Digs, New Dream
Formerly the site of the Sheffield Diamond Paper Mill, which dates from 1827 and operated into the 1950s, the 1.5-acre property, which is located between Tina Chorvas Park and Arm-of-the-Sea's studios at the Cantine's Island Cohousing complex, was formerly owned by Clearwater. The sloop had been based at nearby Lynch's Marina for many years and the nonprofit organization planned to construct a home port on the land before it instead relocated to the Hudson River Maritime Museum, in Kingston. Arm-of-the-Sea leased the property from Clearwater before taking title to it this year. (Marallo and Wadden designed and created their first puppet pageant for Clearwater's 1982 Pumpkin Tour, enlisting the entire crew to perform it at each of the sloop's 15 stops from Albany to Manhattan.)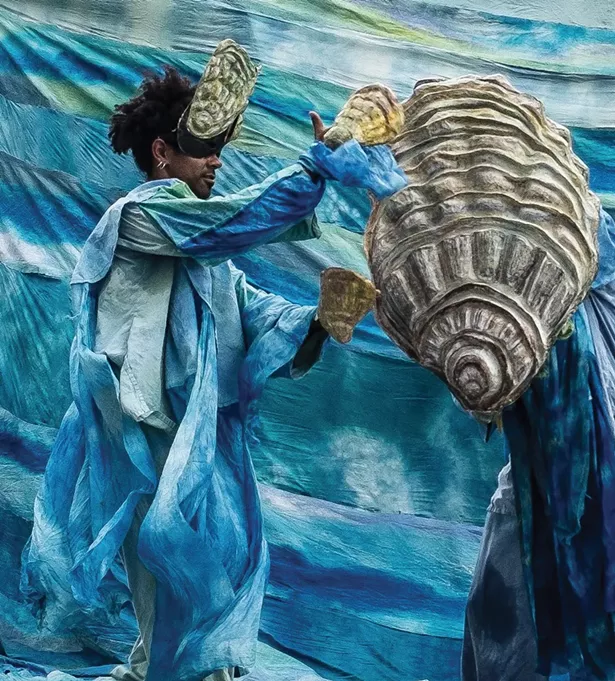 Stephen Ruttan
Arm-of-the-Sea performance at the 2015 Clearwater Festival.
Funding from the New York Rising/Storm Recovery Program paid for a new access road to the site, fencing of the brick ruins and stabilization of 125 feet of shoreline, which has since become a popular fishing spot. Arm-of-the-Sea is currently raising the funds to pay for the next phase of improvements. The price tag for covering the contaminated site with clean fill, planting of grass and other landscaping and creating a parking area is $100,000. Half has been raised so far, and Wadden says another $15,000 to $20,000 minimally is needed in order for the group to perform there this summer. "We're guardedly optimistic we can do it," he says. "We're making a push to secure some additional private funding."
Financial Challenges
The push to raise more funds comes on top of Arm-of-the-Sea's most difficult year yet. Like its counterparts in the theater world, the troupe had almost no income thanks to the pandemic and its inability to tour, which has been its bread and butter. "We've been humbled by the support of individuals who helped get us through this past year," Wadden says. Arm-of-the-Sea's sole gig was in November at the
Tribeca Performing Arts Center
, where the company set up and rehearsed and performed in an empty theater in front of three video cameras, which was live streamed to 4,500 students and teachers.
Socioeconomic shifts have more broadly impacted the theater company's touring schedule in the last couple of decades, he notes. "Schools no longer bring in that many cultural programs and the ones they do are specifically tied to curriculum standards." In addition, cultural venues around the country have gone out of business or greatly reduced their programming, and the existing programming tends to be tied to a best-selling book or popular figure, Wadden says. These trends, along with a desire to reduce the company's carbon footprint, have been an impetus toward creating a home-based performance center, which would partner with other local organizations for a multidisciplinary schedule of events tied closely to community participation and education, including high school theater internships, an arts and science camp, and theater training.
A Never-Ending Story
Having created shows that span many chapters of local history not to mention science, from polluting PCBs to food chains to dirt microbes to DNA, and eco-catastrophes including deforestation, loss of genetic diversity and global warming, could Wadden possibly have any more ideas brewing in his noggin? "I don't think we've even scratched the surface," he replies. "There's so many stories. One of the things that occurs to us now is, how do we know what we think we know? What is the shared reality? That's one thread to the social construct of reality. I would say we may or may not have the tools to do this story in a non-technological way," be it a tale of social media malfeasance or the dangers of data mining through computer algorithms beyond the capacity of any human. Wadden's thought-provoking scripts, modulated by the dancer-performers, Marallo's painted masks and puppet characters, myth-like in their looming scale and metamorphic abilities but poignantly human in their vulnerabilities, paired with musician Eli Winograd's catchy roots-inspired scores, might be an effective vehicle by which we gain perspective on this otherwise omniscient technology that holds us in its grasp.
Beyond Arm-of-the-Sea's ever-growing repertory, Wadden hopes to create a lasting legacy with the Tidewater Center. "I felt a real opportunity to engage in the kind of long-term process that would make a difference to the community," he says. "It will exist beyond our lives." Indeed, Suzanne Bennett, co-founder and executive director of ShoutOut Saugerties, predicts "this will become as significant as Opus 40. In time [the Tidewater Center] will become a landmark place. Other companies will want to perform there. It's going to bring in a lot more access to the performing arts than we've had."
Arm-of-the-Sea is currently raising funding for the Tidewater Center through an Indiegogo Campaign.