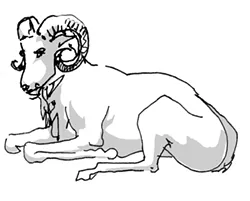 ARIES (March 20-April 19)
Uranus in your sign the past seven years has pushed, pulled, stretched and tweaked who you are. The energy of this transit has been so revved and at times stressful that you've had few experiences to appreciate some of the more revolutionary qualities that it's bestowed on you. This month, however, you get a point of contact and a moment of truth. Someone, something, or the world itself, meets you on your own level and reflects back what you've attained or become. The missing experience that you acquire will reveal something of your true potential, what can happen when what you have to offer is met consciously by a circumstance where you're actually received.
You might wonder how you can set your life up to create more of these experiences, or have it be this way all the time. That is indeed the quest, and because you'll engage this desire as a conscious mission, you have something to aspire to. Meanwhile, you may be getting the message that you don't have to push yourself, or anyone else, quite as hard as you have in the past. You have an influence. People notice you, though they don't always know how to respond, and it will help if you find ways to make it easier for them. It will help if you show your appreciation ongoing for anyone who even vaguely recognizes who you are.