Page 3 of 3
"You would have this beautiful silver tea service and a Lipton tea bag on a paper doily," she said. "It was ridiculous."
Today, Smith blends her teas at an enormous table in the center of her converted dining room. Floor-to-ceiling shelves full of blue Rubbermaid bins surround her, black neutrals on one wall, green teas on another, fruit teas on another, and lemon up near the ceiling to keep it from tainting the other mixtures. She blends her teas often to keep up with customer demand: 25-40 pounds of chai, a mix of tea and spices, every week; 50 pounds of bergemotted Earl Grey every two weeks; and so on. Some of her more exotic blends she makes upon request, and she has a number of exclusive combinations: citrus chiller, lemon meringue, white chai, pomegranate cherry. Smith's signature is her singular way of mixing flavors.
"Anyone can do pomegranate, anyone can do cherry, but only I do pomegranate cherry," she says with conspicuous pride.
Smith believes she was put on the earth to bring people together, and build a healthier planet. By cultivating an appreciation for her art, Smith and her colleagues in tea have helped create a new culture in the Capital Region. "We just want to keep doing the earth work and sharing what we do," Smith says. "We've built a tea community."
RESOURCES
Divinitea does business through its website, www.divinitea.com.
(518) 347-0689
The Good Leaf Gourmet Tea Company is located in the At the Warehouse emporium, 20 Learned St., Albany, or at www.goodleaftea.com.
(518) 478-0093
Tea Laden is in the Delaware Plaza, 180 Delaware Ave., Delmar, New York, or at www.tealaden.com.
(518) 439-6998
Hillary Harvey
Specialty teas on display at Tea Laden in Delmar.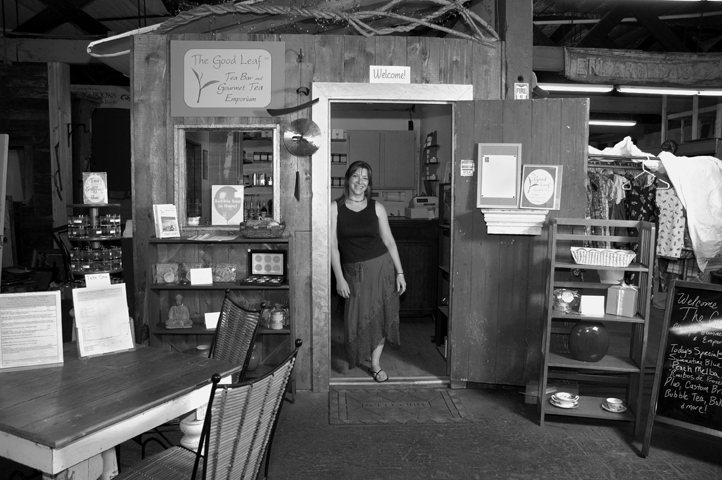 Hillary Harvey
The Good Leaf's Michelle Marks outside her "tea boutique" in Albany.
Hillary Harvey
Johnny Francis of Tea Laden.
Hillary Harvey
Linda Smith of Divinitea on her back porch with a wooden tea crate from India.
Hillary Harvey
Kaitlyn Owen, a culinary student, at work in the production room at Divinitea in Schenectady.