For decades, America has been a coffee-drinking nation. From diners in Des Moines to coffee klatches in Catskill, the high-octane beverage is standard fare, and the explosion of Starbucks and other designer java stands on every urban corner has made espresso essential and barista a byword.
But amid this tidal wave of arabica and robusta, a small swell has been building strength, and the average Joe and Jane have shown increasing interest in the other hot drink, tea.
In 2005, United States tea imports totaled $352 million, up 28 percent in just four years, according to International Trade Centre statistics. Coffee continues to be king, with imports totaling $3.1 billion that same year, but tea is definitely a comer and, if growth continues at the same rate, tea imports here will soon reach a billion dollars. Big manufacturers like Tetley and Salada don't account for all this demand; instead, the tea industry has seen dramatic specialization. In recent years, the market has experienced a striking increase in specialty teas, with many sellers focusing on providing rare breeds and exotic blends.
America is changing from "an espresso society looking for a cup of mud" to a society that can appreciate a cup of white tea, with its "exquisitely delicate flavor," says Linda Smith. "We are now learning how to taste these teas," she adds. "Thank God."
Smith has been selling organic, loose-leaf tea since 1997. She runs her business, Divinitea, out of her home in Schenectady, where she takes premium ingredients from around the globe, blends them together and markets the creations to customers across the country.
The growth of popularity has brought to the market a sometimes confounding array of tea types, from basic black to green, white, oolong, red and a seemingly infinite number of herbal and fruit blends. Here are some basic facts. Black, green, oolong, and white teas are the only true teas, and they all come from the same plant, Camellia sinensis. The differences in appearance, taste, and aroma among them depends on the length of time the leaves are exposed to air before drying. White and green teas, exposed the least, contain the most antioxidants, with oolongs next in the progression. Black teas are fully oxidized. Herbal teas are "teas" with no tea leaves, more properly called infusions or tisane. So-called red tea, also called rooibos, is from a South African shrub and is naturally caffeine-free. Fruit teas are usually a mix of black teas, herbs, and fruits, and are often scented to infuse them with aroma and flavor.
When she began Divinitea, Smith says, loose teas were hard to sell, because people didn't want to bother measuring and brewing them. But with growing concerns about health and stress, interest in teas of all types continues to grow.
"In an age of high anxiety," Smith says, "coffee adds to the anxiety; tea takes it away."
Tea merchant Johnny Francis agrees. "I've never actually heard a doctor say you have to give up your tea, but I have heard them say that about coffee," says the co-owner of Tea Laden, a Delmar, New York store that sells only tea and tea accessories. Last year, Tea Laden sold about of a ton of tea—literally, 2,000 pounds—to Capital Region residents.
Michelle Marks, owner of the Good Leaf Gourmet Tea Company, a tea boutique that opened in At the Warehouse in Albany in June, says the ritual of making a cup of tea removes you from life's crowded playing field, if only for the few minutes it takes to boil water, measure the tea, and steep the infuser. Tea drinkers are people who savor this small, slow ritual, and then extend it by sipping their beverage. "You could throw down a cup of tea, but it's almost a waste to do that," Marks says.
Tea, like coffee, contains caffeine, but it also contains I-theanine, an amino acid known to promote relaxation. As a result, Marks says, drinking tea produces a calm but alert state, "a wonderful condition to be in for today's world," she says.
Marks, a psychologist by training, gave up her 15-year-old private practice last year to focus on selling tea full time. As a counselor, she was always working with people who wanted to calm their chaotic lives, but weren't willing to do the work. "People always said, 'Oh, yeah, if you could just bottle what you said, I would take it,' and in a way, I kind of have."
The effects of tea on maintaining health are compelling. Tea is a healthier alternative to coffee and soda, and according to the Linus Pauling Institute at Oregon State University, a leading authority on the health effects of tea, drinking three mugs of tea a day has been associated with an 11 percent decrease in the risk of heart attacks and stroke. Additionally, antioxidants and polyphenols in tea may help to prevent cancer, though that research is far from conclusive: "Despite promising results from animal studies, it is not clear whether increasing tea consumption will prevent cancer in humans," states the Pauling Institute website.
For those interested in the health benefits of tea drinking, brewed tea is a better choice than those bottled teas that have become commonplace in the past decade. Bottled teas contain fewer antioxidants than conventionally brewed teas, because these compounds are "unstable and degrade quickly with time," says the Pauling Institute.

Large brands like Lipton and Snapple have given tea products a huge presence on the market. But it was public curiosity that gave rise to the number of teas available today, says Tea Laden's Francis.
Marks says the rise of tea can be attributed in large part to America's insatiable appetite for the "next big thing." Americans are always looking for the new trend, she observes. A large part of her customer base is college age, young women and men who are into healthy living. They hear tea is good for you, and become tea drinkers, in turn fueling a larger movement, Marks says.
Health concerns have trumped a long-standing indifference toward tea in this country. It used to be, when the average American thought of tea, we thought British—crumpets and cucumber sandwiches and the like. Few people know that tea was actually an American beverage first, brought to New Amsterdam by the Dutch colonists in the early 1600s. According to the British Tea Council, the British picked up the tea habit from Catherine of Braganza when Charles II married her in 1662. Tea's great popularity in the American colonies, and the ongoing battle between the British and Dutch trading companies, is what led the British to heavily tax it, prompting the Boston Tea Party of 1773. It's hard to say exactly when coffee replaced tea in America—perhaps it was around the time the precious commodity was pitched into Boston Harbor.
For decades, tea was something that came in tiny white bags, but today's market is awash with new brands and flavors. Smith, who like all connoisseurs scorns the commonplace ("tea bag teas are garbage," she growls), is eager to show me her teas. When she opens her bins, they release an exotic, earthy aroma that conjures images of ancient history and exotic locales.
Smith dips an oversized stainless-steel scoop, dubbed "Big Ben," into a container and resurfaces with heaps of pungent leaves and flowers, holding them up to catch the afternoon light. She points out each separate treasure—the Ceylon leaf, the orange peel, the tiny lavender flowers, the mint—all intact, each like a small miracle. She describes the finer points of each, the way the rooibos reminds her of plants she's seen while she's been scuba diving; the Royal Baihao Yinzhen, which looks like white-silver needles and is covered with a downy white fluff that spills out when you first lift the lid; and the white tea with its long, silvery leaves from the very center of the plant.
Smith began with just 13 types of tea, but now offers over 200 teas to choose from, ranging in price from $32 for a pound of Moroccan mint to $148 for a pound of 20-year-old Pu-erh from China. Some 70 percent of Divinitea's sales are wholesale to coffee houses, with the rest split between restaurants and direct retail sales. Smith also works with companies that bottle tea—whose names she won't disclose—coming up with blends for the mass market. She says sales have risen about 30 percent every year since the business opened; last year, she sold 10,000 pounds of tea.
Smith first became enchanted with plants and herbs as a child. She recalls watching her mother pick fresh chives for a salad, a simple act that led Smith on a quest to find other edible plants. In college, she studied culinary arts and business, and upon graduation went to work in the restaurant industry. She worked in a number of what she calls "white-tablecloth restaurants." These fine-dining establishments were almost beyond reproach—except where tea was concerned. Smith, who by this time had studied with Woodstock herbalist Susan Weed and become familiar with a variety of uses for herbs, including tea, was always dismayed to find fancy restaurants serving plain tea.
"You would have this beautiful silver tea service and a Lipton tea bag on a paper doily," she said. "It was ridiculous."
Today, Smith blends her teas at an enormous table in the center of her converted dining room. Floor-to-ceiling shelves full of blue Rubbermaid bins surround her, black neutrals on one wall, green teas on another, fruit teas on another, and lemon up near the ceiling to keep it from tainting the other mixtures. She blends her teas often to keep up with customer demand: 25-40 pounds of chai, a mix of tea and spices, every week; 50 pounds of bergemotted Earl Grey every two weeks; and so on. Some of her more exotic blends she makes upon request, and she has a number of exclusive combinations: citrus chiller, lemon meringue, white chai, pomegranate cherry. Smith's signature is her singular way of mixing flavors.
"Anyone can do pomegranate, anyone can do cherry, but only I do pomegranate cherry," she says with conspicuous pride.
Smith believes she was put on the earth to bring people together, and build a healthier planet. By cultivating an appreciation for her art, Smith and her colleagues in tea have helped create a new culture in the Capital Region. "We just want to keep doing the earth work and sharing what we do," Smith says. "We've built a tea community."
RESOURCES
Divinitea does business through its website, www.divinitea.com.
(518) 347-0689
The Good Leaf Gourmet Tea Company is located in the At the Warehouse emporium, 20 Learned St., Albany, or at www.goodleaftea.com.
(518) 478-0093
Tea Laden is in the Delaware Plaza, 180 Delaware Ave., Delmar, New York, or at www.tealaden.com.
(518) 439-6998
Hillary Harvey
Specialty teas on display at Tea Laden in Delmar.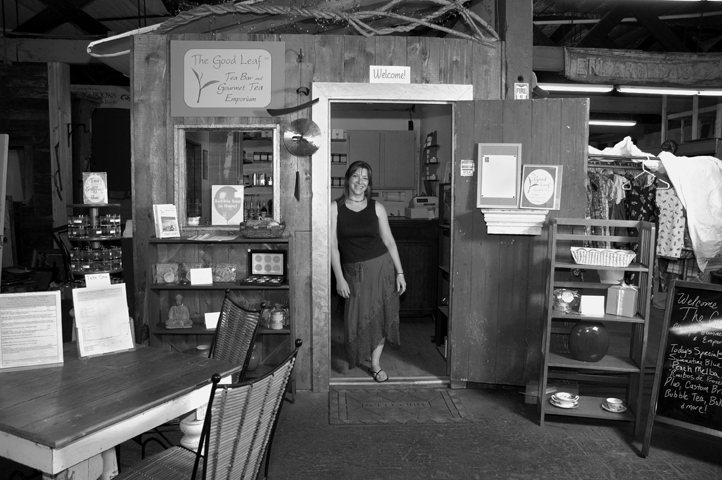 Hillary Harvey
The Good Leaf's Michelle Marks outside her "tea boutique" in Albany.
Hillary Harvey
Johnny Francis of Tea Laden.
Hillary Harvey
Linda Smith of Divinitea on her back porch with a wooden tea crate from India.
Hillary Harvey
Kaitlyn Owen, a culinary student, at work in the production room at Divinitea in Schenectady.