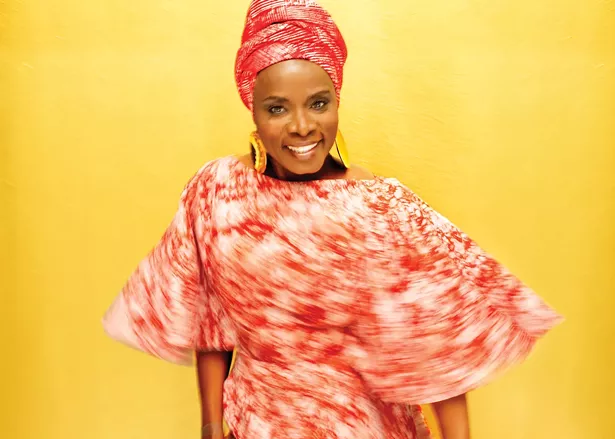 Photo by Fabrice Mabillot
Angelique Kidjo performs at Caramoor in Katonah on August 6.
Called "Africa's premier diva" by Time Magazine and rated one of the Top 100 Most Inspiring Women in the World by the Guardian, four-time Grammy Award winner Angelique Kidjo is a musical force of nature.

The Beninese singer's infectious, cross-cultural, multilingual style fuses the traditional West African sounds of her homeland with American funk, R&B, and jazz as well as Latin American, Jamaican, and European influences. After making her recording debut with 1990's Parakou and topping the charts with 1991's Logozo (featuring Branford Marsalis and Manu Dibango) her highly danceable oeuvre expanded to find her collaborating with the likes of Peter Gabriel, Philip Glass, Alicia Keyes, Dr. John, the Kronos Quartet, and others.

Her 2018 Remain in Light is stunning reinterpretation of the 1980 Talking Heads album of the same name, while 2019's Celia celebrates the music of Cuban giant Celia Cruz. Kidjo actively uses her fame to help others, lending her name and efforts to advocacy groups that help others. She answered the questions below via email. Angelique Kidjo will perform at Caramoor Center for Music and Arts in Katonah on August 6 at 8pm. Tickets are $20-$40.
—Peter Aaron
Peter Aaron: What has it been like to be touring again, a few months after the COVID lockdowns have been lifted? Do you feel like things are getting "back to normal?"
Angelique Kidjo: Slowly, but surely, it is getting better, but some people are still afraid to come out. It's always good to be on stage after the lockdown. I'm happy to be back and I've noticed the audience is especially dynamic and happy, so that is a silver lining!
Your mother also performed, and you made your debut as a performer with her theatrical troupe. What do you remember about your first time on stage? Were you singing then, or did you appear as a dancer or actor? How did it make you feel at the time?
I started to sing on stage at six. I've asked every day my mom, who was a theater director, why I'm not the one singing on stage and one day she gave me the opportunity to sing when a young actress got sick. I was so shaken [that] I thought I could not do it, but then I just went along because I couldn't see the public. When I finished, I was so happy that I left, running, and my mom asked me to go back to bow and I'm, like, "Oh, I'm not going back." But I was hooked for life. I think that the seed of being a singer was planted in me.
In addition to being a goodwill ambassador for UNICEF and OXFAM, you work with two organizations that empower African women and girls: the AFAWA initiative (Affirmative Finance for Women in Africa) and Batonga, a charitable organization to support the education of young girls in Africa. What can you tell us about these latter two organizations, and the ways they help African girls and women?
What I learned, for sure, [from] all my advocacy work and activism is that we get it wrong by denying African women a place in the economy and in the education system. The fact that we reduce women to a reproductive rule is that we do not understand the power of the African women have to transform the world. When you empower a young woman, not only [do] you empower her but also her family and her community and her country. We've been wasting so much time and so much money. Let's value African women's intelligence [and] their boldness and wisdom, so we can invest differently to balance the world in which we are living.
The title track of your new album, Mother Nature, features Sting on guest vocals and seems to be about climate change, something that has greatly affected Africa. Have you toured in Africa recently and have you seen or heard about recent impacts of climate change there? For those who haven't heard the song yet, what would you tell them about its message?
One thing I know for sure is that we only have one Earth, one ecosystem. I started to sing about climate change in 1993. My song "Agolo" was saying, "Mother Earth is generous and nurturing. We also have to take care of her to be able to stay alive for generations to come. Mother Nature does not discriminate [in what] she does. Her pain will affect everyone.
We're looking forward to seeing you perform at Caramoor this month. What do you most hope the people who see you play feel and experience at your concerts?
I just want people to have fun and realize that this pandemic is a reminder of our fragility. Now that we have turned a page (let's hope so!), we have to enjoy this precious moment together. Music allows us to do that! Bring your dancing shoes!